The eurogroup meeting adjourned in Brussels without much progress, according to most of the media covering the meeting. Ian Traynor from The Guardian called the meetings "nasty" and said the finance ministers of Europe are very badly split.
#eurogroup now very badly split. getting nasty. could be rowdy summit sunday. renzi to round on merkel, enough humiliation. and hollande?

— Ian Traynor (@traynorbrussels) July 11, 2015
The eurogroup's president, Dutch finance minister Jeroen Dijsselbloem raised issues of credibility and trust.
"We have adjourned our meeting and will continue tomorrow at 11 AM. We had in-depth discussions of the Greek proposal, the issues of credibility and trust and the financial issues involved, but we haven't concluded our discussion," he told reporters at the doorstep. "It's still very difficult."
As was reported earlier in the day, Italian prime minister Matteo Renzi is frustrated with Germany's continuous humiliation of Greece and has reportedly said "enough is enough" and he will share his views with Angela Merkel. Meanwhile, Finland is reportedly dead set against a deal to keep Greece in the eurozone.
Slovakian finance minister didn't think the meetings went well. On his way out of the meetings he was quoting as saying "No is the better answer" to Ed Conway, a Sky News correspondent.
"Is it a yes or a no," the Slovakian finmin @KazimirPeter is asked as he leaves. "No is the better answer," he replies #Greece

— Ed Conway (@EdConwaySky) July 11, 2015
In the meantime, rhetoric across the continent is becoming vile against the Greeks with the De Volksrant newspaper in Holland portraying Greeks as fat, hairy and vulgar and giving Europe its middle finger, while extending the other for handouts.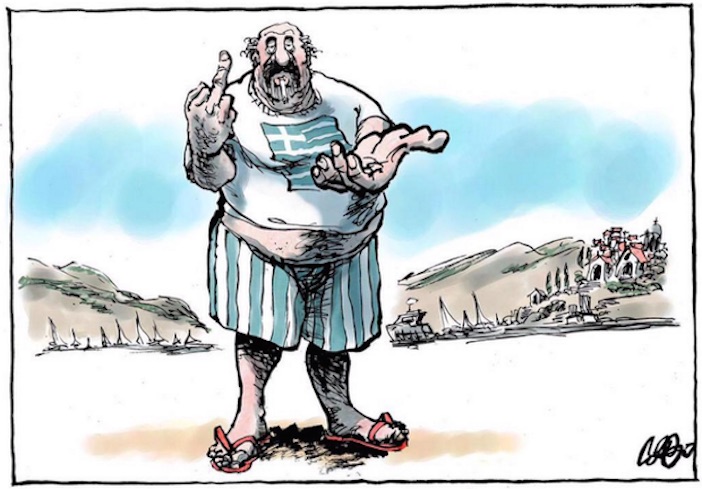 The Finnish media has also stepped up its pressure on its government to reject any deal for Greece and German media is encouraging its government to stay its course of remaining tough on Greece.
The eurozone finance ministers are set to meet again Sunday to continue their meetings.