A video of a woman on a Greek island came across my Facebook newsfeed a while back and it stuck with me. I saved the video and watched it again, and again, and again.
That woman was Maria Makrogianni, also known to thousands of refugees who have now dispersed across Europe as "Mama Maria."
Like other Greek islands on the frontier with Turkey, Samos was hit hard by the refugee crisis in 2015 and throughout 2016 and refugees continue to arrive— although in smaller numbers— on dinghies and rafts from neighboring Turkey whose lights can be seen flickering in the distance.
While most used the island as a transit point to the Greek mainland and eventually into more prosperous northern European countries, thousands got stuck when the Balkan countries closed their borders.
Currently, with daily arrivals still coming (as recently as Monday, February 1, 2017 a total of 82 arrivals were recorded) there are an estimated 2,100 refugees crammed into a camp that was designed for 1/3 that number.
The politics of the crisis, the Civil War and who is to blame can be argued for days— months, actually; but like Maria, I try to look beyond something that I cannot solve or something that I cannot fully grasp as a private citizen.
I was intrigued by Maria's story— a poor woman who owned a small restaurant on a Greek island who rose to the challenge of feeding desperate people arriving in boat loads on her island with all of their possessions in bags that carried on their backs, along with their infants and children in tow.
Maria's actions, to me, were the idealogical concepts that we as Greeks love to throw around when we define ourselves as a people— philotimo, love of the neighbor and stranger or philoxenia, and of course, philanthropy and compassion.
But as I've experienced personally, it's one thing to brag about you or your ancestors— and another to live it.
In the past two years Maria has prepared and served thousands of meals in her restaurant to crowds of people in need of a warm meal. She's offered women a clean bathroom to tend to feminine hygiene issues and has passed out warm, dry clothing that's been sent to her from supporters in Sweden and elsewhere.
Her restaurant has become a hospitality hotspot of its own to people arriving daily on the island, as well as those refugees currently stuck in the camp, over three kilometers away who aren't getting the food they need or need a bit of extra care.
Some photos and thoughts from my evening with Mama Maria
I traveled to Samos during a recent trip to Greece to deliver to Maria some donations that I received from family, friends and readers of The Pappas Post.
I also shared with Maria several cases of Thalia Wine donated by Steve Kriaris from Toronto and also the greetings of Chef Maria Loi in New York City who also was moved by Mama Maria's generosity and offered three chef's dinners at her NYC restaurant which were auctioned and raised more than $1,000 for the campaign.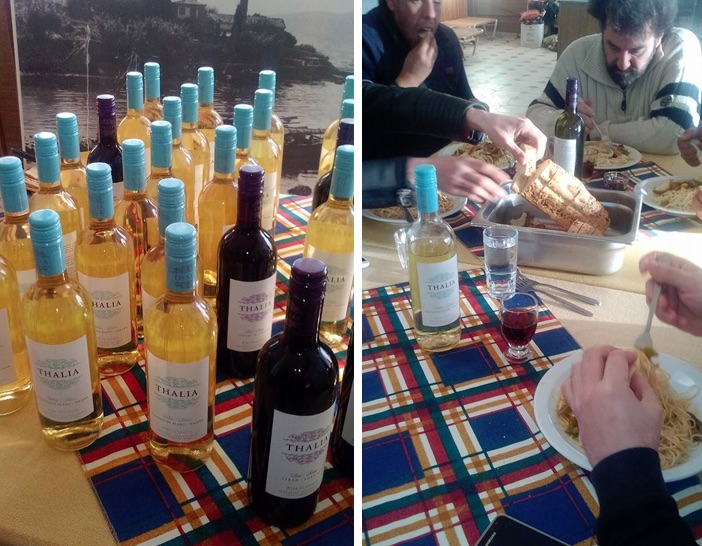 I felt it my own duty to support this woman who was not only talking the talk of Greek hospitality and philotimo and Christian compassion for the destitute and the stranger — but walking the walk.
Despite growing up a poor, uneducated woman on the island, Maria was well-versed and learned in Greek ideals. From antiquity to Christianity, she was quick to school me and remind me that the "responsibility" wasn't only to talk about our Greekness in glowing terms, but to live exactly what the lessons were, every day.
Pericles, she reminded me, said more than two and a half thousand years ago that Greece is "open to all" and "at no time do we evict or keep the stranger away."
Our philoxenia, she told me, is a core ideal of our Greekness and the Greek Orthodox Christian identity. She then quoted the Gospels — Luke, in particular.
«Ο έχων δύο χιτώνας μεταδότω τω μη έχοντι, και ο έχων βρώματα ομοίως ποιείτω»
In English: "Anyone who has two shirts should share with the one who has none, and anyone who has food should do the same." (Luke 3:11).
While in Samos I shared live Facebook videos, so donors back home could see their work in action.
I pledged to Maria that I want to support and honor her commitment to humanity.
In my own small way, and with the power of a network of goodness that went viral via The Pappas Post and dozens of readers who responded by sending donations, I want to say THANK YOU to Maria.
Throughout Europe today, people fleeing war and devastation landed on a Greek island and received a hug, a hot meal, a bit of old fashioned Greek hospitality and philotimo.
Video compilation of my evening in Samos with Mama Maria
** The fundraising campaign continues. We continue to raise funds to help Maria buy food. There are more than 2,000 refugees stranded on Samos and the food they are being given at the refugee camp is meager. Maria not only provides them with food, but she shares clean clothes and a place to log into wifi to Skype with family and friends scattered throughout the world. If you would like to contribute, choose either of donations options below.
Make a one-time donation (any amount)
Sign up for recurring donations ($10 monthly until you cancel)