"How thrilling to be here, my home," Sid Ganis wrote in a guestbook while visiting the northern Greek city of Ioannina during a recent visit to the country his grandparents emigrated from in the early 1900s, honoring their journey to America, while embarking on his own— back to his roots.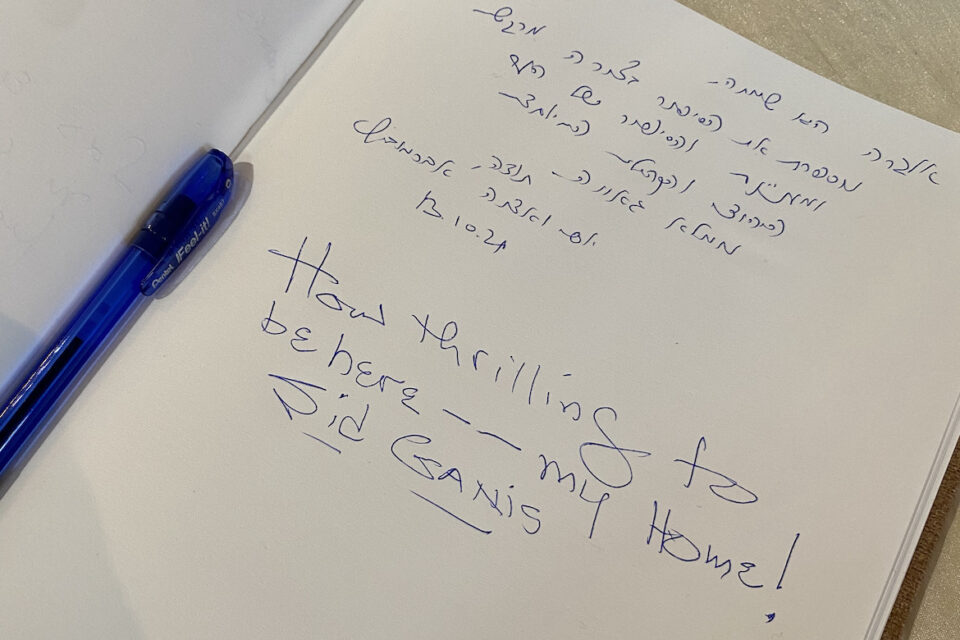 Ganis, one of Hollywood's most successful and accomplished film executives, was invited to Greece by the Hellenic American Union and Hellenic American University, which plan to launch a film studies center in Athens. His wife Nancy, also an accomplished producer in television and film, was also present.
Leonidas Koskos, the president of both institutions, called the visit a "fact-finding" experience during which the leadership of the two institutions met with people from the film industry in Greece to assess the needs of the market from an academic and educational perspective.
Gregory Pappas, publisher of The Pappas Post and longtime friend of Ganis, organized the excursion and accompanied Sid and Nancy Ganis during the week-long trip.
Ganis' career includes leadership roles at several studios, including Lucasfilm, 20th Century Fox, Columbia Pictures, Seven Arts and Warner Bros. While at Lucasfilm, he served as senior vice president and was responsible for marketing "Star Wars: The Empire Strikes Back," "Return of the Jedi" and the first two installments of the "Indiana Jones" trilogy.
In 1986, Ganis joined Paramount Pictures and eventually became president of the Motion Picture Group, where he helped launch "Top Gun" and "Fatal Attraction." As president, he oversaw the development and production of the worldwide hits "Ghost" and "Forrest Gump," which would go on to become one of Paramount's biggest hits—both financially and critically—of all time.
After leaving Paramount in 1990, Ganis became president of Columbia Pictures. 
He also served on the boards of directors of numerous companies, including Marvel Entertainment for a decade, as well as several film festivals and film-related institutions. He also served as president of the Academy of Motion Picture Arts and Sciences (organizers of the Academy Awards) for a total of four consecutive terms and was recently appointed a lifetime trustee on the board of the Academy's Museum which opened in September 2021.
A town hall conversation with Greece's alternate minister for foreign affairs Kostas Fragogiannis was held in the Union's theater with more than 200 people in attendance. During the event, which was broadcast live on The Pappas Post's Facebook and YouTube channel to an international audience of thousands, Ganis and Fragogiannis spoke about what Greece needed to do to enhance its capabilities as a film production hub.
Watch the complete conversation here.
Ganis, whose grandparents hailed from the ancient community of Romaniote Jews who were centered around Ioannina for thousands of years, was also hosted to a private dinner at the residence of Athens' Rabbi Gabriel Negrin— himself from the Romaniote community. Negrin's mother prepared a multi-course meal of traditional cuisine, sharing dishes similar to what his own grandparents would have been eating.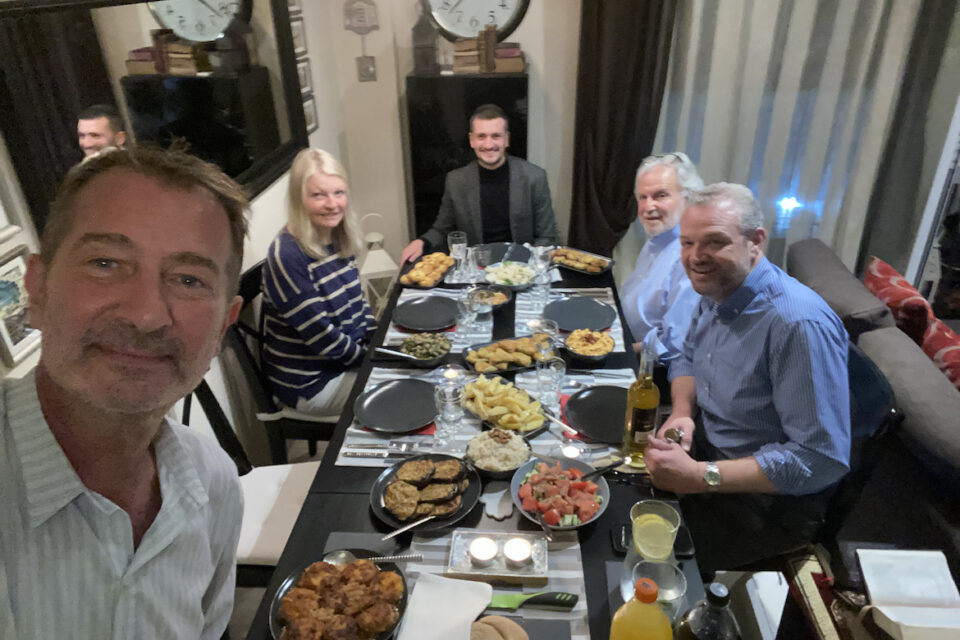 The leadership of the United States Embassy also welcomed Ganis and the delegation from the Hellenic American University and Hellenic American Union during a visit in which American diplomats shared their desire to support any efforts to build Greece's film production capabilities.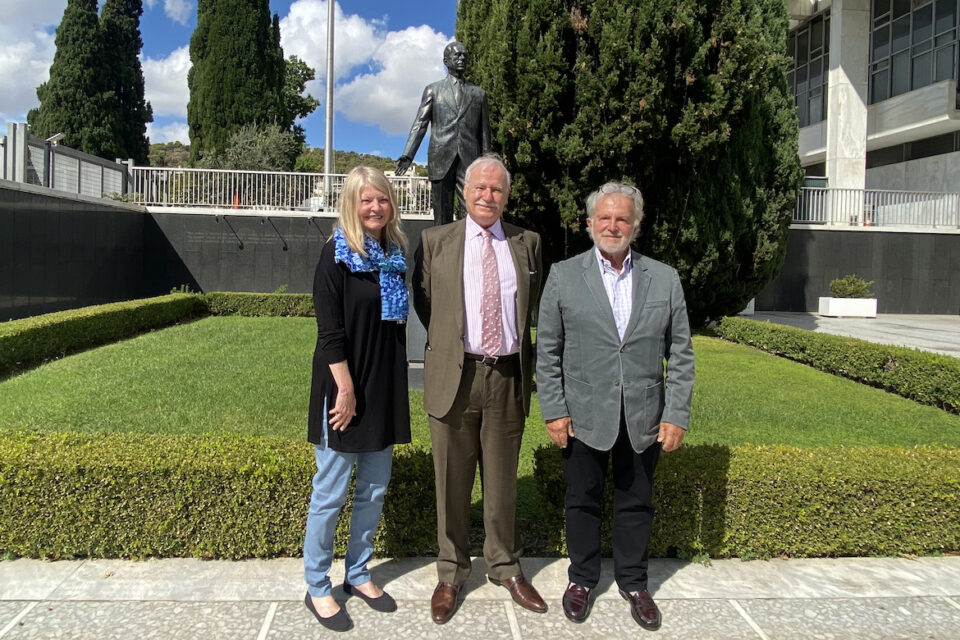 Numerous social and cultural events were also planned, including an evening with Greece's only two-Michelin-star female chef Georgianna Hiliadaki and visits to various museums and archaeological sites around Athens, hosted by the American School of Classical Studies.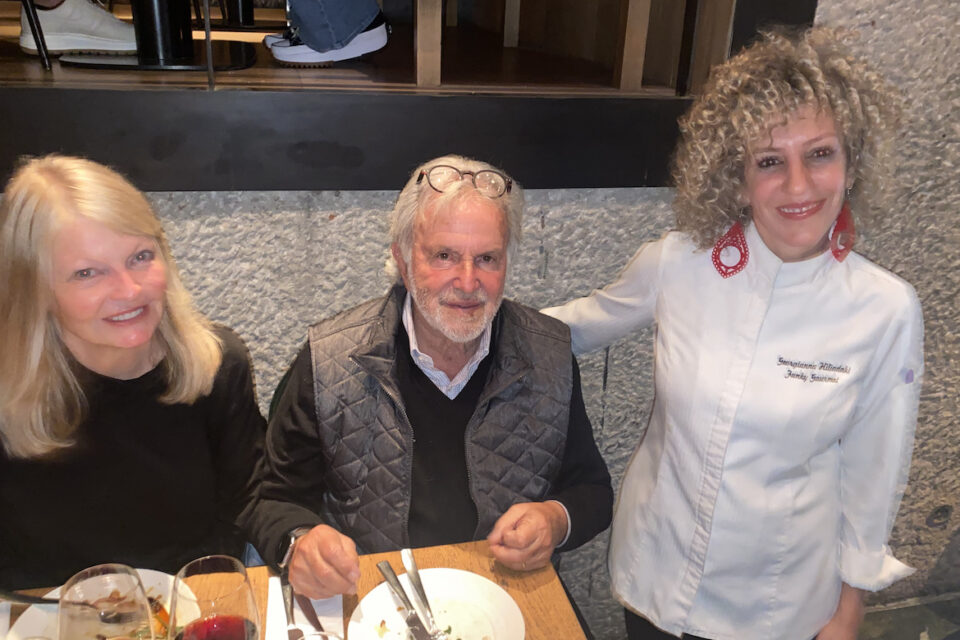 The highlight of the trip was a two-day visit to Ioannina where Ganis visited the old Jewish neighborhood where his grandparents once lived, before emigrating to Manhattan's Lower East Side in the early 1900s.
While there, he was interviewed by local media who flocked to city hall to meet the "famous son"of the city. Ganis explained to the journalists gathered that although he had never before visited the city of his grandparents' birth, he knew it well from memories of stories shared by his papou and yiayia.
"I only know this city from memories of stories my grandparents shared with me, but they are vivid memories and it feels like I've come to a place I am very familiar with, a place that is home for me," Ganis said.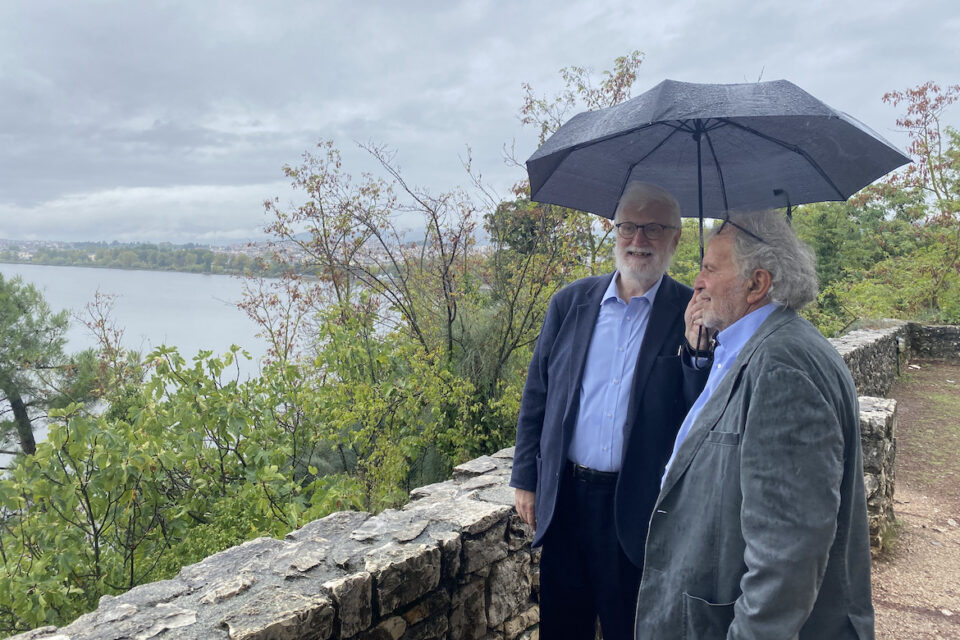 Mayor Moses Elisaf of Ioannina offered a tour of the city, with stops at the historic Synagogue, where Ganis' grandparents once prayed.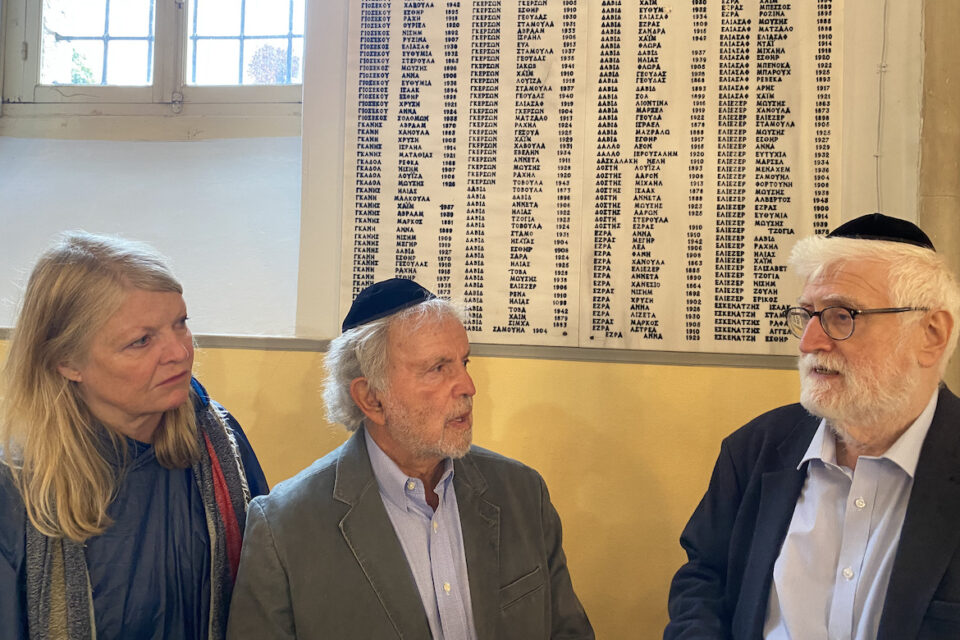 While showing Ganis ancient scrolls that were hidden during the Nazi occupation, the mayor told Ganis "Your grandfather read from these scrolls." Ganis was visibly moved, as he walked by wall plaques bearing generation after generation of family members with the last name GANIS, or ΓΚΑΝΗΣ in Greek.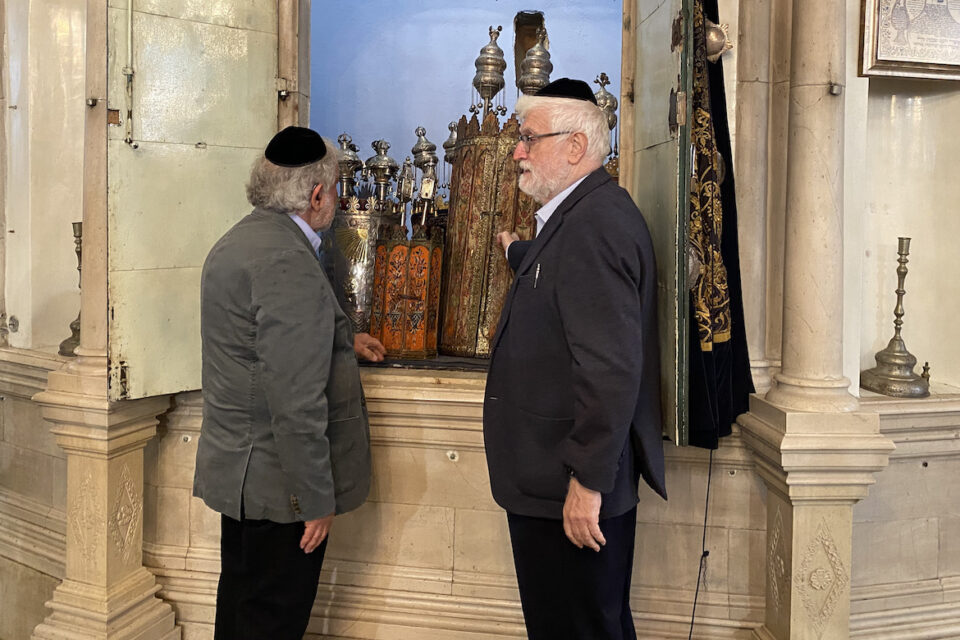 After Ioannina, the tour ended up in Thessaloniki where the delegation was hosted to a lunch at the official residence of U.S. Consul General Elizabeth Lee, who had invited members of the Thessaloniki film community.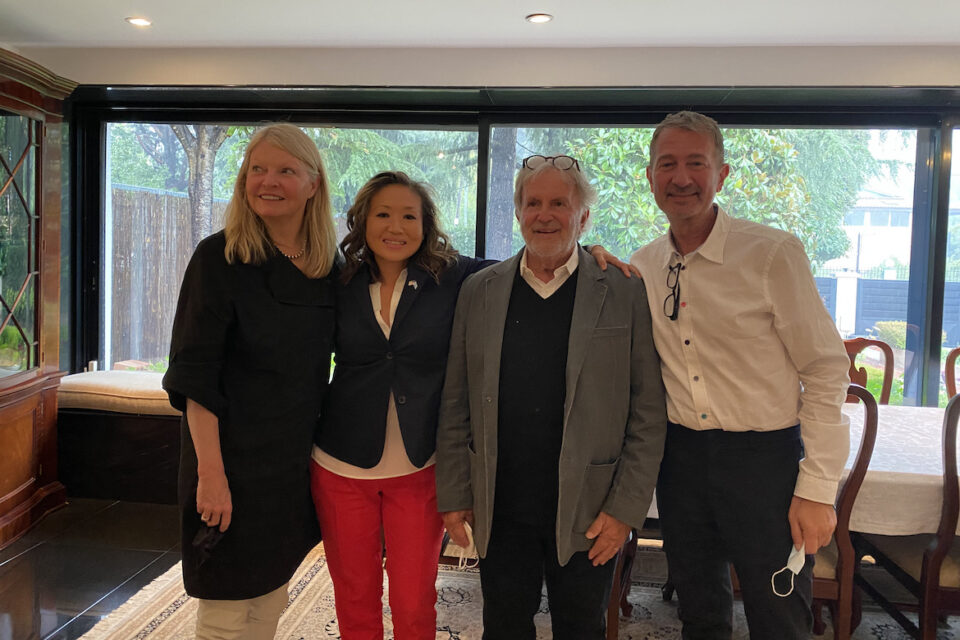 The mayor of Thessaloniki, Konstantinos Zervas, also welcomed the delegation to city hall where he shared the city's vision of becoming Greece's film production hub.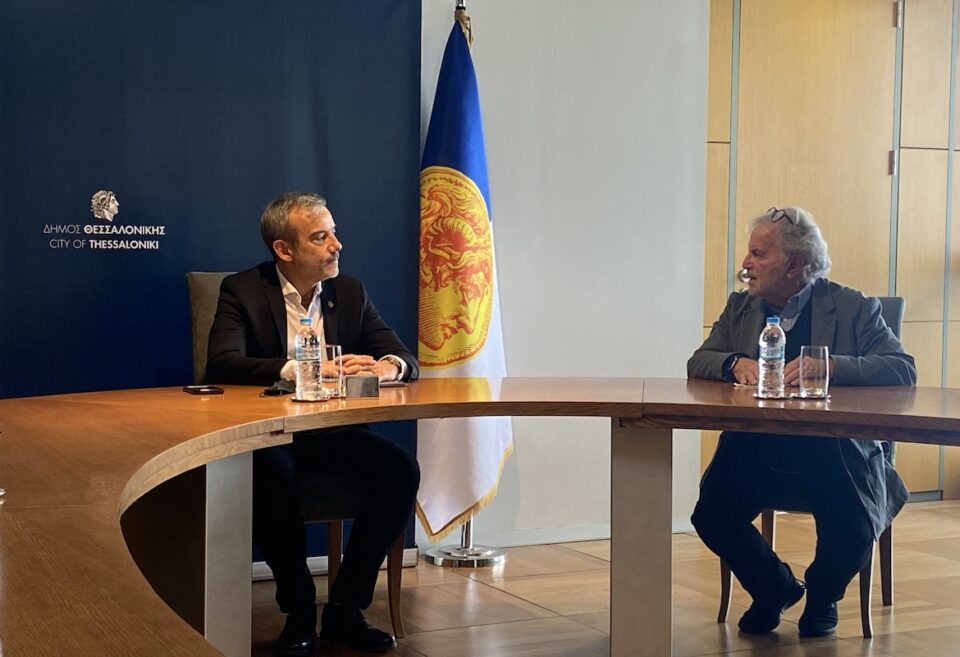 Plans are now under way by the Hellenic American Union and Hellenic American University to launch a series of initiatives aiming to establish a full-fledged film studies center, seeking to train people in the various skills and crafts necessary for film production in the country.
---
Is The Pappas Post worth $5 a month for all of the content you read? On any given month, we publish dozens of articles that educate, inform, entertain, inspire and enrich thousands who read The Pappas Post. I'm asking those who frequent the site to chip in and help keep the quality of our content high — and free. Click here and start your monthly or annual support today. If you choose to pay (a) $5/month or more or (b) $50/year or more then you will be able to browse our site completely ad-free!

Click here if you would like to subscribe to The Pappas Post Weekly News Update