Not too long ago, before the rise of modern chemistry and pharmacological synthesis, humans intuitively understood the power of plants to heal.
Through eons of experimentation, early humans learned which plants heal, and which should be avoided. They figured out that if they ate honey when they were sick, they got better faster, and chewing on valerian root would help them fall asleep. They ate a plant-based diet, and always in season. Farm-to-table wasn't a hip trend, it was their lives. 
Fast forward to a post-industrial revolution humanity that is so obsessed with convenience that we gladly throw out a millennia of natural knowledge in exchange for a cheeseburger and an aspirin. There has been a growing movement in recent years, supported by a lot of strong science, to "return to our roots" so to speak.
In this article I hope to examine the role that diet plays in our lives and in our health. We'll first examine one of the most widely recognized, evidence-based diets, the Mediterranean diet. We'll then look at specific ways that diet helps to promote a long and happy life. 
What is the Mediterranean diet?
The Mediterranean diet was developed in the 1950s when an American scientist named Ancel Keys discovered that people in certain parts of Italy lived to be decades older than their American counterparts, with lower incidence of heart disease and diabetes. After studying the phenomenon deeply, he was able to prove that lifestyle, and in big part diet, caused this enhanced longevity. 
Today, the Mediterranean diet is the #1 recommended diet by physicians to promote cardiovascular health and prevent heart attack. Heaps of data prove that this diet helps prevent coronary heart disease, stroke, cancer, and diabetes, when compared to the Standard American Diet (SAD) or a "low fat" diet. 
The Mediterranean diet consists primarily of plant-based foods, lots of fruits, vegetables and whole grains. Red meat and pork is limited or eliminated, and is replaced with seafood, chicken, nuts, seeds, and beans. Extra-virgin olive oil is the primary fat, replacing butter or margarine. Table salt is kept to a minimum, and instead lots of fresh herbs and spices are used to flavor food.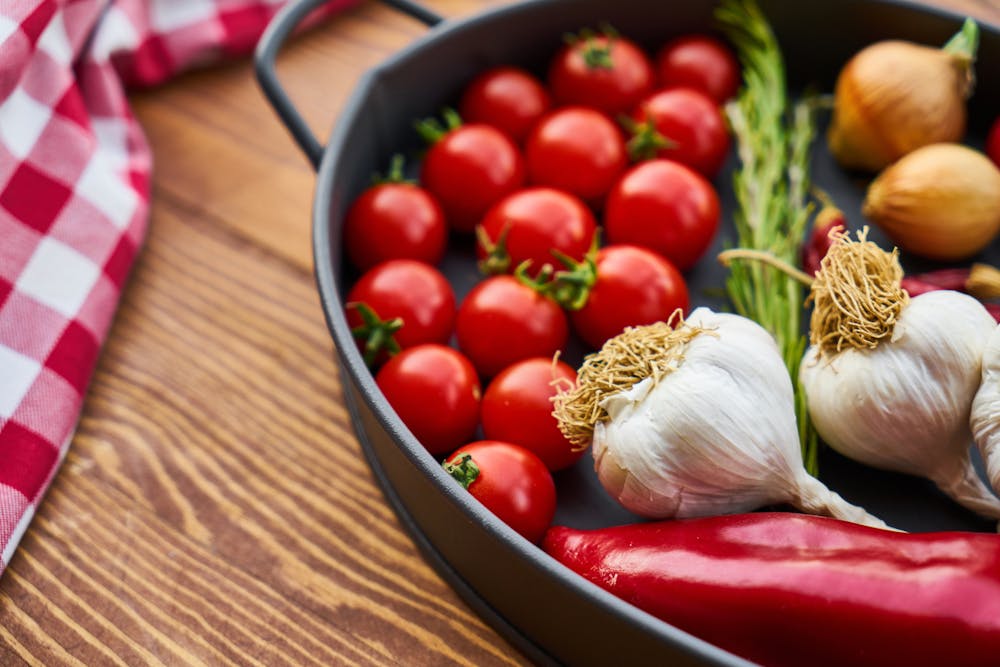 Health promotion
Healthy food promotes a healthy life! The quality and quantity of food we eat is a huge predictor of the quality of life we enjoy. Dietary intake has been linked to activity tolerance, sleep quality, cognitive function and mental health.
1. Activity tolerance
A well balanced diet helps boost energy and athletic performance. Most athletes are aware that the fuel they put in their body affects the quality of their workouts. There's a lot going on in your body when you exercise, from muscle fibers firing more quickly, to your heart pumping harder and faster, to sweat glands working overtime to keep you cool. 
Each of these processes requires both energy and essential nutrients. Athletes who give their body the right raw materials to work with, have more of the compounds their body needs to perform. 
Even if you don't exercise strenuously, your body still needs quality nutrients to perform the activities of daily living. From walking up the stairs to standing while you cook dinner, anytime your body is moving it is expending nutrients. 
2. Sleep Quality
The quality and quantity of sleep that you get each night is a huge predictor of mood, energy and mental performance. How well you sleep is determined by a slew of factors, including activity level, bedtime routine, and yes, the diet you consume. 
Individuals who consume a colorful plant-based diet, like the Mediterranean diet, have been shown to have better quality sleep. This means falling asleep easier, staying asleep through the night, and wake up feeling more refreshed.
3. Cognitive Function
The brain is a complex and busy organ. It processes 400 billion bits of information per second. From pinpointing the location of the fly buzzing around the room to analyzing the expression on your wife's face (what did I do this time?!) to calculating the exact speed to reach before merging into the next lane, your brain is a hive of activity. 
All of this complex cognitive function is extremely labor-intensive. In fact, the brain consumes about 20% of your daily calories. All of those nutrients must be replaced, and the best way to do this is with a healthy diet.
Providing your brain with the fuel it needs to do the hard work it does is the best way to ensure top cognitive performance. In fact, researchers studying diet and cognition showed that adherence to the Mediterranean diet is associated with better performance on cognitive tests. 
4. Mental Health
There has been an alarming increase during the past 50 years in the number of individuals suffering from mental illness, especially depression and anxiety. This can be partially attributed to advancement in diagnostics that have allowed us to identify affected individuals that likely would have gone undiagnosed 50 years ago, but that's only part of the story. 
Scientists have long suspected that diet plays a role in mental health, but in recent years the evidence has really started to pile up to confirm this notion. A recent meta-analysis evaluated 12 experimental studies regarding the relationship between diet and mental health.
In every case, researchers found a significant relationship between unhealthy dietary patterns and poorer mental health, and a positive relationship between high-quality diet and better mental health. 
They showed that individuals who adhered to a quality diet from an early age were less likely to develop mental conditions like depression and anxiety, as compared to their peers consuming a S.A.D. 
Diet can even be used to treat active depression. A recent three-month randomized study found that dietary intervention alone caused full remission of depression in 32% of participants. Compare this with side-effect rich SSRIs that have anywhere from 30-50% efficacy, and you see how powerful dietary intervention is.
As we will see in the next section, diet does not only promote a healthy and happy life, it can also prevent and treat several chronic diseases. 
Disease prevention and treatment
Diet has been used for thousands of years to prevent and treat disease. Adherence to a proven healthy diet, such as the Mediterranean diet, has been shown to reduce your chance of developing a host of diseases, including diabetes, heart disease and cancer. 
1. Diabetes
Diabetes may be the most obvious diet-related disease, and the evidence to support this notion is staggering. Scientists confidently define type-2 diabetes as a "preventable disease," meaning that with the right lifestyle choices the vast majority of people will never develop diabetes. Development of diabetes is highly linked to obesity and adherence to the S.A.D. 
In recent years, the medical field has increased early screening for diabetes and defined a condition called "prediabetes." This is a fully reversible condition that has no noticeable symptoms, however if these individuals continue along the same path they have been following they have an extremely high chance of developing diabetes. 
The good news is that when we identify these individuals, and coach them to make important lifestyle changes in diet and activity, they have an excellent chance of living diabetes-free.
A recent meta-analysis evaluated more than 60 independent studies to examine the relationship between Mediterranean diet and diabetes. Their findings overwhelming supported the diet both for prevention and treatment of diabetes.
Diabetic patients who adopt this diet develop better glycemic control and insulin sensitivity, as compared with a standard "low-fat" diet. In many cases, patients are able to completely control their diabetes with diet and exercise, and do not depend on medications. 
2. Heart Disease
Heart disease is an umbrella-term describing conditions affecting the cardiovascular system, including coronary artery disease, heart attack, stroke, and heart failure. According to the CDC, approximately 610,000 people in the USA die from heart disease each year. It's the leading cause of death.
The American Heart Association estimates that roughly half of all heart disease deaths are directly caused by poor dietary choices. Specifically, they advise against consuming processed and red meats, along with too much sodium and sugar.
The Mediterranean diet is widely considered the most heart-healthy diet. Adherence to this diet has been linked to significantly reduced risk of developing atherosclerosis, which is the artery-clogging process that leads to heart attack and stroke. 
3. Cancer
Following the Mediterranean diet has been linked to a reduction in the chance of developing various cancers, including breast and colorectal cancer. This is likely caused in part by the anti-inflammatory nature of the diet. Many experts believe that cancer is caused by chronic, uncontrolled systemic inflammation. Following an anti-inflammatory diet like the Mediterranean diet reduces whole-body inflammation and the chance of developing inflammatory diseases.
A recent study found that a certain compound in olive oil, oleocanthal, has the ability to selectively induce cell death in several types of cancer. Olive oil is the superstar of the Mediterranean diet, and for good reason! It is packed with beneficial phytonutrients like this one, that help defend your body against the damaging effects of oxidation and inflammation. 
Eat real food! 
For thousands of years, humans have been using food to promote health and treat disease. After a few decades of pharmaceutical-focused healthcare, it may be time to reintroduce some of these ancient techniques.
The food you eat has an incredible impact on your quality and quantity of life. Choosing a diet rich in plant-foods like fruits, vegetables and whole grains with plenty of healthy fat and protein will help boost your energy and mood, and keep you living longer.
Medications certainly have their place in modern society, but many of the ailments they are designed to treat can be prevented with a healthy lifestyle. So eat real food. Your body will thank you!
How to Incorporate the Mediterranean diet?
The Pappas Post has published a wholistic beginner's guide.
---
Is The Pappas Post worth $5 a month for all of the content you read? On any given month, we publish dozens of articles that educate, inform, entertain, inspire and enrich thousands who read The Pappas Post. I'm asking those who frequent the site to chip in and help keep the quality of our content high — and free. Click here and start your monthly or annual support today. If you choose to pay (a) $5/month or more or (b) $50/year or more then you will be able to browse our site completely ad-free!

Click here if you would like to subscribe to The Pappas Post Weekly News Update