Honesty time…
If you're looking to "Lose 50 pounds FAST" or "Get your Beach Body Ready in 2 Weeks" then head on over to BuzzFeed. If, however, you are interested in feeling healthy and being well, then perhaps you should stick around to learn some basic facts about a diet that has been around for thousands of years and is still recommended by physicians today.
The Mediterranean diet is a lifestyle change that promotes lifelong wellness. Read on to learn about the origins of the diet, the science that backs it up, and how YOU can make this change in your life.
What's the big deal?
The Mediterranean diet is widely considered the most heart and brain healthy diet. This is not some "fad diet" or "hack." Many reputable studies have been conducted on more than a million participants to examine the effectiveness of this diet. The data is clear; researchers have shown a 52% reduction in risk for developing Diabetes, and a 45% reduction in risk for heart attack when compared with a "low-fat diet" control group. In general, people who follow this diet tend to lead longer and healthier lives.
Brief history of the Mediterranean diet
As the name suggests, the diet traces its roots to the Mediterranean basin, the region surrounding the Mediterranean Sea. Because of the geography and climate of this area, people here have enjoyed a diet rich in colorful fruits and vegetable, lots of fresh seafood and plenty of olives.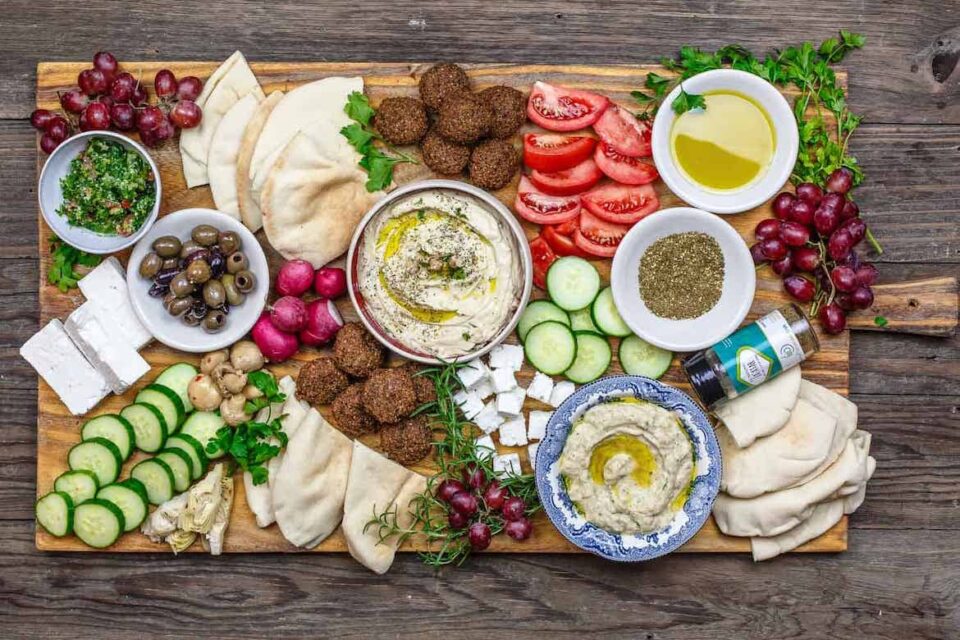 The health benefits of this diet were discovered in the 1950s by American scientist Ancel Keys, who was the first to show a correlation between cardiovascular disease and lifestyle. He noticed that poor residents of small Italian towns were actually healthier than Italian immigrants living in New York City.
After much research, scientists were able to show that lifestyle, and in large part diet, was the most reliable predictor of cardiovascular health. Since these initial studies there have been many follow-ups that have verified the results and confirmed that the diet helps to reduce the risk of heart attack, stroke, and diabetes.
Dan Buettner is the founder of Blue Zones, non-profit dedicated to promoting longevity and wellness in communities around the world. This tremendously valuable work grew out of research conducted by Buettner and others to identify "longevity hotspots." Using demographic data, researchers identified five villages around the world in which residents enjoyed extreme longevity. The Mediterranean region boasts two of the five Blue Zones: Ikaria, Greece and Sardinia, Italy. To learn more about Blue Zones and the "Power 9" lifestyle habits that all the zones share, visit this page.
How can YOU follow this diet?
First and foremost, you should eat primarily plant-based foods, with lots of fresh fruits and vegetables every day
Limit red meat to once per week, and instead get your protein from seafood, chicken, nuts, seeds, and beans
Minimize butter and margarine, and substitute extra-virgin olive oil
Skip the white bread, and opt for whole grains in the form of bread, pasta, rice (brown or red), oats, barley, and potatoes (red or purple)
Ditch the salt, and learn how to use herbs and spices to flavor your food
Adopting the Mediterranean diet in earnest goes beyond the kitchen. The following lifestyle recommendations illustrate the fact that wellness is about much more than which cooking oil you use:
Enjoy meals with friends in a social environment
Stay active with plenty of exercise each day
Enjoy a glass of red wine with dinner, if you are so inclined
Wrapping up
Whether you're an aspiring health nut or an average Joe who wants to be there to see his kid graduate, adopting the Mediterranean diet could be a huge step toward improving your health and increasing your longevity. I don't know much in this world, but this I do: there is no hack, gimmick, or supplement that can take the place of consistent, positive lifestyle choices. Eat real food, stay active, and be kind to others.
Thank you for reading!
---
Five books we recommend to help get you on the Mediterranean diet…
1. Ikaria: Lessons on Food, Life, and Longevity from the Greek Island Where People Forget to Die
By Diane Kochilas and Vassillis Stenos
The remote and lush island of Ikaria in the northeastern Aegean is home to one of the longest-living populations on the planet, making it a "blue zone." Much of this has been attributed to Ikaria's stress-free lifestyle and Mediterranean diet-daily naps, frequent sex, a little fish and meat, free-flowing wine, mindless exercise like walking and gardening, hyper-local food, strong friendships and a deep-rooted disregard for the clock. No one knows the Ikarian lifestyle better than Chef Diane Kochilas, who has spent much of her life on the island. Part cookbook, part travelogue, Kochilas's Ikaria is an introduction to the food-as-life philosophy and a culinary journey through luscious recipes, gorgeous photography, and captivating stories from locals. Capturing the true spirit of the island, Kochilas explains the importance of shared food, the health benefits of raw and cooked salads, the bean dishes that are passed down through generations, the greens and herbal teas that are used in the kitchen and in the teapot as "medicine," and the nutritional wisdom inherent in the ingredients and recipes that have kept Ikarians healthy for so long.
Click here to purchase from The Pappas Post Bookshop
2. The Everything Healthy Mediterranean Cookbook: 300 Fresh and Simple Recipes for Better Living
By Peter Minaki
Mediterranean cuisine is celebrated all over the world for its fresh, healthy ingredients, vibrant flavors and complex recipes. Centering mostly around fresh fruits, vegetables, whole grains, seafood and lean meats, it's no wonder it's not just a fad diet. But who has time to make complicated, traditional recipes every weeknight? The Everything Healthy Mediterranean Cookbook provides all the tools you need to make healthy, classic Mediterranean meals right at home. Including 300 recipes—most of which can be made in 30 minutes or less, along with make-ahead and slow cooker meals—this cookbook is perfect for Mediterranean diet beginners. This fun and easy cookbook has the step-by-step guidance you need to effortlessly incorporate this healthy lifestyle into your busy schedule. Whether you are cooking a quick, delicious meal on a weeknight or an elaborate, decadent meal for a holiday, The Everything Healthy Mediterranean Cookbook makes starting the Mediterranean diet easier than ever.
Click here to purchase from The Pappas Post Bookshop
3. Opa! The Healthy Greek Cookbook: Modern Mediterranean Recipes for Living the Good Life
By Theo Stephan and Christina Xenos
Bring the healthy and mouthwatering flavors of Greece home with Opa! The Healthy Greek Cookbook. Filled with traditional dishes, this Greek cookbook combines great tastes with food that's good for you. From Kalamata Olive Spread and Vegetable Moussaka to Shrimp Santorini and Spinach and Feta Stuffed Chicken Breasts, these dishes will have you shouting "Opa!" Worried about finding the right ingredients? This Greek cookbook brings you authentic dishes without needing to visit the Mediterranean to shop. Learn how to stock your pantry, explore Greek flavor profiles, and master cooking techniques. The book includes: 90 healthy Greek recipes―Discover how easy it is to craft sumptuous Greek dishes in your kitchen using easy-to-find ingredients and simple instructions; Helpful tips and tricks―This Greek cookbook is filled with handy suggestions for substituting ingredients, advice for better cooking, timesavers, and more; Live Greek―Get insight into why Greek food is so good for you―as well as healthy lifestyle tips drawn straight from Greece.
Click here to purchase from The Pappas Post Bookshop
4. The Mount Athos Diet: The Mediterranean Plan to Lose Weight, Feel Younger and Live Longer
By Richard Storey, Lottie Storey and Sue Todd
For centuries, the monks of Mount Athos have enjoyed long lives, healthy bodies, and calm minds thanks to their unique diet and lifestyle. Now you too can discover the secrets of good nutrition from this ancient community in a remarkable new diet book. With this plan, you'll follow the intermittent diet that keeps the monks slim, youthful, and largely free from disease. The diet is made up of three easy-to-follow patterns throughout the week: three fasting days full of delicious fruits and vegetables from nature's larder; three moderation days to enjoy the best of the Mediterranean, including olive oil, fish, and even red wine; and one feast day to completely indulge in whichever foods you like. With a simple diet plan, recipes, menu planners, and tips on how to adapt the diet, plus guidance on exercise, meditation, and emotional wellbeing, this book promises to transform your body and mind to help you lose weight, feel fitter and live longer. Recipes include dual measurements.
Click here to purchase from The Pappas Post Bookshop
5. The Complete Mediterranean Cookbook: 500 Vibrant, Kitchen-Tested Recipes for Living and Eating Well Every Day
By America's Test Kitchen
Bring the Mediterranean into your kitchen with more than 500 fresh, flavorful recipes. This comprehensive cookbook translates the famously healthy Mediterranean diet for home cooks with a wide range of creative recipes, many fast enough to be made on a weeknight, using ingredients available at your local supermarket. The structure of the book follows the guidelines of the Mediterranean Diet Pyramid. You'll find large chapters devoted to Beans and to Vegetables, the Seafood Chapter is larger than Poultry and Meat and the Fruits and Sweets chapter, while shorter, is packed with recipes you can truly feel good eating.
Click here to purchase from The Pappas Post Bookshop
Three easy ways to incorporate the benefits of the Mediterranean diet into your life
Drink two tablespoons of high-phenolic extra virgin olive oil every day. Read about the benefits of this practice.
Remove salt from your diet and start experimenting with Greek herbs and spices. Click here to purchase the highest quality Greek herbs and spices from Olive Grove Market.
Forget the syrup and processed sweeteners and add traditional Greek honey into your life. Click here to purchase the best quality Greek honey from Olive Grove Market.
---

Click here to shop olivegrovemarket.com
---
About the author
Ben Clements is a registered nurse who writes articles and web copy for brands that are motivated to stand out in the health and wellness industry. Clements has more than three years of healthcare experience and has worked in both the hospital and home settings, providing hands on nursing care, education and health-coaching to patients. He continues to work part-time in acute care but has taken a step back to focus on writing.Visit his website or view his LinkedIn profile.
---
Is The Pappas Post worth $5 a month for all of the content you read? On any given month, we publish dozens of articles that educate, inform, entertain, inspire and enrich thousands who read The Pappas Post. I'm asking those who frequent the site to chip in and help keep the quality of our content high — and free. Click here and start your monthly or annual support today. If you choose to pay (a) $5/month or more or (b) $50/year or more then you will be able to browse our site completely ad-free!

Click here if you would like to subscribe to The Pappas Post Weekly News Update