If Greek Premier Alexis Tsipras had hoped his referendum announcement would scare his German counterpart into offering his country much looser bailout terms, a quick look at recent German opinion polls might have changed his calculus.
Surveys gathered before and after the breakup of negotiations between Athens and its creditors show Germans stand firmly behind German Chancellor Angela Merkel's message, delivered at a news conference here on Monday, that if Greece is going to remain in the eurozone, it will have to implement the unpopular economic overhauls Athens is rejecting.
Government officials say that despite Ms. Merkel's concerns that a Greek exit would split Europe at a time of challenges ranging from Russian aggression in Ukraine to Jihadi terrorism and a refugee crisis, yielding now would undermine the rules that underpin the eurozone.
But Ms. Merkel is also a leader with a keen eye for the public mood. From her decision to phase out nuclear power in 2011 to her introduction of a minimum wage this year, she has often supported popular policies, even if they irked conservative functionaries in her Christian Democratic Union. By bowing before Mr. Tsipras, she would go against the overwhelming majority of Germans who oppose any sweetener for Greece.
While a sizable minority of voters still see a future for Greece in the eurozone, Heiko Gothe, associate director at polling group Infratest Dimap, said a vast majority "are telling the Chancellor she shouldn't compromise [on the terms of the bailout]."
Mr. Gothe and others say respondents are also united in blaming the Greek government for the recent escalation.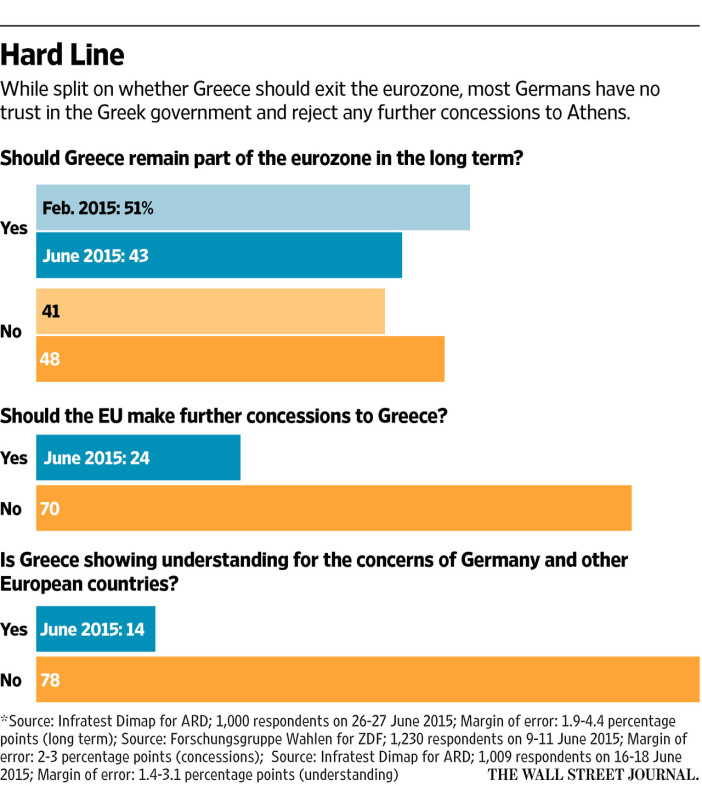 "There is a clear majority of more than two thirds who reject further concessions for Greece," said Andrea Wolf, board member at pollster Forschungsgruppe Wahlen.
The institute's latest survey, published June 12, showed only 24% of Germans favored watering down the terms of the bailout with 70% advocating a tough line. The representative survey of 1,230 respondents had a margin of error of two to three percentage points.
Asked whether Greece should relinquish the euro, Germans are more balanced. A representative Infratest Dimap poll of 1,000 people for public broadcaster ARD, conducted on Friday and Saturday and published on Tuesday, showed a narrow majority of 48% of Germans in favor of an exit, with 43% against. The poll had a margin of error of 1.9 to 4.4 percentage points.
Pollsters say the relatively large support for Greece's continuing eurozone membership reflects Ms. Merkel's concerns about the stability and cohesion of Europe more than fears about the possible economic fallout for Germany and the losses a Greek default would impose on Berlin.
A Greek exit would "hurt all of Europe, why just Germany?" said Paul Eck, a 57-year-old consultant from Munich. "But Germany won't feel the pinch much. It won't be the end of the world."
Irma Tesch, a 72-year-old Berlin pensioner, said: "Greece must stay in the Eurozone, but there mustn't be too many concessions."
Thomas Heblich, a 29-year-old bookseller in Frankfurt, took the opposite view. "Greece should never have been part of [the euro]," he said. "Even if the Greeks the vote yes, it can't go on this way…When one builds a house with an unsound floor then adds stone, at some point the structure won't support it anymore and it will collapse."
"Overall, there's a strong sense in the surveys that Germans trust the chancellor's leadership throughout the eurozone crisis," said Peter Matuschek, head of political and social research at polling group Forsa. "And a majority support the fundamental tenets of her economic policy: fiscal prudence; a stable currency and skepticism toward economic stimuli."