In honor of Greece's 2021 bicentennial, the country's national postal service has circulated a new stamp paying homage to Samuel Gridley Howe, an American philhellene who participated in the Greek Revolution of 1821.
The Hellenic Post Office launched the new stamp as part of a series highlighting various philhellenes — foreign supporters of Greek independence — who contributed to Greece's fight for freedom from the Ottoman Empire.
Following a proposal from the Greek Consulate in Boston, Massachusetts, the Hellenic Post agreed to include Howe, a native Bostonian and physician who, after graduating from Brown and Harvard Universities, traveled across the Atlantic to fight alongside the rebellious Greeks.
Howe organized camps, coordinated humanitarian aid and provided assistance and education to children who were orphaned during the revolution. He was the first surgeon general of the Greek navy and he also supported the Cretan revolution.
Beyond his philhellenism, Howe was a notable figure in the American abolitionist movement, aided national liberation movements in Europe and Latin America and pioneered the education of blind children worldwide as the founder of the Perkins School for the Blind.
In an email to friends and supporters, the Greek Consulate in Boston announced that it oversaw the restoration of memorials dedicated to Howe and other American philhellenes at Mount Auburn Cemetery in Cambridge.
"The preservation of the Boston philhellenes' tombstones is the least we can do as a tribute to them," Consul General Stratos Efthymiou wrote in the email.
The consulate completed the restoration project in collaboration Alpha Omega Council President Costa Sideridis and Mount Auburn Cemetery authorities.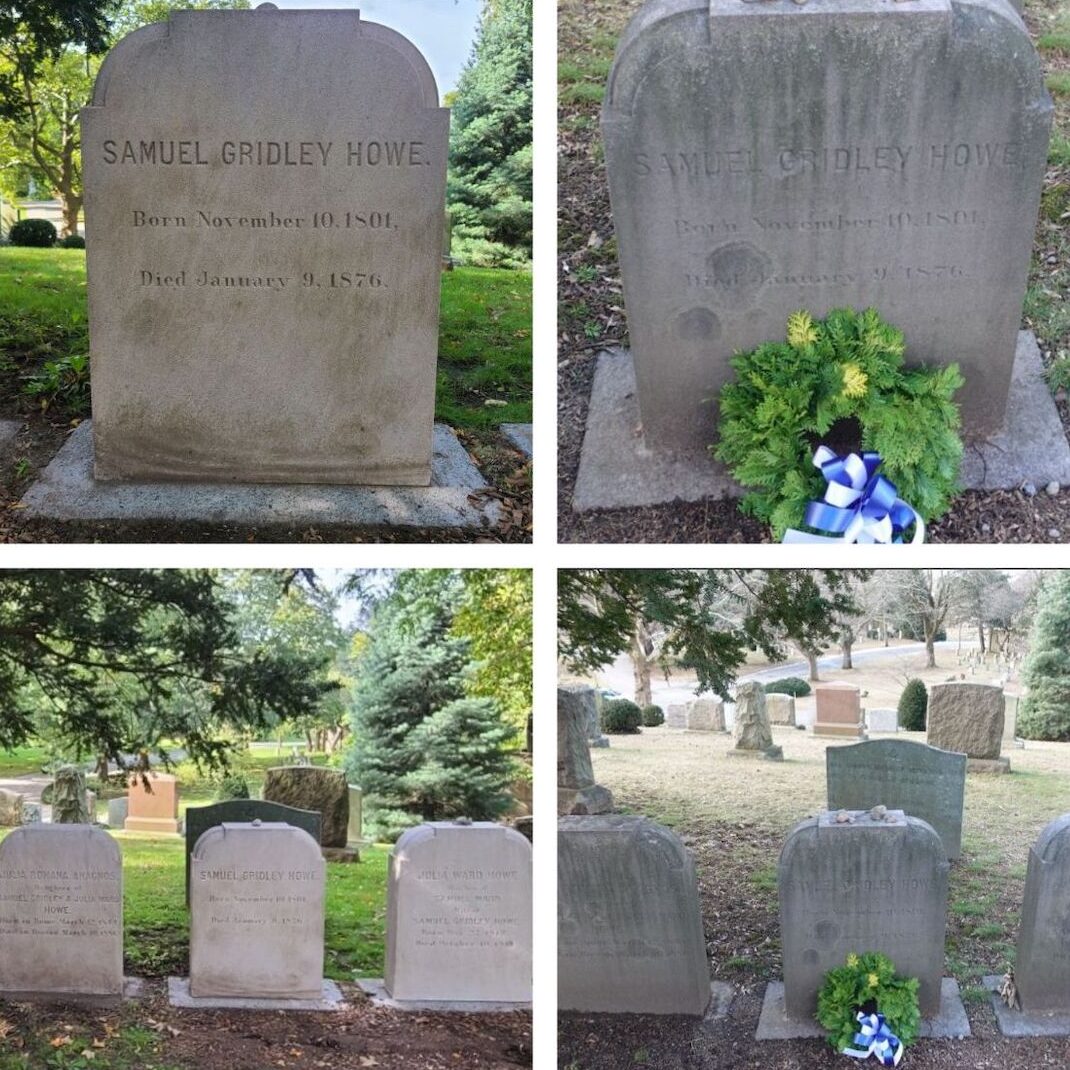 The photos above on the left show the restored monuments in their present state. On the right the memorials are shown as of March 2020, when only the tombstone of Julia Ward Howe — the poet and wife of Samuel How and composer of the "Battle Hymn of the Republic" march — was preserved.
The restoration work, which was not permitted during the winter, was completed ahead of the anniversary of Howe's birth on November 10, when his memory and his contribution to the effort of the Greek revolutionaries will be duly honored.
Click here to read more about Samuel Gridley Howe.
---
Is The Pappas Post worth $5 a month for all of the content you read? On any given month, we publish dozens of articles that educate, inform, entertain, inspire and enrich thousands who read The Pappas Post. I'm asking those who frequent the site to chip in and help keep the quality of our content high — and free. Click here and start your monthly or annual support today. If you choose to pay (a) $5/month or more or (b) $50/year or more then you will be able to browse our site completely ad-free!

Click here if you would like to subscribe to The Pappas Post Weekly News Update