The Athens-based NGO METAdrasi – Action for Migration and Development has received the 2019 Conrad N. Hilton Humanitarian Prize for its work supporting refugees, migrants and unaccompanied children in Greece.
The $2 million award, widely considered the world's largest humanitarian prize, recognizes nonprofit organizations judged to have made "extraordinary contributions" toward alleviating human suffering.
Conrad N. Hilton Foundation President and CEO Peter Laugharn called METAdrasi a "remarkable example" and "nimble organization" that provides valuable services.
"METAdrasi is a remarkable example of a nimble organization that leads the charge in areas where essential services are lacking," Laugharn said. "Their belief that migrants and refugees are a valuable part of our shared future and our shared humanity embodies the spirit of the prize and the work of the Conrad N. Hilton Foundation."
METAdrasi President and Founder Lori Pappa said the organization is "so grateful" to receive the Hilton Prize.
"This prize reaffirms the spirit of solidarity which is shared by so many citizens in Europe, in the United States and beyond," Pappa said. "It means that the international community is paying attention to the magnitude and the gravity of the complex humanitarian challenges that emerge from the management of mixed refugee flows. It recognizes the work of the grassroots, everyday efforts which are being taken to tackle those issues with innovation and practicality."
METAdrasi joins the list of 23 previous organizations that have received the Hilton Prize, including Shining Hope for Communities (SHOFCO); International Centre for Diarrhoeal Disease Research, Bangladesh (icddr,b); the Task Force for Global Health and Landesa, among others.
Founded in 2010, METAdrasi aims to facilitate the reception and integration of refugees, migrants and unaccompanied children. The organization fills gaps in areas not covered, or covered only to a limited extent, by public authorities or other NGOs.
With its network of hundreds of trained social workers and interpreters, METAdrasi has become active throughout Greece, where it escorts refugee children from detention centers or unsafe conditions to proper accommodation facilities.
The organization has escorted approximately 11,000 children during 4,000 escorting missions. According to the latest statistics, 40% of the missions involve escorting children from Greek islands to the mainland. 41% of the escorted children come from detention centers, 36% from hotspots in the islands and 8% from homelessness.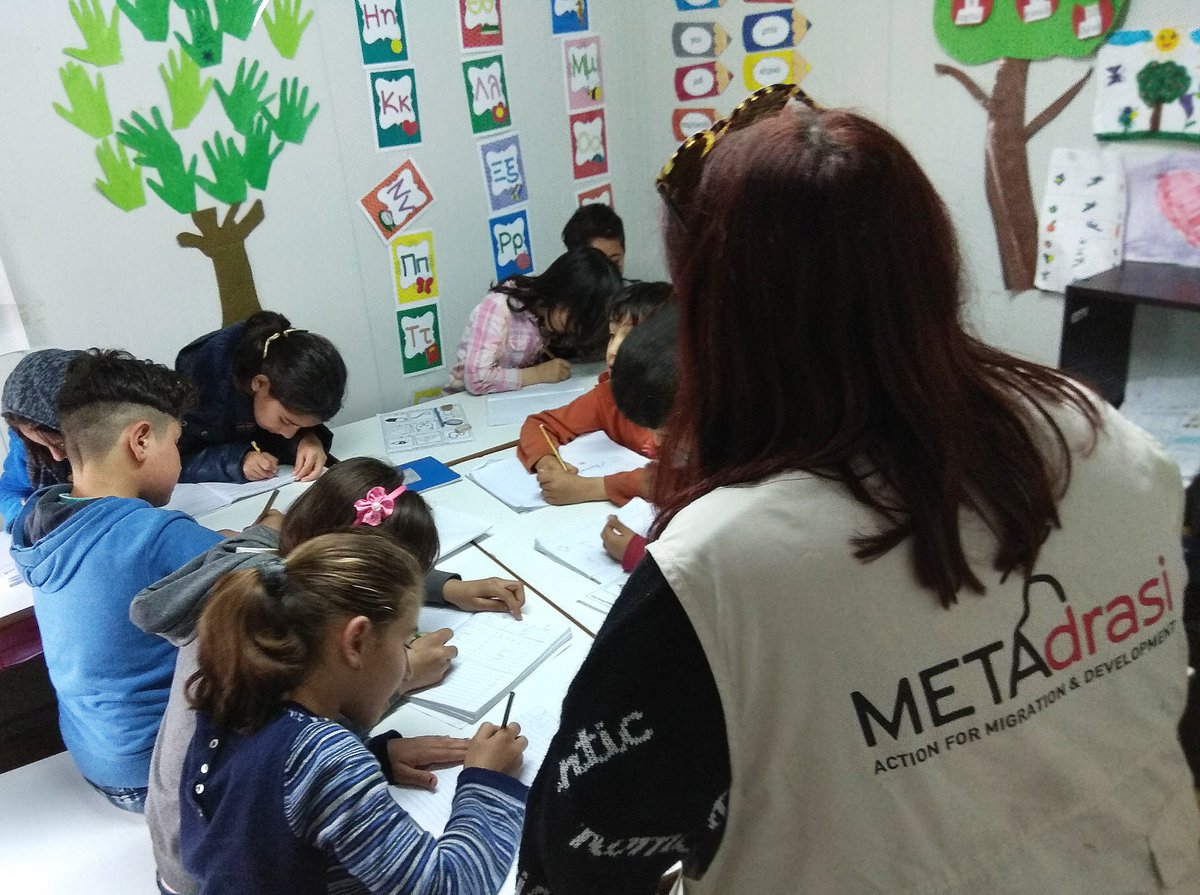 METAdrasi has also expanded its services to include legal support, certification of victims of torture, education, integration and a safety net to protect unaccompanied minors.
UNHCR, the United Nations' refugee agency, estimates that more than 80,000 refugees and migrants remain stranded in Greece — and that more than 4,100 of them are unaccompanied children.
METAdrasi has affiliation with charities abroad, including the New York-based Greek America Foundation, which lists METAdrasi as a partner in its #ChildrenOfGreece fundraising campaign.
The two charities collaborated this past summer during a month-long service program in which the Greek America Foundation sent 16 young adult volunteers from North America to support METAdrasi's work on the island of Chios.
METAdrasi will officially receive the prize at the Conrad N. Hilton Humanitarian Symposium and Prize Ceremony in Los Angeles, California, on October 18. The daylong conference will bring together humanitarian leaders from around the world to explore various international crises in the sector.
See the video
---
Is The Pappas Post worth $5 a month for all of the content you read? On any given month, we publish dozens of articles that educate, inform, entertain, inspire and enrich thousands who read The Pappas Post. I'm asking those who frequent the site to chip in and help keep the quality of our content high — and free. Click here and start your monthly or annual support today. If you choose to pay (a) $5/month or more or (b) $50/year or more then you will be able to browse our site completely ad-free!

Click here if you would like to subscribe to The Pappas Post Weekly News Update