The Greek film "Worlds Apart" will be released in two U.S. theaters this month.
Set in modern-day Greece Worlds Apart is comprised of three separate narratives each following a love story between a foreigner and a Greek. The Greek title of the film is "Enas Allos Kosmos".
Each story represents a different generation falling in love during a time of socioeconomic turmoil, only to connect as a single story in the end. The film follows the characters difficult path to love and the complications inherent in their world. Despite its harsh realities, Greece remains a place where truth, beauty and humanity exist. A place where love can thrive even in the darkest hour.
The film was written and directed by Christoforos Papakaliatis, who also stars in it, alongside Academy Award winner J.K. Simmons, Andrea Osvart, Maria Kavoyianni, Minas Hatzisavvas, Tawfeek Barhom, and Niki Vakali.
"Worlds Apart" was the highest grossing film at the Greek box office for the 2015-2016 season with its debut setting a record for highest grossing film since 2009.
Kostas Sousoulas, Papakaliatis, Dorothea Paschalidou, and Chris Papavasiliou produced the film.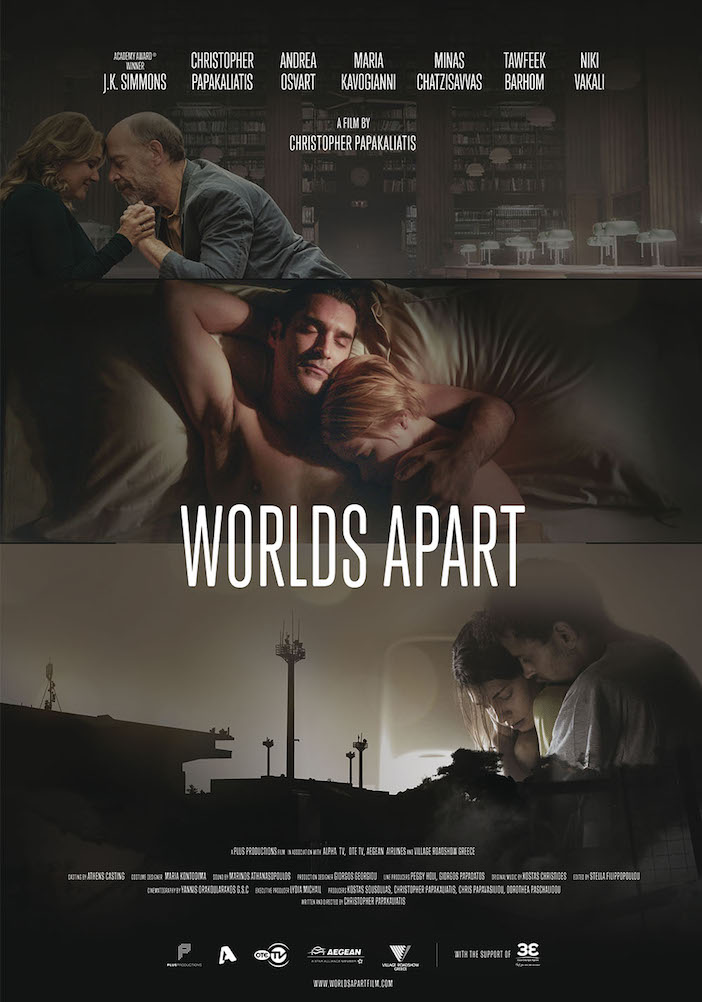 New York-based Papavasiliou, who first met Papakaliatis at the 2013 Gabby Awards in Hollywood where his last film "What If" was screened, was basking in the synergy between Greek films and the United States market and the role Greek American community events can play to connect everyone.
"Had it not been for events like the Gabby Awards and the New York City Greek Film Festival, where I was first introduced to Papakaliatis, I wouldn't have known of his work," Papavasiliou said.
Papavasiliou was instrumental in bringing J.K. Simmons to the project, who won an Oscar, Golden Globe and BAFTA award for his supporting role in the 2014 film Whiplash.
"We are fortunate to have cast J.K. Simmons. He's an incredible actor, he's an extraordinary person and a genuine supporter of our film," said Papavasiliou, who is no stranger to successful filmmaking and has had much success attracting other Academy Award recipients to his projects.
Previous projects of his have included the Sundance Audience Award Winner "Happy Thank You More Please", "Detachment" (Adrien Brody, Marcia Gay Harden), "Infinitely Polar Bear" (Mark Ruffalo, Zoe Saldana), and "The Runner" (Nicolas Cage).
Papavasiliou believes there is a lot of potential for Greek films in the U.S. market and his latest efforts with "Worlds Apart" proves that.
"Independent and foreign language films have a hard time competing with Hollywood blockbusters," Papavasiliou told The Pappas Post, adding that "In rare situations like this when we are able to attain North American distribution for films like this one from our beloved Greece, it's imperative we rally in support and fill the theater."
Papavasiliou said he fell in love with the story from the first moment he read Papakaliatis' script, and was also impressed with his previous film "What If" (An), which shattered box office numbers in Greece when it was released.
"Worlds Apart" is currently set to screen at the Village East Cinema (2nd Avenue at 12th Street) from Friday, January 13 to Thursday, January 19th. Whether or not the film will continue to screen longer depends on its opening weekend box office numbers.
Tickets for the New York City screenings can be reserved here.
J.K. Simmons and director/writer/actor Christoforos Papakaliatis are both expected to be at the 7:30pm screening on Friday, January 13.
The film will open in Los Angeles on Friday, January 20 at the ArcLight Hollywood (6360 W. Sunset Blvd).