The nation's attention continues to be fixated on the issue of thousands of migrant children separated from their families on the southern border of the United States.
More and more details are emerging behind the multi-billion-dollar business of illegal immigration, a business in which private corporations and their CEOs are making a fortune from an "immigration crisis" that many critics claim these companies helped create by pushing tougher legislation on elected officials while loading their campaign coffers with thousands of dollars.
One such CEO is George Zoley, the founder of GEO Group, a company that has made millions of dollars in profits and has been accused of using political clout to help push for tougher legislation to incarcerate more people crossing the border.
Zoley's leadership has helped fill the GEO Group's detention facilities throughout the southern border with detainees, subsequently transforming it into one of the biggest private prison corporations in the world.
But Zoley was once an immigrant himself, from Greece.
In recent years the company made as much as $143 million, profiting from its large facilities that detain hundreds of undocumented migrants, thanks to lucrative contracts with the U.S. government.
George Zoley was only three years old when he made his own fateful journey to the United States in 1953, accompanied by his mother Anastacia, grandmother and brother Larry..
The family left behind their northern Greek hometown of Florina to take a 16-day transatlantic voyage from Athens to Ellis Island, where they reunited with Zoley's father, Chris Zolis, who had emigrated a few years earlier to Canada, before settling in Ohio.
Fast forward many years later and Zoley's company has grown into the main provider of immigrant detention services for government agencies such as ICE — the primary government entity that detains immigrants who attempt to enter the U.S. illegally.
GEO has already made a fortune, but given the hardline immigration policies of President Donald J. Trump, Zoley and his company's profits could soar even higher.
Following global and widespread outrage over more than 2,000 family separations at the United States' southern border since May, Trump reversed his own policy by signing an executive order that calls for officials to keep parents and children together in detention centers — a maneuver that would increase the number of detained migrants in the facilities and enrich companies such as GEO.
But GEO Group's boosted profits do not come without a price, as human rights groups have protested the company and accused it of trying to influence policy for financial gain.
In 2017, Zoley's company allegedly tried to write and promote legislation that would keep immigrant children in its centers indefinitely and yield more profit.
Newsweek reported that GEO allegedly asked State Republicans to implement the new law, which, if passed, would have allowed immigration detention centers to obtain child care licenses. With such licenses, the centers would then have been able to bypass a 2015 federal ruling that requires detained immigrant children to be transferred to child care facilities after 20 days.
Rep. John Raney, a member of the Texas House of Representatives told the Associated Press that GEO had essentially created the legislation on their own and forwarded it to the party.
"I've known the lady who's [the GEO Group's] lobbyist for a long time," Raney said. "That's where the legislation came from. We don't make things up. People bring things to us and ask us to help."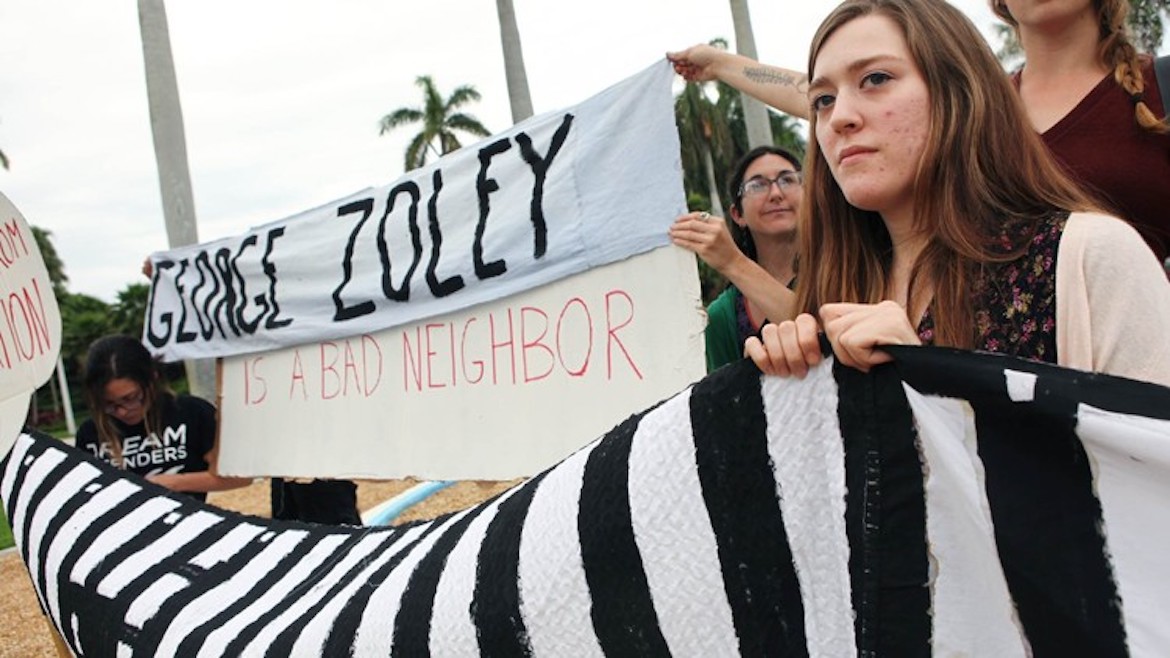 Although lawmakers never enacted GEO's proposed law, it shares an eery resemblance with President Trump's recent executive order to keep parents and children together in migrant detention centers — an outcome that could give the company the same benefits that its failed legislation would have.
The GEO Group's ties to Trump — not to mention its political influence — trace back to the president's 2016 election run, when the corporation showed its support with large donations.
In August 2016, The Intercept reported that GEO Group was one of the first large publicly-traded firms to make significant contributions to the Trump campaign.
The corporation donated $50,000 to a pro-Trump Super PAC and $45,000 to the Trump campaign through its joint fundraising committee with the Republican National Committee.
The Florida Action Committee published an article in January 2018 stating that in September 2016 a GEO Group subsidiary named GEO Corrections Holding Inc. gave $200,000 to the Senate Leadership Fund — a Republican PAC — as well as $100,000 to the Conservative Solutions PAC in April 2015.
The company has also been supportive of the campaigns of several members of the U.S. Congress from Texas with tens of thousands of dollars donated to key members of the House of Representatives who have important positions on committees that set this country's immigration policy.
The GEO Group's PAC and executives have given $32,900 to Houston Republican Rep. John Culberson's campaign this election cycle, according to Federal Election Commission documents, making the company Culberson's biggest donor.
GEO is also the top donor this cycle for U.S. Rep. Henry Cuellar, who received $32,400, and Rep. John Carter, who received $31,600.
Culberson and Cuellar serve on the House Appropriations Homeland Security Subcommittee, which funds private immigration detention centers.
GEO makes $55 million per year solely from operating one of Texas' two immigrant family detention facilities in Karnes City.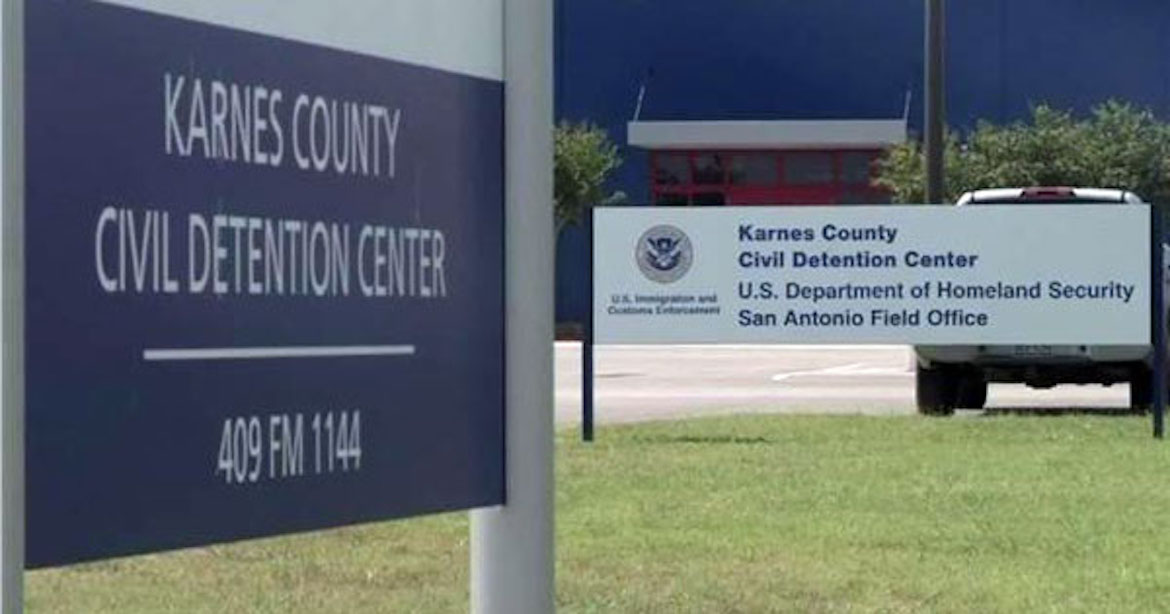 In the Texan town of Conroe, the group is currently constructing another facility that will hold 1,000 detained migrants and generate an estimated $44 million of company profit per year.
But the company has faced lawsuits and received criticism from social activist groups for abuse and alleged mismanagement in its facilities.
Migrants at one of GEO's California facilities sued the organization for allegedly forcing them to work, and three others at another center in the state died while in custody. The American Civil Liberties Union also accused GEO of denying detainees food, water and bathroom access.
On its website, the group's descriptions of its values contradict such accusations.
"We believe that every human being should be treated with dignity and that his or her basic human rights should be respected and preserved at all times. We are committed to establishing and maintaining a workplace that is safe, secure and humane, not only for our trained and experienced professionals, but for the men and women entrusted to our care."
---
Is The Pappas Post worth $5 a month for all of the content you read? On any given month, we publish dozens of articles that educate, inform, entertain, inspire and enrich thousands who read The Pappas Post. I'm asking those who frequent the site to chip in and help keep the quality of our content high — and free. Click here and start your monthly or annual support today. If you choose to pay (a) $5/month or more or (b) $50/year or more then you will be able to browse our site completely ad-free!

Click here if you would like to subscribe to The Pappas Post Weekly News Update