Pomegranates offer flavor and color to an otherwise white cheesecake. They are also a classic fruit used in Greece on New Years to symbolize good luck. Adding Greek yogurt makes the cheesecake even more Greek!
Pomegranates have a long history which spans back thousands of years to the ancient Greeks. They were familiar with the fruit even before it was introduced to Rome via Carthage, and the fruit appears in multiple myths and artworks.
In ancient Greek mythology, the pomegranate was known as the "fruit of the dead" and believed to have sprung from the blood of Adonis, mortal lover of the goddess Aphrodite.
The myth of Persephone, the goddess of the underworld, prominently features her consumption of seven pomegranate seeds, requiring her to spend seven months in the underworld every year.
During these seven months, while Persephone sits on the throne of the underworld beside her husband Hades, her mother Demeter mourned and no longer gave fertility to the earth. This was an ancient Greek explanation for the seasons.
Try the delicious recipe below — add some extra taste to your regular cheesecake.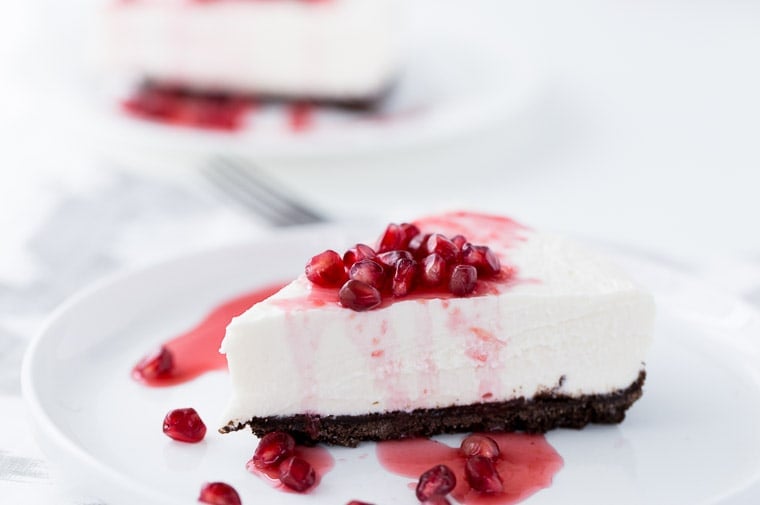 Ingredients
For the Crust
Nonstick vegetable oil spray
1 1/2 cups fine graham cracker crumbs
1/2 cup (1 stick) unsalted butter, melted, cooled slightly
1/4 cup sugar
For the Filling
2 teaspoons powdered gelatin
1 1/2 pounds cream cheese, room temperature
1 1/2 cups plain whole-milk Greek yogurt
3/4 cup sugar
2 teaspoons fresh lemon juice
1 teaspoon vanilla extract
1/2 teaspoon kosher salt
Pomegranate Syrup and Assembly
2 cups flash-pasteurized pomegranate juice
1/2 cup sugar
2 tablespoons light corn syrup
Pomegranate seeds
Instructions
Crust
Coat bottom and sides of pan with nonstick spray. Line bottom with a parchment-paper round.
Using your fingertips, mix remaining ingredients in a medium bowl until mixture holds together when pinched tightly.
Pack onto bottom of pan in an even layer (using the bottom of a flat measuring cup works well). Chill until firm, at least 1 hour or up to 1 day.
Filling
Place gelatin and 1 1/2 tablespoon cold water in a heatproof bowl. Let stand until softened, 5-10 minutes.
Pulse cream cheese, yogurt, sugar, lemon juice, vanilla, and salt in a food processor, scraping down sides as needed, until completely smooth.
Pour water to a depth of 1/2-inch into a small skillet over medium heat. Place bowl with gelatin in skillet; stir until gelatin dissolves, about 2 minutes. Remove bowl from skillet.
With processor running, drizzle gelatin into cream cheese mixture; mix until well blended. Pour into prepared crust. Tap pan firmly on the counter to break up any big air bubbles. Smooth top. Cover tightly with plastic wrap and chill for at least 6 hours before serving.
Pomegranate Syrup And Assembly
Bring first 3 ingredients to a simmer in a medium saucepan over medium-low heat; simmer, whisking occasionally, until syrup is thickened, shiny, and measures a generous 1/2 cup, 35-40 minutes. Let cool. DO AHEAD Pomegranate syrup can be made 5 days ahead. Cover; chill. Rewarm slightly before serving.
Cut cheesecake into slices, dipping knife into a large glass of warm water and wiping dry between slices, and place on plates. Drizzle pomegranate syrup over and scatter pomegranate seeds around. 
---
Is The Pappas Post worth $5 a month for all of the content you read? On any given month, we publish dozens of articles that educate, inform, entertain, inspire and enrich thousands who read The Pappas Post. I'm asking those who frequent the site to chip in and help keep the quality of our content high — and free. Click here and start your monthly or annual support today. If you choose to pay (a) $5/month or more or (b) $50/year or more then you will be able to browse our site completely ad-free!

Click here if you would like to subscribe to The Pappas Post Weekly News Update