In August of 1953, a young American Marine was on a relief mission on the Greek island of Zakynthos, where a massive earthquake had left tens of thousands of people homeless.
Thousands of buildings were reduced to rubble in the main town and everywhere, survivors wandered, in shock, from the loss and devastation.
The American marine had a camera and shot various photos during his relief work— including one photo of a young girl that has stayed with him for decades. He's named her The Zante Girl (Photo by James A. Baker III, below),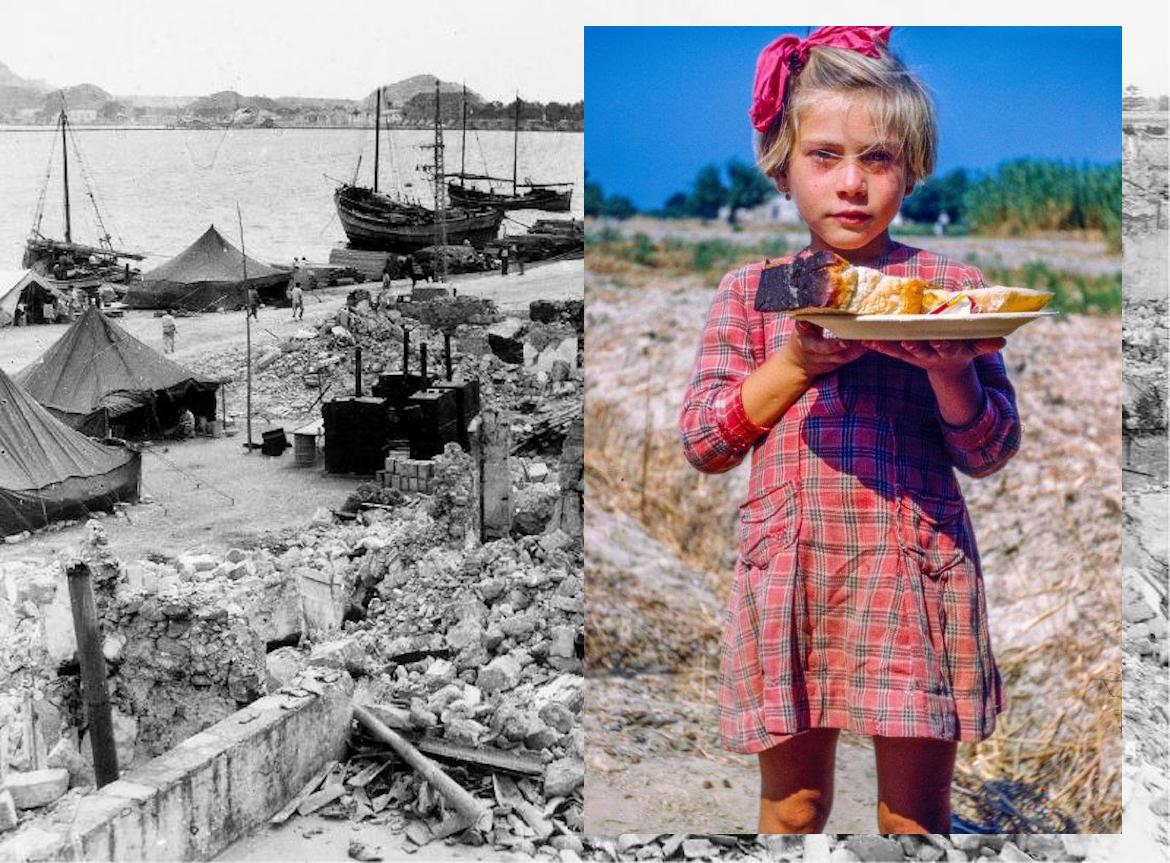 That U.S. Marine was James A. Baker III who would eventually become one of the most prominent public servants in the history of the United States with more Presidential appointments to top positions than anyone else.
Baker became White House Chief of Staff and Secretary of the Treasury in the Reagan Administration and White House Chief of Staff and Secretary of State during the first Bush Administration.
Throughout his tenure in these prominent positions and until today, decades later, the young girl in the photo remains unknown to Secretary Baker and he's always wanted to find out who she was, and perhaps reconnect with her again.
Enter a family of Greek Americans in Secretary Baker's hometown of Houston, Texas, who are helping Baker track down the girl.
It's not going to be easy— thousands of people left Zakynthos after the earthquake and resettled throughout the world.
Of course, there's also the passing of almost seven decades and the mystery of whether or not the girl— who would now be approaching her 80s— is even alive.
But the Christies aren't your typical Greek American family. The three Christie sisters have made it a personal mission to help their friend and long-time customer locate the Zante girl.
He's known this family for decades as he's been eating at their restaurant, Christie's Seafood, since he was a kid.
He still comes regularly to the 101-year-old restaurant with old friends like President George Bush to reminisce over some of the tastiest Gulf Coast oysters in the state.
Baker often said how much he admired the late Jim Christie, the patriarch of the family, who was the embodiment of the American Dream.
Like most immigrants, Jim started as a dishwasher with no English skills and ended up raising five children in Houston's oldest seafood restaurant and one of the oldest restaurants in the nation.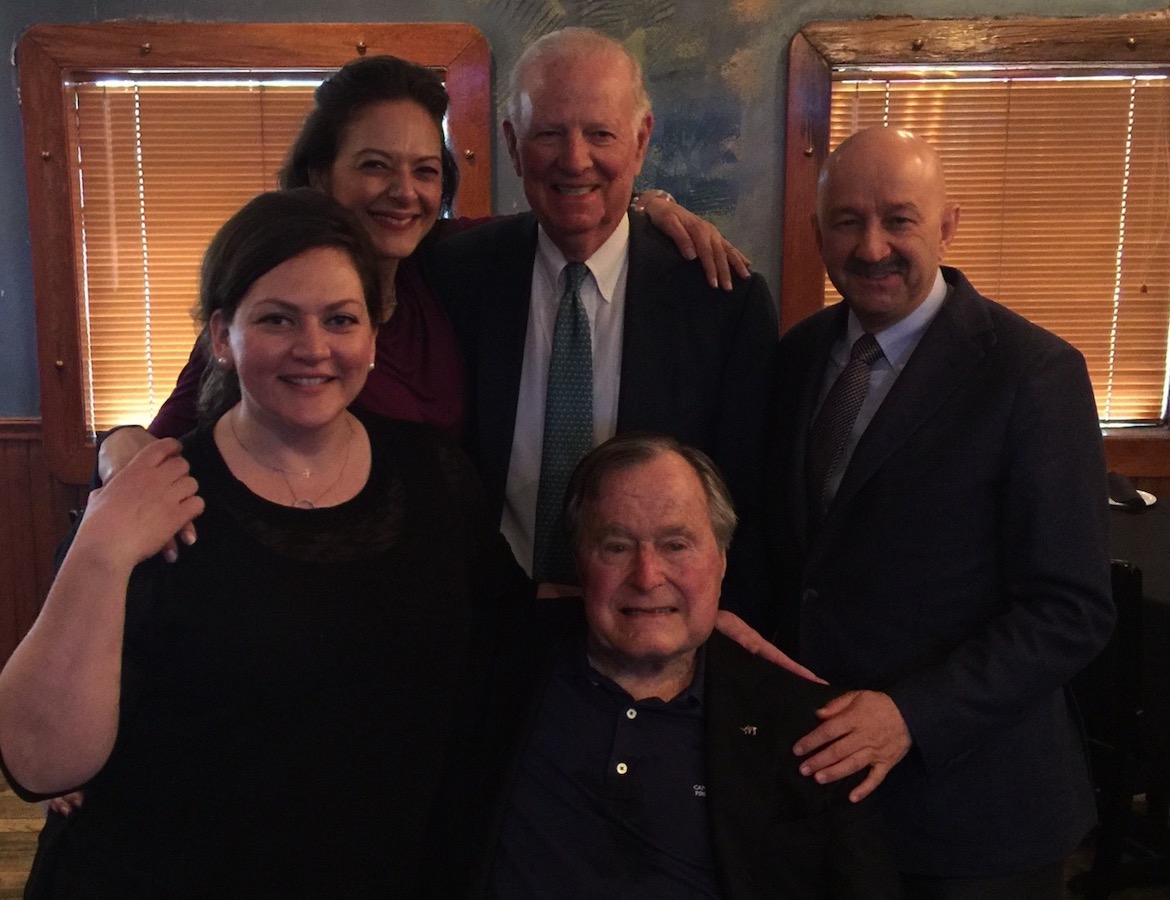 Photo above: Secretary James Baker and President George Bush bring Carlos Salinas, the former President of Mexico, to their favorite local restaurant– Christies Seafood. Kathy (front) and Maria (back) are there to greet. (Photo courtesy: Christie Family collection)
Maria and her sister Kathy both fly for United Airlines and often work the Newark to Athens non-stop route that operates during this summer months, getting them to Greece often where they are able to ask around for leads about the Zante girl.
It was on one of these flights that Maria recognized me and shared the story of the Zante girl and how her family had made it a personal mission to help their friend and long time customer identify and locate the girl in the photo.
The third sister, Roula, happens to be one of Houston's most famous radio personalities and the first woman to headline a morning radio show in such a large market.
For the past fifteen years she's been co-host of the Roula and Ryan Show on 104 KRBE that is listened to by hundreds of thousands of people daily and she's using her reach and her celebrity to spread the word.
On any given day, the three Christie sisters can be found looking at photos, lists of names and responding to emails that they've received from various inquiries and working with Secretary Baker's team to try and follow up on any leads.
If you know someone on the island of Zakynthos who may know who this girl is or where she may be today, please contact Maria Christie via email here.
***
Will you become a Patron for as little as the cost of a cup of coffee per month?
Is The Pappas Post worth $5 a month for all of the content you read? On any given month, we publish dozens of articles that educate, inform, entertain, inspire and enrich thousands who read The Pappas Post. I'm asking those who frequent the site to chip in and help keep the quality of our content high— and free. Visit our Patreon page and start your monthly support today. When you become a Patron, you'll also join an exclusive group of supporters that will have access to additional content and special offers that will be created just for you.