I've never met anyone quite like Liz— a woman facing death, yet fighting him, kicking him in the balls and shooing him away every time he approaches, only the way a "real Greek woman" can. "I'm not ready to go yet," she told me the last time I saw her when we had brunch in the Upper West Side. I've got to marry my kids off first. And I have a couple of other things I need to do first."
To watch this woman's fortitude, strength and dignity is a daily lesson for me— and for all who have the honor to come into contact with her, as we struggle through the challenges life brings us.
Liz Tsaoussis is a 56-year old mother of two amazing kids— George and Eva, both of whom I had the honor to meet when they volunteered for various Greek America Foundation endeavors. Often times, they traveled cross country— on their own dime— to support our work.
Liz has been battling stage 3 ovarian cancer for three years now and has been undergoing 26 straight months of debilitating chemotherapy— while maintaining a full time job, a part time job and simultaneously volunteering and donating to numerous Greek community organizations in her free time. She commutes several hours a day from her home in Connecticut to her job in Manhattan, because life is cheaper there and she can't afford to live in New York City.
And despite all of this, or rather— in addition to all of this— she remains a dedicated and passionate mother to her two kids— two gems of kids, both of whom I've and the honor of getting to know better over the years, well enough to call them my friends.
As long as I have known her, she has been a woman of dignity— never letting her hardships get her down. She has shown up to gala events wearing the swankiest of headscarves around her hairless head and has openly and frankly spoken about her illness and the inevitable fate that awaits her.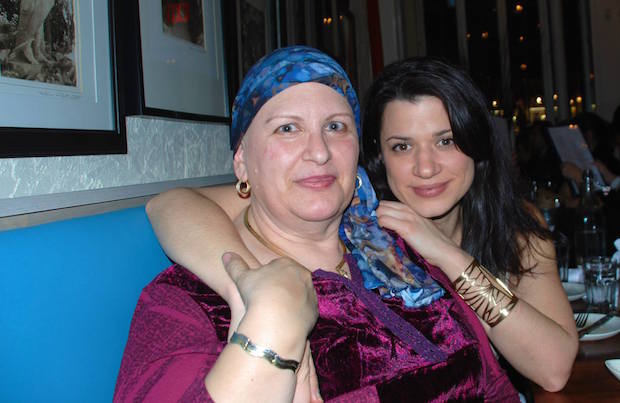 Liz reminds me of the stories of tough Greek women— like my paternal grandmother Anna, who during the difficult years of the Nazi occupation, fought the oppressor with a pitchfork, provided support to the resistance, while simultaneously raising a family and turning weeds and potato peels she found in the garbage of the Nazi mess halls into thick and hearty soup so her children's stomachs could be fooled into thinking they were full so they wouldn't go hungry.
Despite all her hardships, Liz remains defiant and proud— even getting actively involved in the upcoming wedding of her daughter Eva and planning a trip back to her roots— in Turkey, where her grandparents escaped death when they, along with millions of other Greeks fled the murderous onslaught of the Turkish troops of the madman Kemal Ataturk.
Liz has instilled in her children a passion for their Greek heritage like no other mother I know— to the point where her daughter will forgo the traditional white flowing gown look on her wedding day and add to her ceremonial dress, a family heirloom that her son George painstakingly and meticulously had restored. It's her great-grandmother's traditional wedding coat, gold-embroidered and hand made, more than a century ago when Greeks in Turkey were still living under the subjugation of the Ottoman Empire.
This wedding jacket survived the First World War, the Great Fire of Smyrna, the Nazi occupation of Athens twenty years later and emigration to New York City to survive as a prized possession— and in a few weeks, Eva will wear it to honor her mother, her grandmother, and her great-grandmother who wore it more than a century ago when she got married.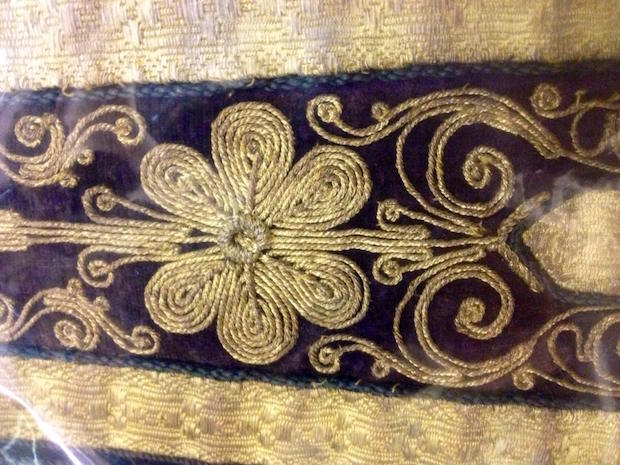 So today, this proud, dignified and honorable woman, mother, friend to many, volunteer and passionate Greek American is at a point in her life where "the system" has caught up with her. Her healthcare bills have gotten the best of her and she's having a hard time managing expenses and juggling all of life's challenges.
It must have been a difficult decision to do this— because I know how proud she is, but Liz launched a GoFundMe campaign, and is reaching out to her friends for support.
All of the donations I've made, all of the Kickstarters I've supported, all of the Indiegogo films I've added my few dollars to mean absolutely NOTHING, compared to the click of the "donate" button that I will make to support Liz Tsaoussis' campaign, to help her have the dignity that she deserves, as she continues to face death— that dreaded Haros, as we Greeks call it, and keep kicking him in the balls as he knocks on her door again, and again.
Please consider adding a dollar or two, or ten or a hundred— to help this woman, this friend to so many, this fighter— this Greek.