During a highly-publicized official visit to Greece, the Chairman of the Joint Chiefs and highest ranking American military officer, Gen. Joseph Dunford, wasted no time in getting straight to the point of his visit.
The United States wants a closer relationship, he told his Greek counterparts.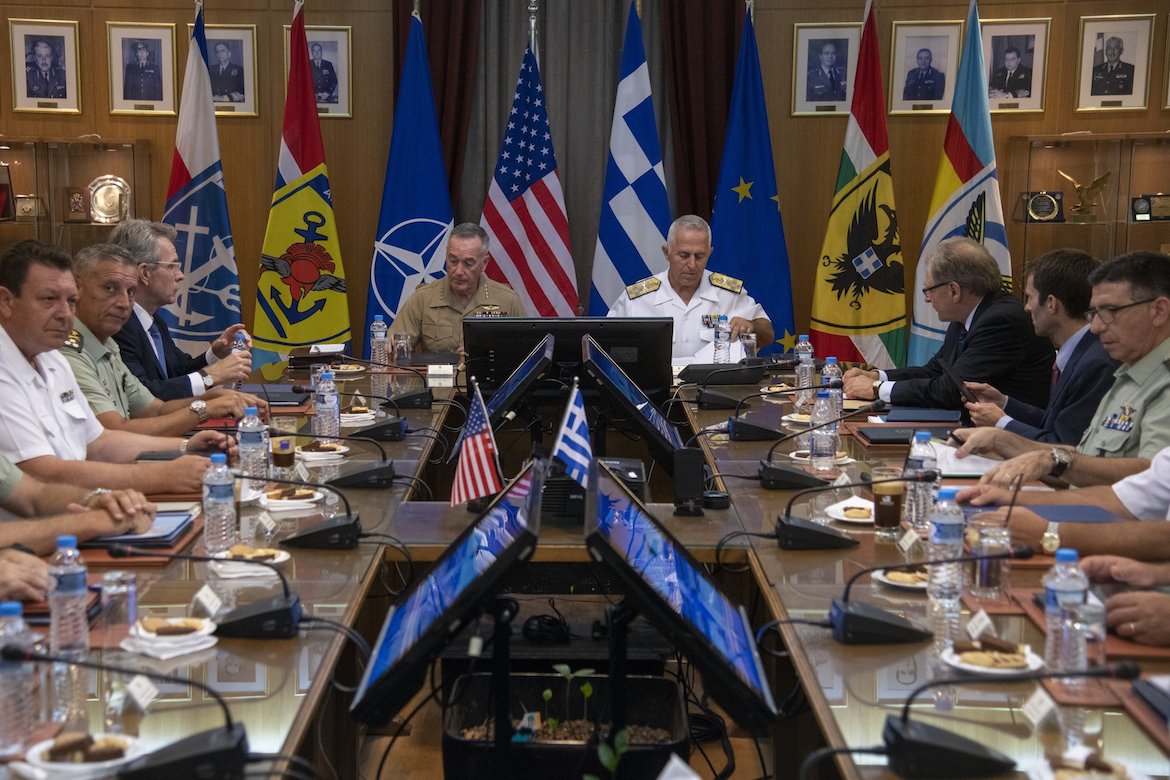 "If you look at geography, and you look at current operations in Libya, and you look at current operations in Syria, you look at potential other operations in the eastern Mediterranean, the geography of Greece and the opportunities here are pretty significant," Dunford said.
Numerous officials briefed reporters who followed Dunford's trip and various agencies and diplomatic offices of the U.S. government Tweeted and re-tweeted the various meetings and ceremonies that took place during the visit.
THREAD: #GenDunford met today with Chief of the @Hellenic_MOD Adm. Evangelos Apostolakis in Athens, #Greece.

As @NATO allies, the ?? and ?? enjoy a long-standing friendship & partnership rooted in our shared democratic values & strong cultural ties.#GenDunfordTravels pic.twitter.com/SyucWTJXgK

— The Joint Staff (@thejointstaff) September 4, 2018
Although no specific bases have been identified, the Supreme Allied Commander Europe Army Gen. Curtis Scaparrotti is evaluating several options for increased U.S. flight training, port calls to do forward-based ship repairs and additional multilateral exercises.
"Those are discussions that Gen. Scaparrotti and others are having right now, as they look around the region in terms of where they want to put forces within the next five to 10 years," one official said.
The increased interest in Greece by the U.S. military comes as relations with Turkey are deteriorating.
The discussions between Dunford and his Greek counterparts come following a surge in U.S. activity at Greek ports, airports and military bases over the past year.
This spring the U.S. began operating unarmed MQ-9 Reaper drones out of Greece's Larisa Air Force Base.
The transport dock ship New York has made two recent port calls, and the aircraft carrier Truman made a port call in May.
Referring to the strategic base in western Crete where the United States has a huge military presence, Dunford said Souda Bay is "a critical piece of infrastructure in the region."
*****
Since you're here… I have a small favor to ask.
More and more people than ever before are reading The Pappas Post and despite increasing costs to maintain the site and provide you with the quality content that you deserve, I will never "force" you to pay for our website or add a paywall. I believe in the democracy of the internet and want to keep this site and its enriching content free for everyone. But at the same time I'm asking those who frequent the site to chip in and help keep it both high quality— and free. We've implemented a "free-will" annual subscription for those who want to support our efforts. I guess it's fair to call it a philotimo subscription… because you don't have to do it but it's really the right thing to do if you love the site and the content we publish. So if you like The Pappas Post and want to help, please consider becoming a "philotimo subscriber". Click here to subscribe. If you'd rather make a one time donation, we will gladly accept any amount, with appreciation. Click here to donate any amount.