For a long period of time, Kostas and Thanasis were fishing humans out of the water instead of their usual daily catch. They were part of the extraordinary group of average Greek villagers who were called upon by international politics to do extraordinary and super human things— like save lives.
Kostas Pinteris and Thanasis Marmarinos are not just two traditional fishermen from a small Greek fishing village. They are among the fishermen and residents of Skala Sikamias, on the Greek island of Lesvos, who used their small fleet to rescue thousands of refugees from the Aegean Sea in 2015.
In an ironic twist of fate, Kostas and Thanasis now face hard times of their own as their fishing boats — which saved so many lives — were unable to withstand extreme winter storms that struck Greece earlier in January.
"Who could have expected that? I am 63 years old and this is the first time I've seen so much snow," Thanasis said in an interview.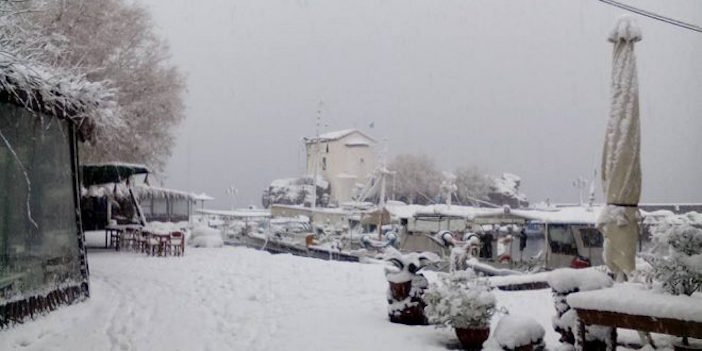 Located close to Turkey, the small village of no more than 150 residents saw hundreds of thousands of refugees land on its beaches.
Along with Kostas Pinteris and several other fishermen from Skala Sikamias, Thanasis used his fishing boat to pull refugees from half-deflated dinghies and take them to shore. Once they were safe on dry land, the residents would offer them food and clothing.
"If it wasn't for us, especially from here [Skala Sikamias], we would now be mourning thousands of drowned people," Thanasis says.
"This is what we did for five months. The NGOs and volunteers came afterwards. We used to pull [refugees] out; the villagers gave them clothes," he added.
"We emptied the tools from our boats because they're small, in order to fit in as many people as possible," said Pinteris.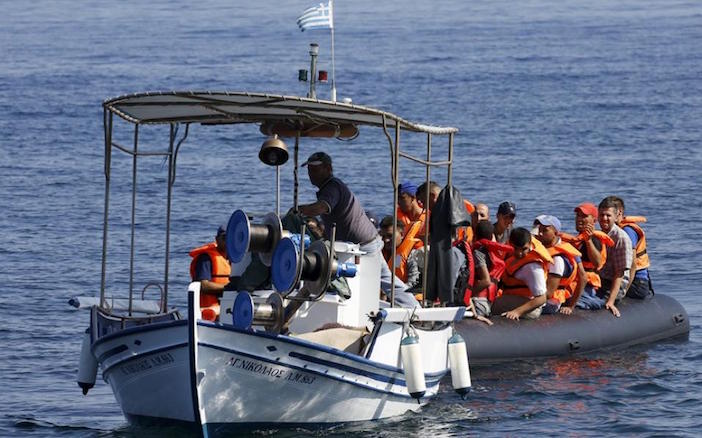 "Even if you didn't want to help, when you see someone drowning you just reach out your hand to help him, whoever that person is. We made no exceptions — whoever was in need we rescued them. Instead of fishing for fish, we fished for souls," Kostas said.
"I saw them in the sea and rushed to save as many people as possible," he recalls. "I tried to catch as many small hands as possible," explaining how he gave priority to women and children.
Thanasis has been a fisherman for almost 50 years. As soon as he finished school, he started to fish for a living like most of the people from Skala Sikamias.
His only source of income for his family was his small boat Ai Nikolas (St. Nikolas). Now, he is unable to work.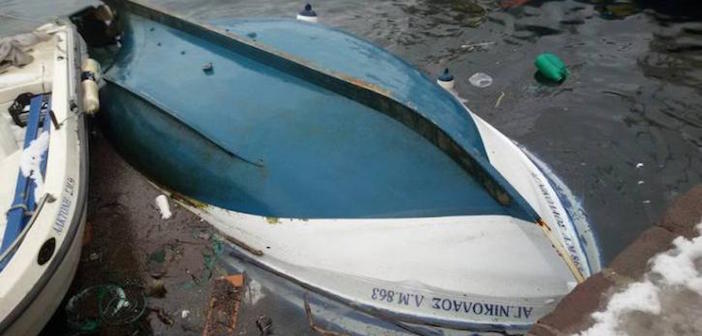 When the snow covered the island, his moored boat — despite being covered with a protective tent — capsized under the weight of the snowfall. Electronic equipment and fishing tools were ruined.
According to Thanasis, all that is left from his boat is the hull — the rest is now useless.
"This is double damage for us because we are also losing money as we are not out there doing our job," says Kostas, whose boat suffered the same fate.
Neither man was insured. When they asked the authorities for help, they were told that because the incident was so exceptional there was no compensation available.
---
Is The Pappas Post worth $5 a month for all of the content you read? On any given month, we publish dozens of articles that educate, inform, entertain, inspire and enrich thousands who read The Pappas Post. I'm asking those who frequent the site to chip in and help keep the quality of our content high — and free. Click here and start your monthly or annual support today. If you choose to pay (a) $5/month or more or (b) $50/year or more then you will be able to browse our site completely ad-free!

Click here if you would like to subscribe to The Pappas Post Weekly News Update