The Los Angeles Turkish Association has lobbied the City of Carson, to erect a statue of controversial Turkish dictator, Mustafa Kemal Ataturk in the City's International Sculpture Garden. The Carson City Council is scheduled to vote on the proposed installation of the Ataturk monument on Wednesday, March 4th.
Carson is a city in Los Angeles County, California, a few miles from Los Angeles International Airport and near Long Beach.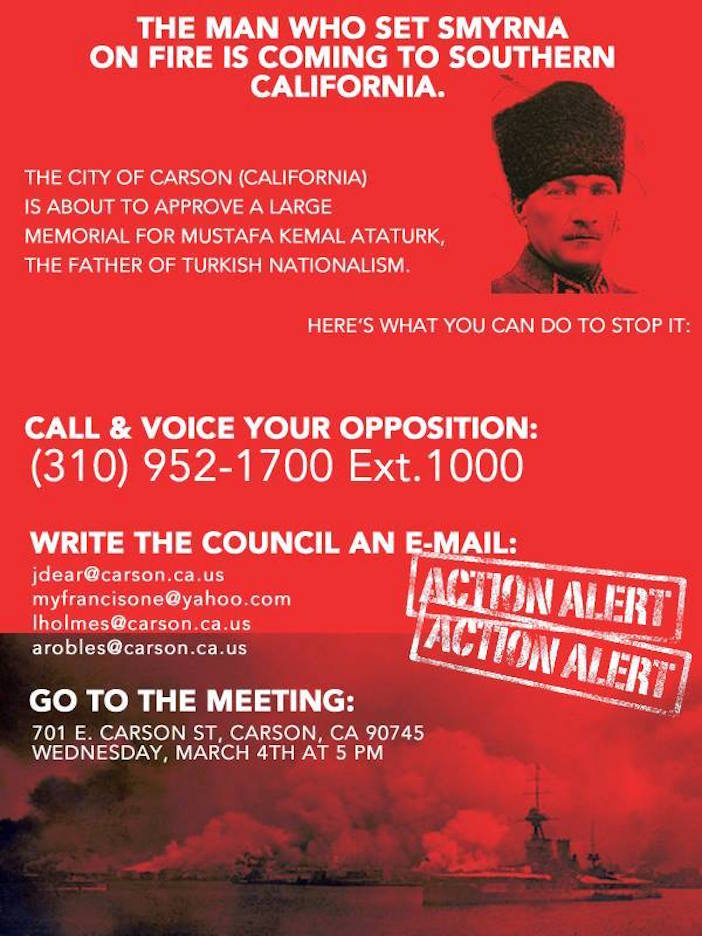 The move comes amid a massive online campaign to stop the proposed culture from being installed— led primarily by Armenian and Greek Americans, who see Ataturk as a mass murderer of millions of innocent people during a campaign of ethnic cleansing in Turkey as he rose to power in the early 1920s.
Turks consider Ataturk the founding father of the Republic of Turkey and almost a century after his rise to power he still commands an important presence in daily Turkish life. His image and likeness appears everywhere in Turkey— in school classrooms, on public buildings and signs and billboards.
Organizers raised more than $150,000 for construction of the statue and are seeking the City Council's approval.
Those who oppose the campaign have launched a campaign via Facebook and dozens of protestors plan to attend the meeting to voice their concerns.