Millions of Christians throughout the world are celebrating the birth of their savior and the person whose very name has given us the holiday of Christmas.
"For unto you is born this day in the city of David a Savior, which is Christ the Lord," Luke says in the Bible.
Christians in the Western World have a unique opportunity this year, to truly bring "Christ" back into Christmas.
After what's been an eventful and even symbolic chain of events, Christians have an extraordinary opportunity to live, celebrate and embody the very story of Jesus Christ and all of the wonderful things he taught generations after him through his teachings.
2015 was a year that saw waves of hundreds of thousands of refugees fleeing war and despotic leaders in the Middle East. Almost a million have passed through Greece, on their way to a safer life.
How ironic that Jesus himself was a child refugee whose parents traveled a great and dangerous distance, crossing borders and fleeing a dictatorial mandate of King Herod to massacre all innocent male children in his realm.
But the reality of Christ's birth probably wasn't much different than the plight of so many people fleeing Syria and other war zones.
We've changed the scene of Christ's birth a lot over the years. We've hung beautiful angels from the rafters of the stable and placed cute farm animals around his perfect manger, where the Virgin Mary gave birth to the Son of God.
We've also added beautiful bells and bright stars, trumpets proclaiming the savior's birth to the world and a whole host of things that make for some great commercialization and figurines to hang on our Christmas trees.
Exhausted from a long journey the pregnant mother was turned away from an inn and had no choice but to take refuge in a dirty stable, probably with the stench of manure in the air— all in all, an unwelcoming environment for any child or family to be in.
One of the most shocking things I've seen in America— as well as in Europe— is so-called Christian leaders to openly and loudly protest the arrival of refugees on their land.
Hungarian Prime Minister Viktor Orban back in September said that refugees "threatened" Europe's Christian roots and did everything in his power, including build barbed wire fences and use military power to keep them out.
I would challenge the Hungarian prime minister that his "Christian Europe" that he strives so much to protect could benefit and thrive from lending these poor souls a hand and offering them a place to sleep— even a free stable.
Conservative Christian Evangelicals and much of the American political right wing who also cling onto Christianity as their "beacon" are also guilty, in my opinion, of forgetting the very foundation of Jesus Christ's words.
More than a half of American governors– most of whom proudly wear their Christianity on their lapels (so voters can see it)– openly stated that refugees were not welcomed in their states. In the biggest Christian Christmas fail of the season, New Jersey Governor Chris Christie (who is also running for President of the United States) said he didn't want orphaned refugee babies in New Jersey either.
One would think that Christians would jump at the opportunity to be more "Christ-like" in the face of such a symbolic and unique humanitarian crisis. "Jesus is the Reason for the Season" read their bumper stickers and memes they share on their Facebook pages, and they keep screaming "Don't Take Christ Out of Christmas."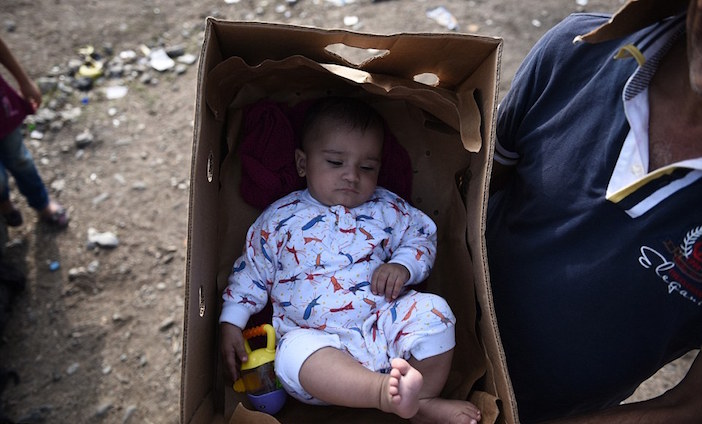 How does xenophobia, hatred and racist nativism relate to faith tradition that began with a refugee child, born in a stable amongst animals, fleeing a murderous regime— whose very birth gave us the holiday we call Christmas?
Even for the casual Christian, it's not that easy to miss the parallels, symbolism— even the direct words of the Bible.
The Bible tells us, repeatedly and unambiguously, to welcome immigrants.
Exodus 23: "Do not oppress a foreigner."
Leviticus 19: "The stranger who dwells among you shall be to you as one born among you, and you shall love him as yourself."
Further along in Leviticus, we find guidance for feeding strangers: "When you reap the harvest of your land, do not reap to the very edges of your field or gather the gleanings of your harvest. Leave them for the poor and for the foreigner residing among you."
Still later, Leviticus commands us to treat aliens equally: "You are to have the same law for the foreigner and the native-born."
That destitute baby that was born in a dirty stable, and in a climate of fear and loss, would eventually grow up and preach to his followers to care for "the least of these," a description that certainly applies to immigrants and refugees.
Jesus of Nazareth would later describe those who would be admitted into the kingdom of heaven as those who demonstrated acts of kindness toward those in need:
"For I was hungry and you gave me something to eat, I was thirsty and you gave me something to drink, I was a stranger and you invited me in, I needed clothes and you clothed me, I was sick and you looked after me, I was in prison and you came to visit me."
What a great way to truly and genuinely keep Christ in Christmas than to live His words and follow His teachings?