Greek foreign minister Nikos Kotzias arrived in Israel on Monday, one day after his nation voted in a referendum not to accept the terms set forth by European creditors. In spite of his nation's ongoing economic crisis, the Greeks were determined to go ahead with the visit, planned weeks ago, which is focusing on bilateral ties and the regional situation. He will also visit the Palestinian Authority. Kotzias is expected to remain until Thursday.
Prime Minister Benjamin Netanyahu, today, Monday, met with Kotzias and said at the start of their meeting:
"You come here at a critical time for Greece, and I appreciate the fact that you kept this visit despite some rather dramatic events in your country."
Netanyahu added, "we are committed to help in any way we can to ensure your success, not only because of friendship, but also because I think we live in an interwoven world where the stability of one country affects the stability of many countries."
"This is your first visit to Jerusalem. We always have a special feeling for Greece. I'm proud to have been the prime minister that worked to further our relationship. We reestablished our formal diplomatic ties 25 years ago, but really five years ago we began to cooperate more closely with one another. I visited Greece; you are visiting Israel now and I welcome you in the spirit of friendship, ancient and modern. And we hope and pray for your success."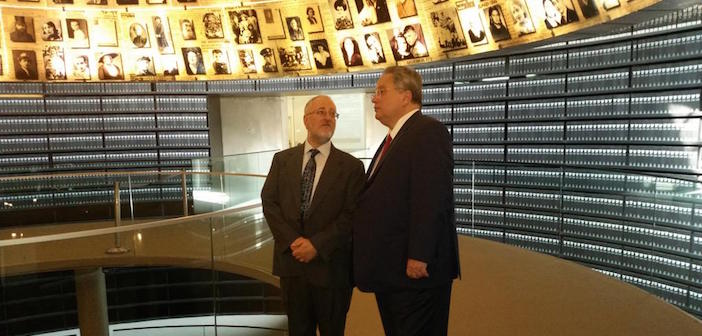 The Greek foreign minister also visited Yad Vashem, the International Holocaust Memorial Museum which honors the six million Jews who perished in the Holocaust, including tens of thousands of Greeks.
Kotzias, in his remarks, highlighted the importance of Greece, Cyprus' and Israel's relationship and referred to a security triangle in the region.
[youtube id="PN5DBbW8330″ width="600″ height="350″]