A quiet titan, as he is called amongst his fellow New Yorkers is bringing an internationally recognized Greek symbol of good food and the summer joie de vivre to Manhattan.
Peter Poulakakos, fueled by the legacy and experience of his Greek immigrant father Harry, has sealed a deal with the owners of Nammos in Mykonos, an iconic beach restaurant known for its international jet set clientele, insane parties that start immediately after dessert is served and thousand+ dollar bottles of champagne and fresh fish, served on Psarrou Beach.
Greek news reports claim the partnership will include Nammos Greece's partners, Ibrahim Sammy an Egyptian immigrant to Greece, Zannis Frantzeskos and Konstantis Kousathanas.
Poulakakos, owner of at least 10 New York City establishments, was called "the quiet titan" by Jessica Lappin, the president of the Alliance for Downtown New York, in a recent interview with The New York Times.
Peter's father, Harry Poulakakos, immigrated as a teenager to New York from Greece in 1956, worked in restaurants in the financial district, and in 1972, opened his own — Harry's at Hanover Square, which served as a mecca for Wall Street traders.
It closed in 2003, then reopened three years later as Harry's Cafe and Steak. There, Peter learned the hospitality business from the ground up; his first paying job was as a delivery boy for Harry's in 1990; and since graduating from Georgetown University with a degree in economics in 1998, he has systematically built a small empire downtown.
Harry, 75, is not involved in day-to-day operations. "He's the emperor," according to his son. "And a great resource." Reports claim that Harry was the glue that sealed the Mykonos-New York City partnership after meeting the proprietors of Nammos several years ago.
From 2002 to 2005, Peter opened three restaurants along Stone Street in Lower Manhattan.
Financier Patisserie in 2002 (the cafe now has 10 locations in Manhattan); Ulysses, an Irish pub in 2003; and Adrienne's Pizza Bar in 2005. The big three, he called them. At the same time, the historic district that would become a ghost town in the evening — after the stock market closed and everyone went home — began to show signs of residential life, thanks to Poulakakos' vision.
Nammos in New York City, according to reports in Greece's Proto Thema newspaper, will occupy the rooftop of the historic Battery Maritime Building, overlooking the water and sights as far away as the Statue of Liberty.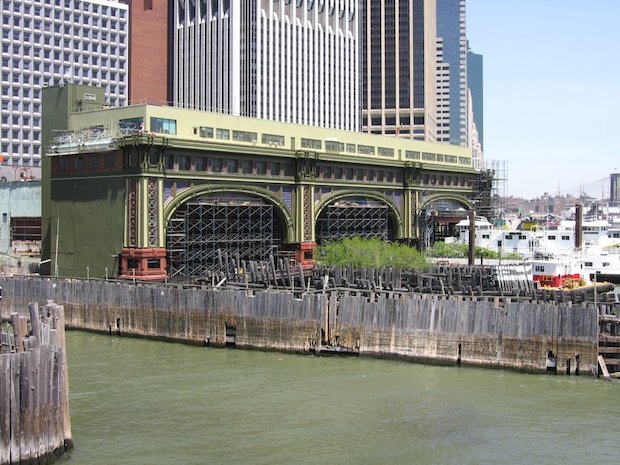 Poulakakos is saving and preserving a 1909 Beaux Arts Building at the southern edge of Manhattan's east side and transforming it into a hotel-restaurant complex with Nammos as its chief occupant.