It's the stuff Hollywood films are made of and scenes that only Hollywood could create. But this story wasn't a film. It was real life.
The Hollywood Story of a powerful multi-millionaire Greek immigrant businessman and a scandalous rape trial that had everything— sex, celebrity, money, power, political intrigue— even a spotted dress used as evidence.
By 1929, Alexander Pantages— an immigrant from Greece who never learned to write or read either his native language or that of his adopted country— was worth $500 million in today's standards. He had amassed a fortune from a chain of 60 vaudeville and movie palaces across the western half of the United States and throughout Canada.
His rise to success wasn't always shiny and sparkly. As a young restaurant owner in San Francisco in the late 1890s he was arrested for smuggling opium and during business expansion in the Yukon Gold Rush his then partner-girlfriend "Klondike Kate" Rockwell alleged that he used her money to build his own businesses.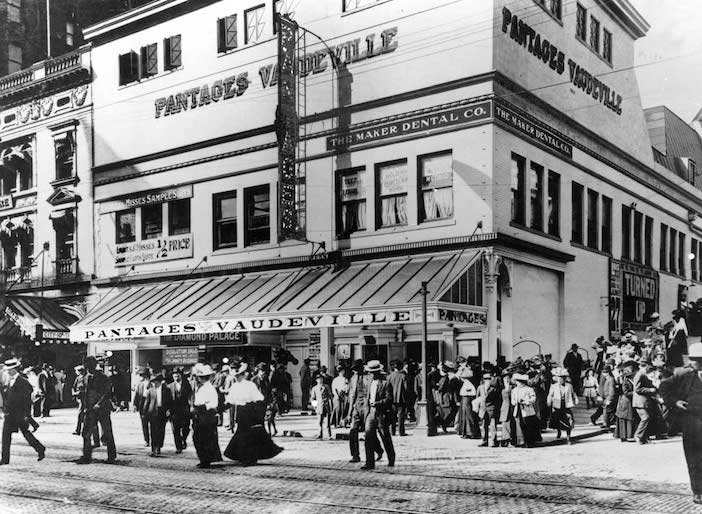 (Above) Alexander Pantages built his namesake vaudeville house at the northeast corner of Second Avenue and Seneca Street in Seattle in 1904. It was "the little Greek's" second theater in the city. As Seattle historian Murray Morgan describes Pantages' gold-field strategy during his years in the Yukon Gold Rush, he (Pantages) "abandoned his dream of finding gold in the creek beds and concentrated on removing it from the men who had already found it."
Wherever he went to open businesses he was ridiculed by the theatrical establishment for his broken English and thick Greek accent, but Pantages— who didn't even remember what island in Greece he came from since he ran away as a young child— persisted and expanded throughout the Rocky Mountain states.
He became known as "Alexander the Great" and "Alexander the Greek" in theatrical circles not only for his ethnicity but also because of his war-like campaign to build a theater empire by way of aggressive expansion and a knack for discovering new talent and signing singers and dancers to exclusivity deals in his circuit, bringing them into his empire much the same way that the great Greek general of antiquity built his own expansive kingdom.
"I shall not be happy till I own a chain of houses from the Atlantic to the Pacific—from the Toboggans to the Everglades," he once said early in his career.
His theater empire attracted the attention of Joseph Kennedy's RKO Pictures and Warner Brothers (JFK's father) which ended up buying some of Pantages' theaters in lucrative deals, making Pantages one of the most talked about people in early Hollywood and the spotlight of intense media attention for his huge wealth.
But all of his success came to a screeching halt on August 9, 1929 when he was arrested on charges of rape against a 17-year-old dancer named Eunice Pringle during a so-called audition in his office.
The trial opened on October 4, 1929. The entire nation was captivated by the story of a ruthless businessman and the "innocent" teen-aged dancer, fueled by the hatred that newspaper magnate William Randolph Hearst had for Pantages and his use of his sensationalist tabloids to feed the public's thirst for news from the trial.
During the duration of the trial (October 4-27) it was the number one news story in the world with hundreds of newspaper stories with exaggerated headlines and photos— including a famous photograph of Eunice Pringle holding what she claimed was a dress soiled with Pantages' semen (photos in gallery below).
Details of the alleged sexual assault emerged daily from the courtroom for the gossip-thirsty public.
According to court proceedings, on August 9, 17-year-old dancer named Eunice Irene Pringle hoped to book her act on the Pantages vaudeville circuit. She appeared at Pantages' Los Angeles office without an appointment, insisting, despite several previous turn-downs, on an interview with "Alexander the Great," as he was known in Hollywood.
Reluctantly, he agreed and she was shown into his private office on the mezzanine level of his theater.
Shortly thereafter, matinee moviegoers saw a disheveled Eunice Pringle, her clothing disarranged, running into the street, screaming that she had been raped.
"There he is, the Beast! Don't let him get at me!" Pringle screamed, as she pointed to the silver-haired Pantages who followed behind.
Within days, a preliminary hearing produced an indictment and the press made Pantages the nation's most hated man.
Pantages' defense was that the young woman had thrown herself at him like a tigress, tearing at his shirt, suspenders, and trousers, and screaming at him. It had taken all his strength to push the athletic young dancer from his office.
As the trial began, Hollywood law partners W.J. Ford and W.I. Gilbert asked bright junior attorney Jerry Giesler to cross-examine. He led Pringle back and forth through her story several times.
Then he asked, "Did your studies in dramatic school include a course in memory training?"
"Yes," Pringle responded.
"Were you taught to express your emotions dramatically?"
"Yes."
The lawyer later told the media in defense of his client's case that although Miss Pringle had told her "pitiful tale" several times to the press and to the law, she had never varied varied a comma or a single breath each time each time she said her story.
At the time, the cross examining lawyer turned to the jury and said that "her story seemed rehearsed as only a girl who was studying acting would have rehearsed it."
Next, Pantages attorneys asked his accuser, "Is that the dress you were wearing the day you say you were attacked?"
"No," Pringle shyly responded.
Eunice Pringle showed up to court dressed like a 13-year-old schoolgirl: blue dress, Dutch collar and cuffs, black stockings and Mary Jane shoes, small black bag and black gloves, long hair down her back and tied with a bow.
Giesler asked the judge to order her to dress the next day in the same outfit and makeup she had worn to the Pantages Theatre. The jurors then saw not a schoolgirl but a well-endowed young woman in a revealing and (to use Giesler's word) "slinky" scarlet dress.
Now his cross-examination tried to explore earlier acts of unchastity on her part—including a live-in affair with a man twice her age. But the judge sustained the prosecution's objections and cut off the line of questioning.
Despite trying to bring up Pringle's not-so-virginal life before the alleged attack, Alexander Pantages was ultimately found guilty of rape and was sent to San Quentin where he was incarcerated for almost a year until his lawyers were able to get him released on bail, citing numerous health issues.
The news of Pantages' conviction made global headlines.
Pantages got his retrial two years later and was eventually acquitted.
At the new trial, Pantages' lawyers reenacted the alleged rape and showed that it could not have occurred in the small broom closet the way Pringle had described it in the first trial.
The jury was also shown how athletic Pringle was, casting doubt on her claim that she could not fight off advances by the slightly built Pantages.
He always maintained that Pringle framed him. Numerous books and investigators have suggested that Pringle received bribe money from Joseph Kennedy in an attempt to smear the businessman and compromise him to the point of acquiring his theaters at rock bottom prices.
Stanford University researcher Ilias Chrissochoidis has researched Pantages extensively.
"It is almost certain that Pringle was after money," citing the fact that the notorious meeting with him came only days after Pantages was on front pages everywhere after gaining astronomical millions from the sale of his theaters, he writes, adding that there was never evidence that Kennedy was involved— but:
"The absence of evidence against Kennedy is not proof that he may not have taken advantage of the scandal, especially since the Los Angeles Examiner, owned by his friend Hearst, was the forerunner of attacks against Pantages."
After numerous trials, the stress of being in scrutinized in the public eye for years, the business stress of the Great Depression and numerous family issues— Pantages died of a heart attack in his sleep on February 17, 1936. Only a few months prior, he was quoted in the entertainment media of planning his comeback after being acquitted.
"The depression is over. The court tragedy is passed and Alexander Pantages is back in the show business—100 per cent. I tried oil, mining and other investments, but my business is the theater and it's great to be back."
He died practically penniless— with an estate reportedly worth a mere $5000.
Original photos from the Alexander Pantages trial in October 1929