I tasted this olive oil cake at L'Artusi in New York City. The cake tasted awfully familiar and I asked the waiter about it.
He called it "traditional Italian Olive Oil Cake." I joked and told him it was probably made with Greek olive oil. He didn't laugh.
I also told him that his "traditional" Italian cake was also a "traditional" Greek cake, as well. He walked away.
I also wanted to tell him that what they called "marmellata" on the menu, or syrupy raisins was "glyko koutaliou," or spoon sweets that we Greeks were raised on.
OK… I was kidding. I wasn't trying to be the "ugly Greek" that insists that everything was invented in Greece and the entire world owes everything to the Greeks. Certainly, the food of the Mediterranean is shared across cultures (and certainly the Italians stole their fair share of dishes from us — more jokes, I swear!)
I've tasted (almost) the exact cake at Nammos in Mykonos and Avra Madison, also in NYC, also has it on their dessert menu.
Avra Madison's Olive Oil Cake is served with ice cream and caramelized figs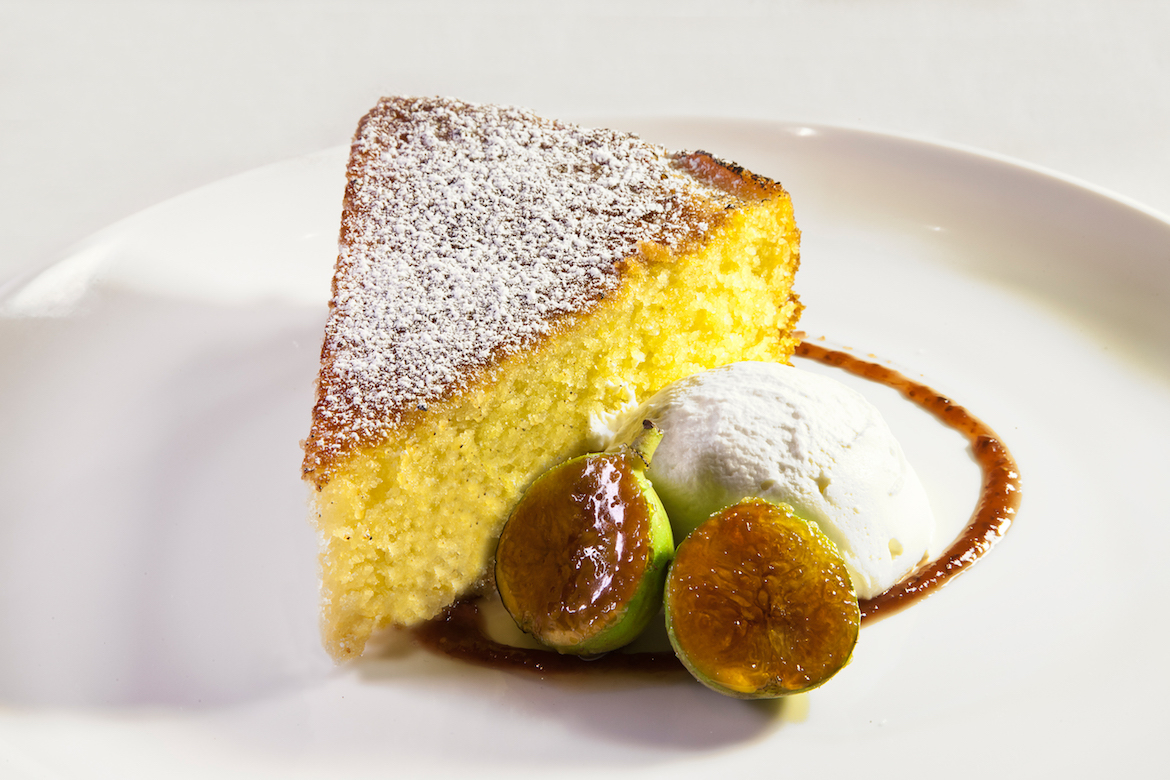 My mom used to make an olive oil cake like this, although I highly doubt she used all the fancy liqueurs and wines that are included in this recipe.
Olive oil cake was a regular staple in my family, though, and almost always it included a dollop of glyko koutaliou, or spoon sweet. Often times my mom made her own, usually from orange peel, and served it alongside the cake.
The recipe below from L'Artusi in New York City and their accompaniment is a raisin spoon sweet. A variation of this recipe was featured in Bon Apetit Magazine.
Ingredients
Raisin Spoon Sweet (Glyko Koutaliou)
3 tablespoons Vin Santo wine or Madeira
½ teaspoon finely grated lemon zest
2 tablespoons fresh lemon juice
1 tablespoon Grand Marnier
¼ teaspoon salt
¼ vanilla bean, split lengthwise
1 cup granulated sugar
1 cup golden raisins
Cake and assembly
Nonstick vegetable oil spray
1¼ cups all-purpose flour
½ teaspoon baking powder
¼ teaspoon baking soda
¼ teaspoon kosher salt
2 large eggs
1¼ cups granulated sugar
¾ cup olive oil
½ cup whole milk
¼ cup Madeira
Powdered sugar and whipped crème fraîche (for serving)
Instructions
Raisin Spoon Sweet
Combine Vin Santo, lemon zest and juice, Grand Marnier, salt, and ⅓ cup water in a medium bowl; scrape in seeds from vanilla bean and toss in pod. Set aside.
Bring granulated sugar and ⅓ cup water to a boil in a small saucepan over medium-high heat, stirring to dissolve sugar. Boil, swirling pan occasionally and brushing down sides with a wet pastry brush, until caramel turns a deep amber color, 10–12 minutes. Remove from heat and carefully add reserved Vin Santo mixture (caramel is extremely hot and will bubble vigorously), leaving vanilla pod behind. The caramel will tighten up after liquid is added; return pan to medium heat and cook, stirring often, until smooth, about 5 minutes.
Pour sauce over raisins and let stand until raisins are plump, about 20 minutes.
Cake and assembly
Preheat oven to 350°. Coat a 9"-diameter cake pan with nonstick spray and line with a round of parchment paper; coat parchment.
Whisk flour, baking powder, baking soda, and salt in a medium bowl.
Whisk eggs and granulated sugar in a large bowl, just to blend. Whisk in oil, milk, and Madeira. Whisk in dry ingredients until batter is smooth. Scrape into prepared pan; smooth top.
Bake until golden brown and a tester inserted into the center of the cake comes out clean, 40–45 minutes. Let cake cool on a wire rack before turning out.
Dust with powdered sugar and serve with a spoonful of spoon sweet and whipped crème fraîche.
---
Is The Pappas Post worth $5 a month for all of the content you read? On any given month, we publish dozens of articles that educate, inform, entertain, inspire and enrich thousands who read The Pappas Post. I'm asking those who frequent the site to chip in and help keep the quality of our content high — and free. Click here and start your monthly or annual support today. If you choose to pay (a) $5/month or more or (b) $50/year or more then you will be able to browse our site completely ad-free!

Click here if you would like to subscribe to The Pappas Post Weekly News Update