A wave of anti-Greek opinion is raging globally in the media following the events in Brussels. To be fair, it started sooner— in the days leading up to and immediately after the referendum that Greek prime minister Alexis Tsipras called.
Tsipras was attacked— justifiably in my opinion, for pulling the carpet out from under the negotiators and calling for a flash-election by the Greek population on a complex financial matter. The media went crazy— especially after the results were in.
But it's one thing to have a position on politics— even attack an individual for his choices, or a government for its actions— and another to start demonizing an entire people with disparaging stereotypes , some of which borders on hate speech.
One television newscaster in Australia said "stubborn Greeks" were to blame for billions of dollars of losses on the Australian stock market after they "thumbed their noses" at the world. Jeffrey Gundlach, co-founder of DoubleLine Capital talking about the possible spread of the financial upheaval from Greece responded to an interview that contagion was very possible because "there's never one cockroach."
STUBBORN GREEKS THUMBED THEIR NOSES TO THE WORLD:
In Canada, a writer and editor at large of The National Post called for a military dictatorship to restore "morality and discipline" in Greece, while referring to Greeks as crybabies and deadbeats. I can deal with (and counter) the insults— but any advocacy of a military dictatorship on a population— especially knowing the history of the one in Greece— is outright wrong.
#grexit will lead to a military dictatorship in Greece again, maybe the only way to discipline and morality #euro

— Diane Francis (@dianefrancis1) June 29, 2015
The stereotypes of lazy Greeks who don't pay taxes and party and break plates all the time has also emerged.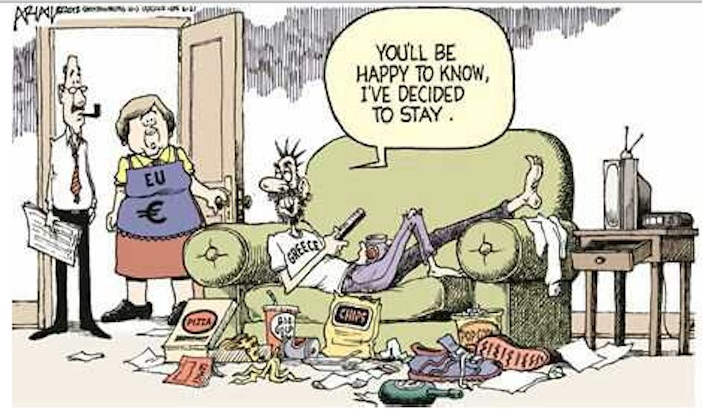 I have to ask myself two things…
First, what would happen if African Americans, Jews, Aboriginal Australians, Italians, Canadians and other groups were stereotyped in the media and constantly referred to as bums, alcoholics, lazy, greedy, stupid, mafiosos and other well-known and often-used epithets of these groups?
They wouldn't stand for it and society wouldn't. The perpetrators would be called out and shut down and forced to retract their comments.
Like Donald Trump and his comments about Mexicans.
Secondly— It's important not to forget history and what can come from media and government propaganda. Below is a cartoon from 1938 Nazi Germany when the established media and the government worked successfully to convince average Germans that Jews were bad for society. We all know what followed in Germany and not to mention Holland and other European countries, where native civilian populations became part of the annihilation of 6 million Jews, based on the conceptions the media had helped paint.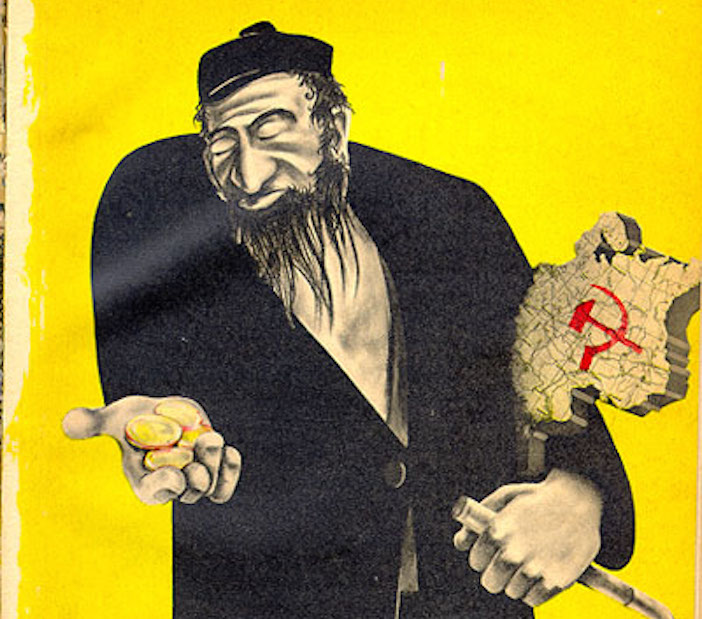 Not surprisingly, here's a Dutch cartoon from June of 2015, trying to convince its readers that Greeks are, well… You get the picture.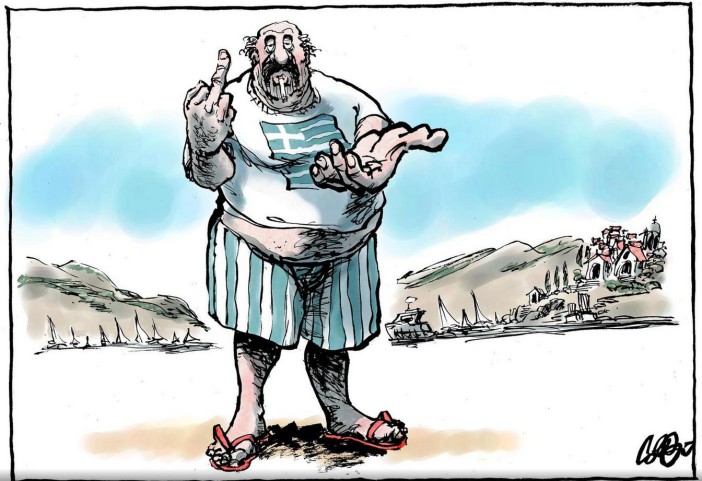 And who remembers the ugly chapter of American history when Japanese Americans— 62% of whom were American citizens— were rounded up and placed in internment camps ON UNITED STATES SOIL (!!) during World War II out of fear that they could be enemy spies. This unconstitutional and illegal incident was fueled, in large part, by the media's portrayal of Japanese people.
Before Theodor Seuss Geisel AKA Dr. Seuss introduced generations of children to green eggs and ham, he was the chief editorial cartoonist for the New York newspaper PM from 1940 to 1948. He was vocally anti-Japanese during the war and had no trouble with convincing his readers that it was OK to round up an entire population of U.S. citizens and put them in camps.
We can't let this happen any more. No matter what the situation in Greece and no matter what you believe is happening or who is to blame, the blanket negative stereotyping of a people or a nation can lead to some pretty ugly scenarios. Allowing this kind of negative stereotyping leads public opinion to think that an entire group or ethnicity is bad.
And while I don't foresee internment camps in European countries and the rounding up of Greeks— stranger things have happened in this place called Europe… Imagine let's say, if a far-right party gains power in France, or Austria and begins calling for expulsion of the "lazy Greek" who is a pariah on society.
Imagine if public opinion in Finland, Holland or other nations whose leaders have already expressed their feelings about Greece leaving the eurozone begins to groundswell and people— based on wrong perceptions of an entire nation— begin to impact their government's opinion. It's already happening in Germany.
The Jews have their Anti Defamation League, gays and Lesbians have the Gay and Lesbian Alliance Against Defamation and Hispanics have the National Hispanic Media Coalition and numerous other ethnic media watchdog organizations abound in America. These groups have defended their respective demographic and ethnic constituents with swift and decisive action when the media, or individuals like Donald Trump— a great recent example— have violated society's norms on defamatory speech.
As many of you know, I founded and run my own charity— the Greek America Foundation, which seeks to preserve Greek history, culture and ideals in North America, as well as help charitable organizations in Greece navigate through the crisis. And while the Greek America Foundation wasn't founded to be any sort of advocacy or media watchdog group, I would personally back such an initiative, should media leaders, politicians and other activists of our community emerge.