A farmer on the island of Crete was minding his own business trying to park his car under the shade of an olive tree when the ground beneath him began to sink.
After pulling away quickly to prevent his car from falling into the ditch, a large hole more than five feet wide began forming as the dirt surrounding the perimeter began giving way.
Inside the hole was a late-Minoan era tomb of what is believed to be a high-status individual and his/her mate or partner.
The tomb contained a pair of coffins, each containing a single skeleton, as well as two dozen pots with colored ornaments.
The hole in the olive grove opened after an irrigation tube broke, releasing water and softening the soil.
"According to the ceramic typology, and according to the first estimates, the tomb can be dated to the Late Minoan IIIA-B period, approximately from 1400 to 1200 BC," explained the ministry in a statement. The tomb is located near the village of Kentri in southeast Crete near Ierapetra.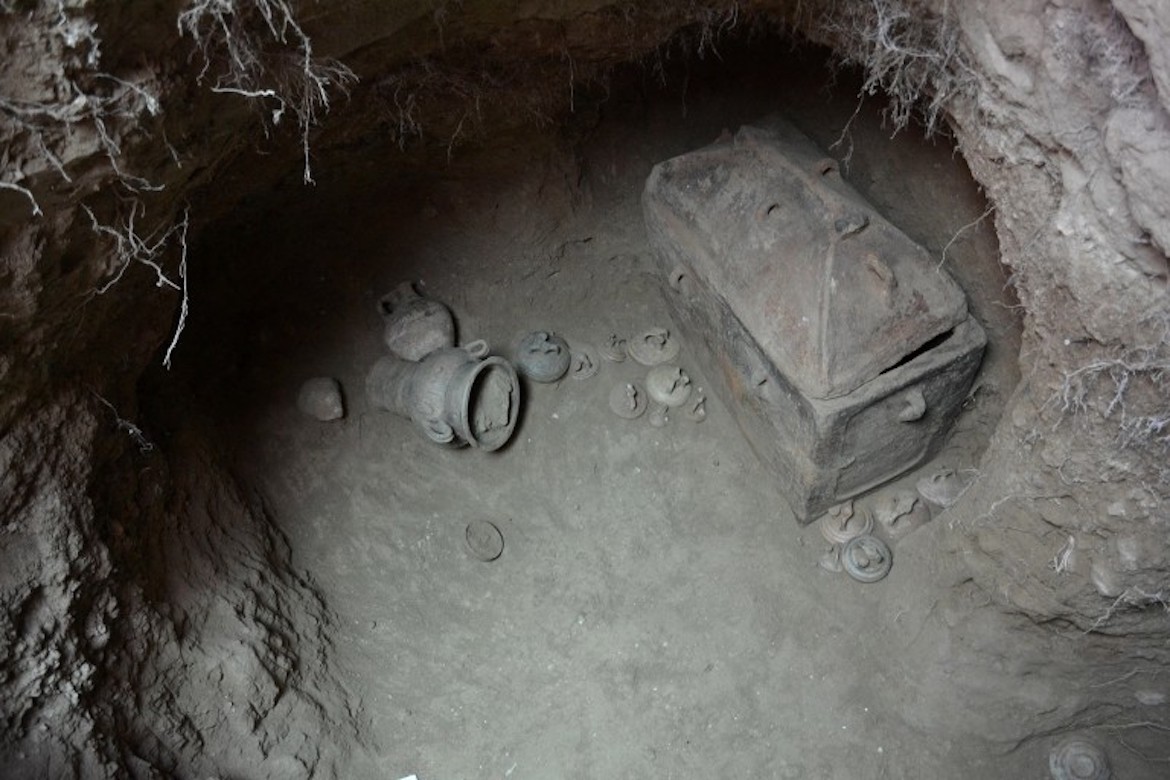 The findings are important because at a depth of 2.5 meters, the tomb was never disturbed by looters.
Some 3400 years ago, the tomb was dug into the region's soft limestone, with access made possible by a vertical trench. The tomb is comprised of three carved niches, and the entrance was eventually sealed by stone masonry, according to the ministry.
*****
Since you're here… I have a small favor to ask.
More and more people than ever before are reading The Pappas Post and despite increasing costs to maintain the site and provide you with the quality content that you deserve, I will never "force" you to pay for our website or add a paywall. I believe in the democracy of the internet and want to keep this site and its enriching content free for everyone. But at the same time I'm asking those who frequent the site to chip in and help keep it both high quality— and free. We've implemented a "free-will" annual subscription for those who want to support our efforts. I guess it's fair to call it a philotimo subscription… because you don't have to do it but it's really the right thing to do if you love the site and the content we publish. So if you like The Pappas Post and want to help, please consider becoming a "philotimo subscriber". Click here to subscribe. If you'd rather make a one time donation, we will gladly accept any amount, with appreciation. Click here to donate any amount.