After tying a dog to the back of his car and dragging it for a few hundred feet, a 73-year-old Cretan man was arrested in what later became a viral social media incident.
The incident took place along the old national road Chania – Rethymno near the village of Koufi.
The man faces charges of animal cruelty and was tracked down by police after a witness posted a photo of the incident on Facebook.
The photo — which showed the driver's license plate — quickly circulated on Greek social media and went viral.
Caption reads (in English): "The a****** of the day on the old national road going toward Koufi."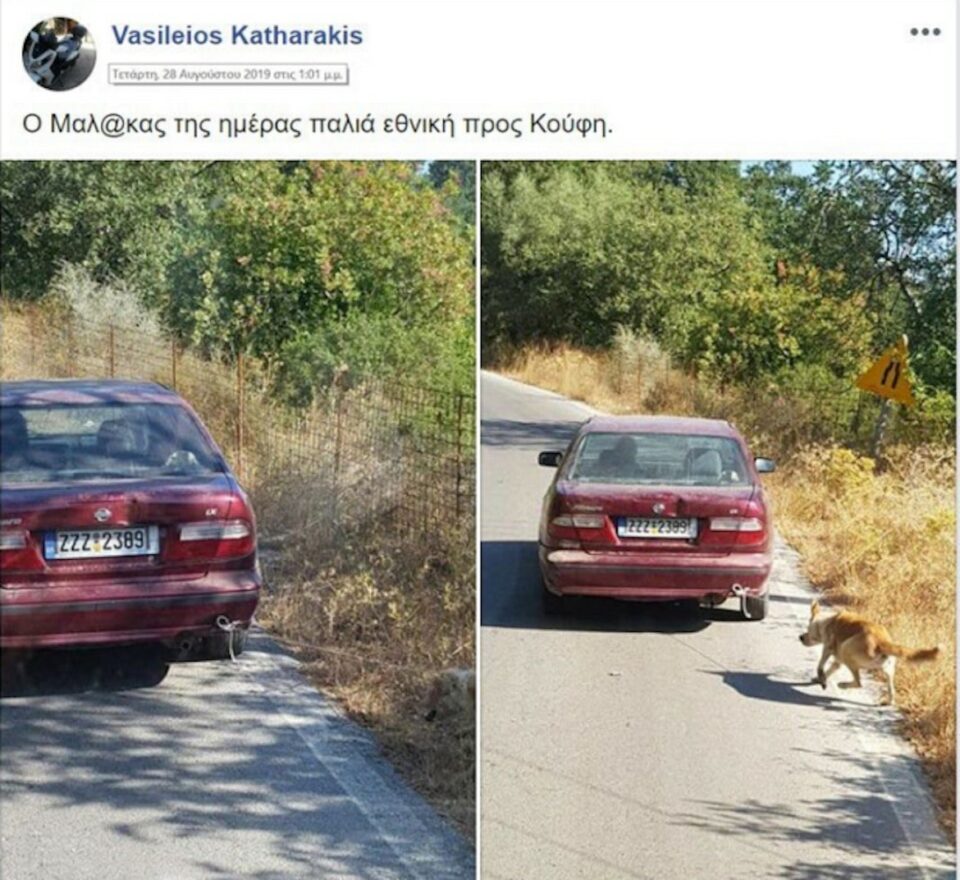 The driver reportedly told police that the dog was a stray that he found in his field. He said that he wanted to remove the animal from the field to keep it from attacking local sheep and getting shot by angry farmers.
He explained that the dog did not cooperate when he tried to put him in his car. Therefore he tied the animal to his car and drove at a low speed to bring him to his home — approximately 300 feet away.
According to a report from the local animal welfare organization Noiazomai, the dog survived the incident.
The organization shared an update via Facebook explaining the sequence of events and demonstrating the dog's well-being after the fact.
Noiazomai took the dog in and assigned him a temporary foster father until he finds a permanent home.
The foster father also posted on Facebook (in Greek) about the incident. He explained that he knows the 73-year-old man, whom he described as an "animal lover," and that the man intended to help the dog by removing him from the field — where he feared angry farmers could kill him.
"He was too weak due to age to lift the dog into his car," the man wrote.
---
Is The Pappas Post worth $5 a month for all of the content you read? On any given month, we publish dozens of articles that educate, inform, entertain, inspire and enrich thousands who read The Pappas Post. I'm asking those who frequent the site to chip in and help keep the quality of our content high — and free. Click here and start your monthly or annual support today. If you choose to pay (a) $5/month or more or (b) $50/year or more then you will be able to browse our site completely ad-free!

Click here if you would like to subscribe to The Pappas Post Weekly News Update