This authentically dairy-free Greek tsoureki or sweetbread was traditionally made during the winter months with autumn harvested pumpkins.
Since ingredients such as eggs and butter were less available in colder months, Greek nikokires (homemakers),  created this delicious dairy-free and incredibly flavorful sweetbread we have today — pretty amazing culinary geniuses!
This recipe is for all bread-baking skill levels. It's not difficult at all and is a great way to start your homemade bread making career.
The method used to proof the yeast in this recipe yields a proofed yeast that closely resembles the more traditional wet leavener, or sourdough starter, that makes Greek breads so good. You'll be amazed how this tsoureki rises up light and high with a moist crumb and beautiful golden color.
Do follow the instructions as written even though they look a little longer than our other recipes. The details are key to moving this recipe along at a good pace —and successfully braiding the dough — with no wasted time in getting you to a warm loaf of freshly baked, delicious pumpkin sweet bread!
Pumpkin tsoureki is an especially flavorful sweetbread — amazing all on its own or slathered with your favorite jam. Try it toasted with nutella/merenda and you'll be in heaven!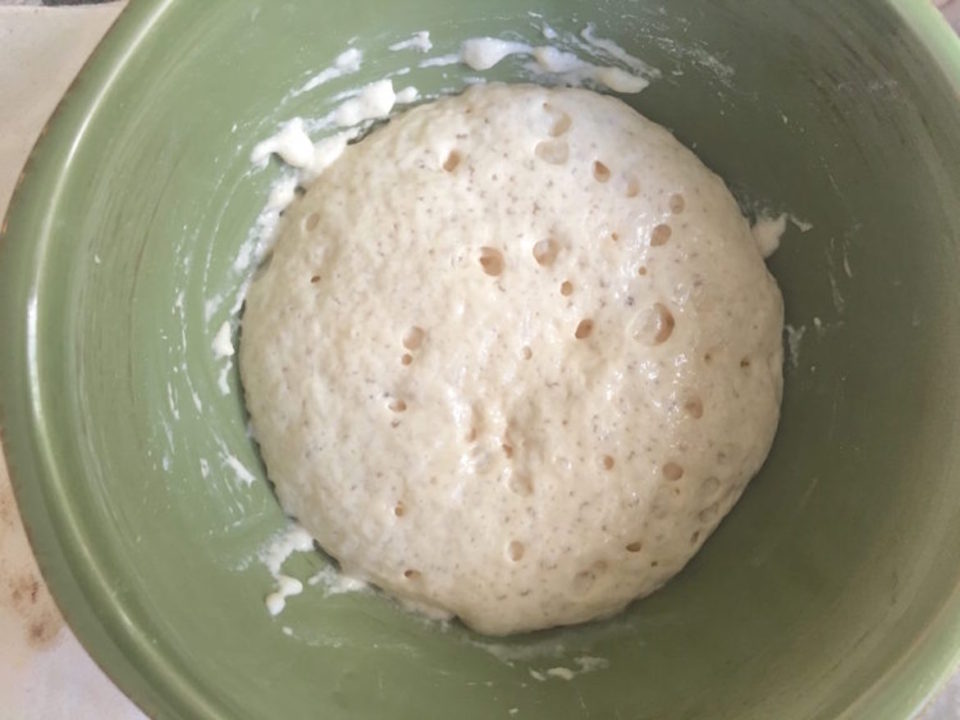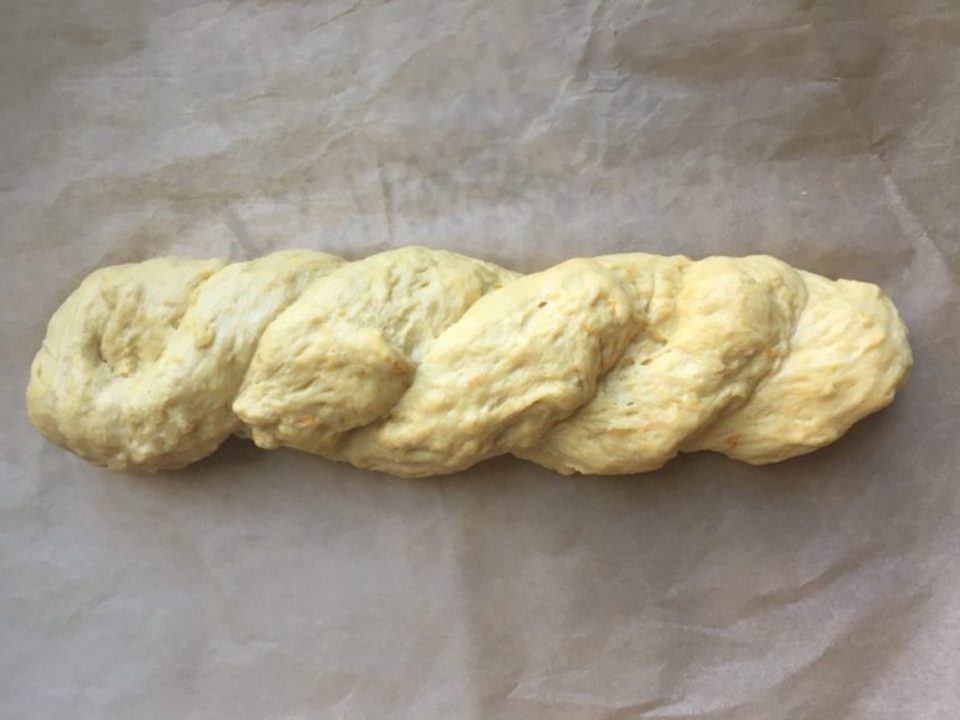 ---
Ingredients
1 ½ tbsp active dry yeast
1 ½ tsp lukewarm water
3 cups all purpose flour
 ¼ tsp salt
2/3 cups sugar
¾ cup canned or mashed pumpkin
2 ½ tbsp sunflower oil
1 ½ tbsp orange juice
2 tsp orange zest
2 teaspoons vanilla extract
¼ tsp cinnamon
1/8 tsp ground cardamom
1/8 tsp ground nutmeg
For this recipe, you'll need 3 bowls – 1 cereal-sized, 1 medium and 1 large mixing bowl – 1 sheet pan and 1 clean dishtowel.
Instructions
In a cereal-sized bowl, mix the water with a tiny pinch of sugar (maybe ¼ tsp) and sprinkle the yeast over top. Let this sit for 10 minutes and stir to completely combine.
Measure out your flour in a large mixing bowl, scoop out a deep well in the center and set aside.
When 10 minutes are up for yeast mixture, add in 2 tbsp of set aside flour along with salt and mix until you get a thickish paste. Cover and let this rise for 30 minutes and you'll have a bubbly, beautiful, sweet smelling ball of yeast in no time!
Now, while you yeast is proofing, mix together the mashed pumpkin, spices and sugar in a medium bowl until sugar is completely dissolved. Stir in oil and combine well. Add orange juice, zest and vanilla extract. Stir to combine completely and set aside.
When yeast has fully proofed, get out your flour bowl and pour in the pumpkin mixture and then the yeast into the well. Mix all of this together until, after about 3-4 minutes, it comes together in a rough, crumbly dough. Knead the dough for approximately 8-10 minutes until it becomes a smooth ball. This is based on kneading by hand. I'm sure you can also knead with mixer and dough hook, just not of the times.
Place kneaded dough ball back into bowl, cover with cloth and let rise in a warm place for 1 hour. The dough should almost, but not quite, double in size.
Once risen, turn dough out onto clean counter/surface, knead for just a minute and cut dough into two equal pieces. Try to use no or minimal flour when rolling out dough. Roll each piece in a rope of about 18-20" long. Lay the 2 ropes next to each other, pinch them together at the top and twist the ropes into one braided loaf. Gently transfer braided loaf onto sheet pan, cover and allow to rise in warm place for a final 30 minutes.
Once risen, lightly brush risen braid with sunflower oil and bake in 350 degree oven for 35-40 minutes. The loaf should be high, a beautiful golden brown and the bottom should be just lightly browned. Remove from oven and allow to sit for at least 10 minutes before enjoying. It's hard to wait, I know, but it will still be plenty warm I promise! I like this sweet bread best after it's had a bit to sit – even as long as the next day if it's kept covered with a towel on the counter overnight.
This loaf will yield 10 generous slices.
---
Kiki Vagianos is The Greek Vegan! Kiki lives and cooks in Boston. She spends her free time collecting, testing and posting favorite traditional Greek recipes at The Greek Vegan website. She loves sharing these simple and delicious authentic dishes and helping to bring them back into kitchens throughout the Greek diaspora. Kali Orexi!
***
Will you become a Patron for as little as the cost of a cup of coffee per month?
Is The Pappas Post worth $5 a month for all of the content you read? On any given month, we publish dozens of articles that educate, inform, entertain, inspire and enrich thousands who read The Pappas Post. I'm asking those who frequent the site to chip in and help keep the quality of our content high— and free. Visit our Patreon page and start your monthly support today. When you become a Patron, you'll also join an exclusive group of supporters that will have access to additional content and special offers that will be created just for you.