Several months ago I met two crazy Greek twenty-somethings. Elpidophoros and Theodora (Dora)… The "bearer of hope" and the "gift of god." It wasn't just their names that attracted me— it was their idealism and desire to change the world. After spending a few years living and working in South Africa, they were ready to head home to Greece. And rather than book their return the quick, easy and cheap way— a flight from Cape Town to Athens, this amazing duo decided to cross the content on foot, by hitchhiking while simultaneously getting to know the people of Africa and in the process, stopping to offer their support in any way that they could.
What could have been an 8-hour flight home has turned out to be a 6+ month journey of discovery and goodness.
I have been following their blog posts and photos on their Facebook page called Dream.Travel.Live and have been amazed at their resilience and dedication to their cause. I have to admit, I don't do tents, wild animals, bugs and unfriendly natives. But Dora and Elpis have conquered their own fears and have also shown me the way out of my own comfort zone. They have shown me that to live is to experience new things and to expect and face the unexpected.
Elpis and Dora created an indigo go crowd funding campaign several months ago which was funded by generous supporters throughout the world. It was the spark they needed to begin their journey, documenting it and capturing many of their experiences on film. Back in May, I made a small contribution to show them that I support their efforts. I also wrote this piece about their journey, hoping to share their amazing story with my own network and further support their initiative.
They have now arrived in Kenya, where Elpis tells me in our private Facebook conversations, the poverty is beyond anything he has seen before.
Coincidentally, they visited a school in the Kibera slums of Kianda and Bombolulu, which is located and operated by St. George Greek Orthodox church. The school was founded in 1991 and runs under the auspices of the Greek Orthodox Metropolis of Kenya and His Eminence Archbishop Makarios of Kenya. The Cyprus native is well known in these parts for his philanthropic efforts to assist the native populations— especially the young people. "A child without education is like a bird without wings," Elpis posted on his Facebook blog recently.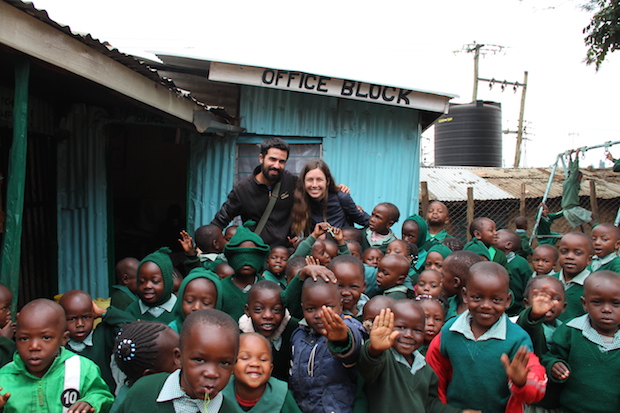 Makarios has often mentioned that his educational and missionary efforts are not proselytizing or trying to take the locals away from their own beliefs, but rather done through invitations to the native people to come to see what the Orthodox Church services are like and then make their own decisions. He combines both the Greek language and the local dialect in his services.
Elpis and Dora have undertaken a new Indiegogo crowd funding campaign to support the efforts of the St. George School. The money they are trying to raise is almost a joke to me… Having returned from 10 days on vacation in Mykonos where a Cappuccino Freddo and a slice of Spanakopita cost more than $10 and a night out could easily set one back several hundred dollars, I can't help but think what a few personal sacrifices could do to change the life of a young African. Look at the numbers:
– New classroom (made of iron sheets): $1,200
– Library equipped with books: $300
– School supplies (notebooks, pencils, rubbers, etc): $300
– Playground and sport equipment: $200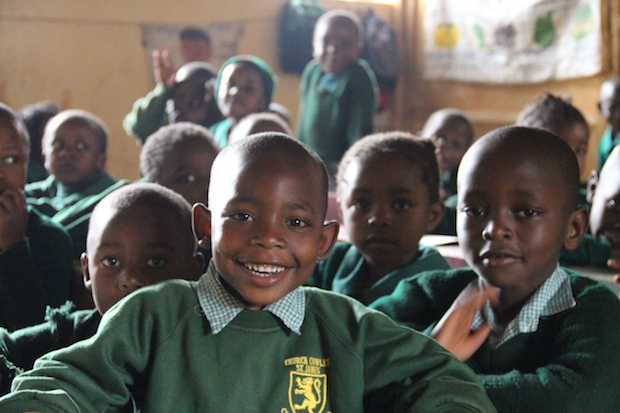 I cancelled plans their morning with some friends to go to lunch, opting instead to sit down and write this story and also make another small contribution to Elpis and Dora's efforts. I hope you'll spend some time looking at their project on Facebook, and also have a look at their Indiegogo crowd funding campaign.
For me— the simplicity and beauty of the gratitude of a young African child saying "thank you" was worth so much more than anything tangible that my money could have gotten me had I spent it on something else today.
Thank you Elpis and Dora for teaching so many of us what "giving" really means. That a few hundred dollars that we take for granted in the West, can impact and change the lives of so many young kids in another part of the world.