Elia Kazan, Greek immigrant to the United States who became one of the most influential film directors of the 20th century, passed away at the age of 94 on September 28, 2003.
Following is an obituary published on September 29, 2003 in The New York Times. The obituary celebrates Kazan's controversial life and career.
---
Elia Kazan, Influential Director, Is Dead at 94
Elia Kazan, the immigrant child of a Greek rug merchant who became one of the most honored and influential directors in Broadway and Hollywood history, died yesterday at his home in Manhattan. He was 94.
Mr. Kazan's achievements in theater and cinema helped define the American experience for more than a generation. For Broadway, his legendary productions included "A Streetcar Named Desire" and "Death of a Salesman." His movie classics included "On the Waterfront" and "East of Eden."
To many critics, he was the best director of American actors in stage and screen history, discovering Marlon Brando, James Dean and Warren Beatty and redefining the craft of film acting. In 1953 the critic Eric Bentley wrote that "the work of Elia Kazan means more to the American theater than that of any current writer."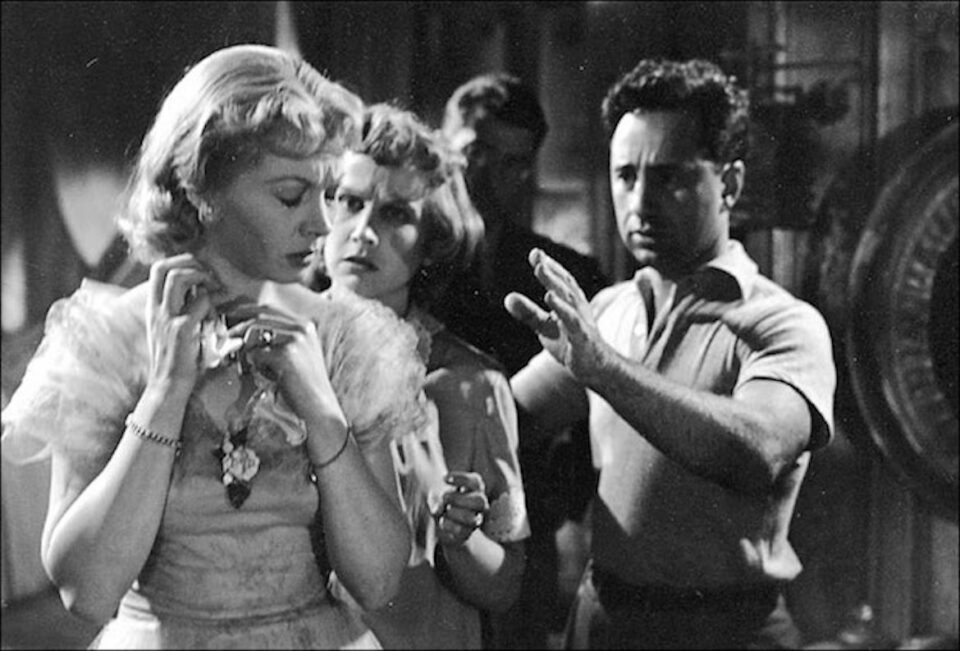 Mr. Kazan was a founder and longtime co-director of the Actors Studio; a founder with Robert Whitehead of the first repertory theater at Lincoln Center; a member of the fabled Group Theater in the 1930's; the favorite director of a generation of new American playwrights, including the two most important, Tennessee Williams and Arthur Miller; and in his later years a best-selling novelist.
He received best-director Tony Awards for his work on two of Mr. Miller's plays, "All My Sons" (1947) and "Death of a Salesman" (1949), as well as for Archibald MacLeish's "J. B." (1959).
In Hollywood, seven of Mr. Kazan's films won a total of 20 Academy Awards. He won best-director Oscars for "Gentleman's Agreement," a 1947 indictment of anti-Semitism, and "On the Waterfront" in 1954. "On the Waterfront," a searing depiction of venality and corruption on the New Jersey docks, won eight Oscars.
Mr. Kazan also received an Oscar for lifetime achievement in 1999. The lifetime achievement award was controversial because in 1952 Mr. Kazan angered many of his friends and colleagues when he acknowledged before the House Un-American Activities Committee that he had been a member of the Communist Party from 1934 to 1936 and gave the committee the names of eight other party members. He had previously refused to do so, and his naming of names prompted many people in the arts, including those who had never been Communists, to excoriate him for decades.
Asked why he had identified others, he cited a "specious reasoning which has silenced many liberals" that ran like this: "You may hate the Communists, but you must not attack them or expose them, because if you do you are attacking the right to hold unpopular opinions."
"I'd had every good reason to believe the party should be driven out of its many hiding places and into the light of scrutiny, but I'd never said anything because it would be called 'red-baiting,' " he wrote years later. "The 'horrible, immoral thing' that I did I did out of my own true self."
Mr. Kazan, a short (5 feet 6), wiry, energetic and unconventional man with swarthy features, rumpled clothes and a dominating personality, created many versions of that true self over the years.
He was, he often said, a study in contradictions. Comparing himself to a black snake, he wrote in his 1988 autobiography, "Elia Kazan: A Life": "I've shed several skins in my time, lived several lives and known violent and cruel changes. Generally I've understood what happened only after it happened."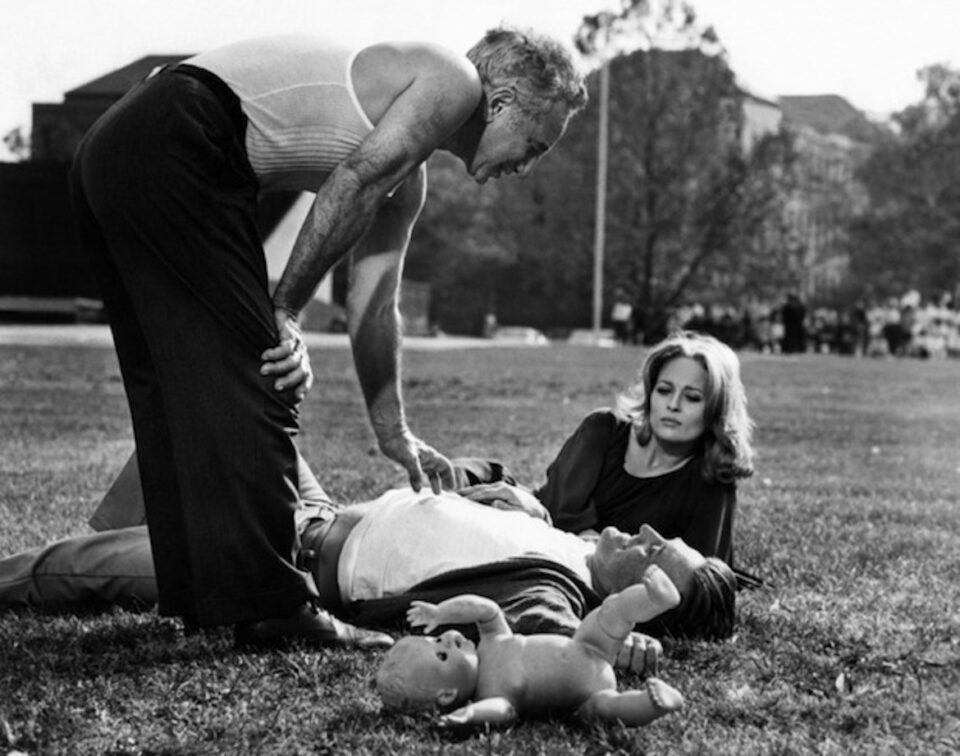 "I've repeatedly astonished people by what seem to be total reversals of positions and attitudes," he continued. "This has sometimes led to distrust of me. Again and again my conflicting desires have led to the surrender of one or the other."
Just as astonishing is the list of his credits. Other Broadway plays he directed included "The Skin of Our Teeth," "Cat on a Hot Tin Roof," "Sweet Bird of Youth," "The Dark at the Top of the Stairs" and "Tea and Sympathy." His other movies included "A Tree Grows in Brooklyn," "A Streetcar Named Desire," "Viva Zapata!," "Splendor in the Grass" and "America, America."
Passion and Controversy
Arthur Schlesinger Jr., writing about Mr. Kazan's autobiography in The New York Times Book Review, described the director as "brilliant, passionate, generous, restless, discontented, angry, vengeful and a fount of creativity, resentment and controversy." Mr. Kazan was all that, and more.
In "On the Waterfront," the protagonist, Terry Malloy, played memorably by Marlon Brando, appears before a commission investigating union corruption and informs on friends as well as enemies. The movie was written by the novelist Budd Schulberg, who also named names before the Congressional committee, and many people saw the movie as an attempt by the director and the writer to defend their actions.
The director had a different take on the movie. "I got a feeling I was speaking for a lot of people who were not on top of the society, whose parents were not rich or established," he once said. "I was speaking for the underdog."
In 1999, when Mr. Kazan was given the Academy Award for Lifetime Achievement, it was a bold break with the past; only two years before, the American Film Institute had refused him a similar award because of his decision half a century earlier to inform on others. The special Oscar generated protests, but Mr. Kazan also had much significant support. Mr. Schlesinger thundered, "If the Academy's occasion calls for apologies, let Mr. Kazan's denouncers apologize for the aid and comfort they gave to Stalinism." Martin Scorsese and Robert De Niro extolled him, Mr. De Niro calling him a "master of a new kind of psychological and behavioral faith in acting."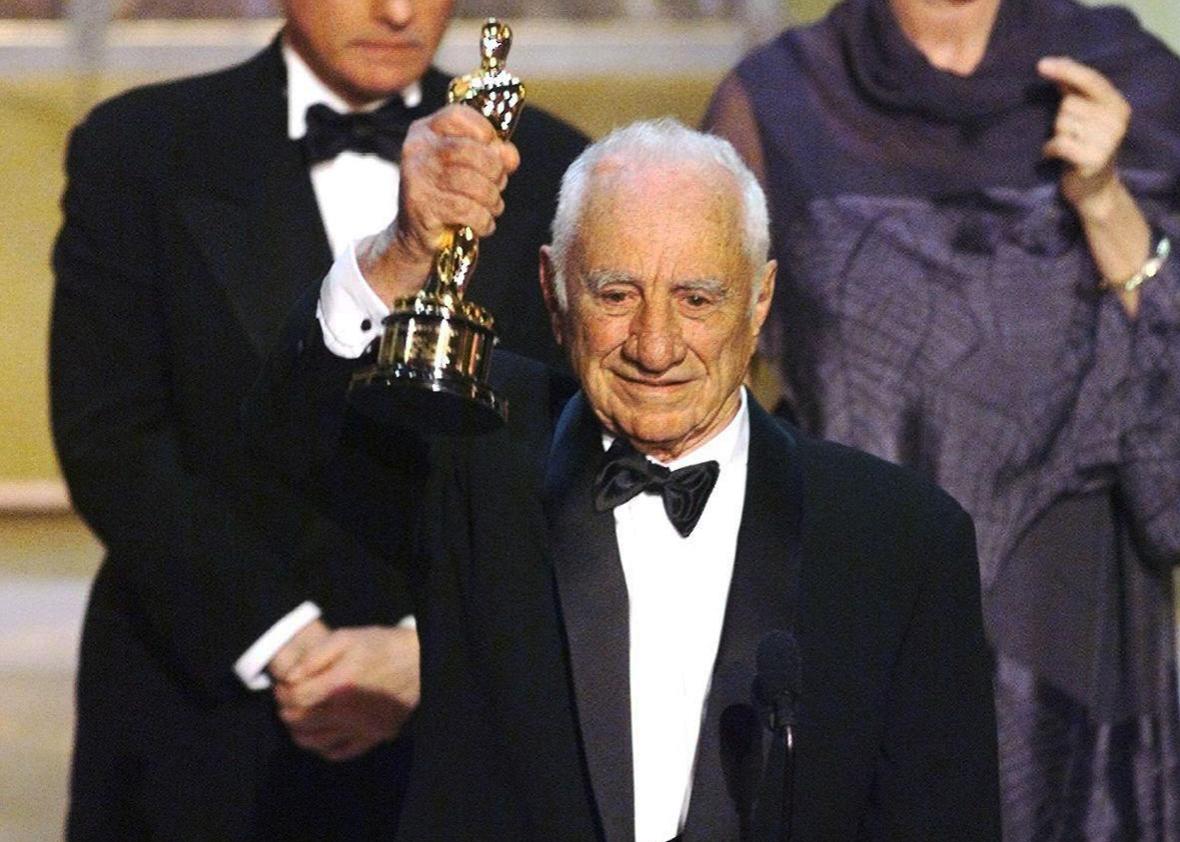 But Mr. Kazan was also reminded that there were others who would never forgive him for naming names to the House committee. "That's because he was the most powerful director in the country," said Victor Navasky, the author of "Naming Names," a book about the period. "Kazan should have used his clout to fight against the blacklist and fight against the committee, but he caved in."
Elia (pronounced EE-lee-yah) Kazantzoglou was born on Sept. 7, 1909, in Constantinople. He was one of four sons of George Kazantzoglou and the former Athena Sismanoglou, Anatolian Greeks living under harsh Turkish rule in the Ottoman Empire. His father emigrated to New York, became a rug merchant and sent for his family shortly before World War I.
Mr. Kazan attributed much to his Anatolian origins, particularly what he called in his autobiography his desire to ingratiate and his capacity to dissemble — "the Anatolian smile" he so disliked in his father, "the smile that covers resentment."
He attended public schools in New York City and New Rochelle, N.Y., with no great distinction next to his yearbook portrait there was only a blank space. At Williams College in Massachusetts, he waited on tables and washed dishes to help pay his way, graduating cum laude. Often, he worked as a bartender in fraternities that denied him admission as a member. It was as an outsider at Williams, he wrote, "that revenge began to be a motive in my life."
"It was at these parties that my obsessive attraction to other men's women was born and my need — it amounted to that — to take them away," he added. He was throughout his life a self-acknowledged compulsive seducer of women.
Mr. Kazan would continue for the rest of his life to consider himself an outsider, despite his later achievements. "A lot of critics refer to me as an outsider, and I suppose I was, wasn't I?" he remarked in a 1995 interview. "Being a foreigner, being an immigrant. I mean, I wasn't in the society. I was rebellious against it. And even when I was successful, I remained an outsider. It became my nature."
It was also at Williams that he won a career-long nickname, Gadg, for gadget, because, he said, "I was small, compact and handy to have around" — a useful, handy, "ever-compliant little cuss."
He later would increasingly grow to despise the nickname. "You made yourself that way to get along with people, to be accepted, to become invisible — a Gadget!" John Steinbeck, who wrote the screenplay for "Viva Zapata!," later told him. "What a neuter nickname! Useful for everyone, except yourself!"
Mr. Kazan studied at Yale University's drama school for two years and then joined the Group Theater in New York as an actor and assistant stage manager. He obtained small and then featured roles in a dozen plays, including "Waiting for Lefty" (1935) and "Golden Boy" (1937) by Clifford Odets and "The Gentle People" by Irwin Shaw (1939), and in two gangster movies directed by Anatole Litvak.
The Group Theater, whose members included Lee Strasberg, Harold Clurman, Clifford Odets, Franchot Tone and Stella and Luther Adler, was the most important of the Depression's experiments in modern theater. The Group specialized in the Stanislavsky "Method" form of acting, with the actor experiencing internally the emotion he is to emulate onstage, relating the character's feelings to his own experience.
Mr. Kazan was an early disciple. But several years later, working as an assistant stage manager for the Theater Guild, he saw another theory, embodied in the actor Osgood Perkins. "There was no emotion," Mr. Kazan wrote. "Only skill. In every aspect of technical facility, he was peerless."
From then on, Mr. Kazan sought to combine the two — the psychological and the professional, or technical — in his work. "I believed I could take the kind of art Osgood Perkins exemplified — externally clear action, controlled every minute at every turn, with gestures spare yet eloquent — and blend that with the kind of acting the Group was built on: intense and truly emotional, rooted in the subconscious, therefore often surprising and shocking in its revelations. I could bring these two opposite and often conflicting traditions together."
By combining these techniques, Mr. Kazan became known as an actor's director — to many in the arts, he was the best actor's director there ever was. Many critics said performances he elicited from Marlon Brando, Rod Steiger, Karl Malden, James Dean, Julie Harris, Carroll Baker, Eli Wallach and Natalie Wood, as well as many others, were the best of their careers. In his films, he guided his performers to 21 Academy Award nominations — and nine Oscars.
In 1947, with Cheryl Crawford and Robert Lewis, he founded the Actors Studio explicitly as a place where actors could grow in their craft and develop the psychological awareness called for in the plays that were dominating the Broadway theater of the 1940's and 50's. Dustin Hoffman has said that he doubted whether he, Robert De Niro or Al Pacino would have become actors without Mr. Kazan's pioneering influence.
Mr. Kazan began directing plays in 1935 and won laudatory notices in 1942 for staging a popular comedy, "Cafe Crown." He got his big break later that year when he directed Thornton Wilder's fantastic history of mankind, "The Skin of Our Teeth," with a dream cast that included Tallulah Bankhead and Montgomery Clift. The play was a huge hit, it won a Pulitzer Prize, and Mr. Kazan received his first New York Drama Critics' Circle Award for his direction.
After "The Skin of Our Teeth," he became a major force on Broadway through his collaborations with Arthur Miller and Tennessee Williams. In 1947, his compelling direction of two plays, Miller's "All My Sons," about the evils spawned by war profiteering, and Williams's Pulitzer Prize-winning "Streetcar Named Desire," about a repressed Southern aristocrat, Blanche DuBois, and her savage brother-in-law, Stanley Kowalski, established Mr. Kazan as Broadway's pre-eminent director. The Stanley Kowalski character also made 23-year-old Marlon Brando a great new star.
Mr. Kazan followed these memorable successes with another theatrical milestone — Arthur Miller's "Death of a Salesman," a devastating indictment of the American way of life that starred Lee J. Cobb as the Everyman salesman, Willy Loman.
Success in Hollywood
Having reached the pinnacle of the theater, Mr. Kazan was also gaining acclaim as a director of movies. His first major film was "A Tree Grows in Brooklyn," an affecting 1945 tale about an Irish family coping with poverty and an alcoholic father (James Dunn, who won an Academy Award as best supporting actor). Other Kazan films were "Pinky" (1949), an early film dealing with racism and miscegenation; "Panic in the Streets" (1950), a taut drama about a manhunt to find the carrier of plague, with fine performances from Richard Widmark, Jack Palance and Zero Mostel; "Baby Doll" (1956), a black comedy about sex by Tennessee Williams with Eli Wallach, Karl Malden and Carroll Baker; and "A Face in the Crowd" (1957), a film about the media and celebrity with Andy Griffith as a folksy, demagogic television star.
In directing both the stage and movie versions of "A Streetcar Named Desire," he helped catapult Mr. Brando to stardom. But in later years Mr. Kazan would reflect ruefully on the career of the star he helped to make. "He should have been our American Olivier," Mr. Kazan said. "But he just sort of got less and less able, less and less good. It's a sad story."
Mr. Kazan was the director who gave Lee Remick, Jo Van Fleet, Warren Beatty, James Dean and Jack Palance their first major movie roles. And he was the director of two films that still have particular resonance with young moviegoers — "East of Eden" (1955), based on a Steinbeck retelling of the Cain and Abel story, with James Dean, Julie Harris, Jo Van Fleet and Raymond Massey, and "Splendor in the Grass" (1961), which starred Warren Beatty and Natalie Wood as adolescent lovers dealing with adult hypocrisy.
Eventually Mr. Kazan would conclude that the Group Theater was wrong about the stage, that theater was not a collective art; to be successful, he said, it should express "the vision, the conviction, and the insistent presence of one person." As that one person, he had a passion for clarity: with the writer, he honed the main theme of a script and then analyzed every line for motivation and dramatic tension.
Just as he concluded the Group Theater was wrong about stagecraft, he decided it was wrong about politics. The Group Theater in the 1930's contained a secret Communist cell, which Mr. Kazan joined for almost two years. But when the American Communist Party ordered the cell to take control of the Group, Mr. Kazan refused. At a special meeting, he was denounced as a "foreman" currying favor with the bosses, and was required to repent and submit to party authority. Rather than do so, he resigned from the party. He later wrote that the experience had taught him "all I needed to know about how the Communist Party of the United States worked."
Seventeen years later, when he was first called as a witness before the House Un-American Activities Committee, Mr. Kazan refused to divulge names. But the moguls of Hollywood urged him to change his mind rather than destroy his career.
In his memoir, Mr. Kazan wrote that he then spoke to Arthur Miller about what to do. Mr. Miller, who did not cooperate with the committee, wrote in his memoir, "Timebends," that the conversation took place after Mr. Kazan named names. But they essentially agreed on what had been said.
"I said I'd hated the Communists for many years and didn't feel right about giving up my career to defend them," Mr. Kazan recalled. "Was I sacrificing for something I believed in?" His decision cost him many friends.
Years later, Mr. Kazan expressed doubts. "What I'd done was correct," he wrote, "but was it right?"
But Mr. Kazan also said the great success of "On the Waterfront" ended his fears that his career was in jeopardy. "All of a sudden nobody cared what my politics were, that I was controversial or difficult. After 'On the Waterfront' I could do anything I wanted. That's Hollywood."
Mr. Kazan's relationship with Mr. Miller was particularly complicated. Mr. Kazan was Marilyn Monroe's lover when Mr. Miller met her, and, long before Mr. Miller and the actress married, the three often spent time together in Hollywood. In his autobiography, Mr. Kazan told of a night when Ms. Monroe arrived at his hotel room and declared that she was going to get married. He thought she was going to be married to Mr. Miller but she told him that she was going to marry Joe DiMaggio. She then stayed overnight in the hotel room with Mr. Kazan. Mr. Kazan directed Mr. Miller's "After the Fall," his 1964 play about his failed marriage to Marilyn Monroe, for Lincoln Center. The actress Barbara Loden, who would become Mr. Kazan's second wife, played Marilyn Monroe.
Mr. Kazan was not without his cinematic detractors, who at times accused him of being simplistic and maudlin, of belaboring issues and relying on cop-out endings.
He, too, was very much aware of his own limits. "I don't have great range," he wrote. "I am no good with music or spectacles. The classics are beyond me. . . . I am a mediocre director except when a play or film touches a part of my life's experience. . . . I do have courage, even some daring. I am able to talk to actors. . . . to arouse them to better work. I have strong, even violent, feelings, and they are assets."
A Switch to Writing
Among the other plays Mr. Kazan directed were "One Touch of Venus" with Mary Martin (1943), Williams's "Camino Real" (1953) and "Cat on a Hot Tin Roof" (1955), William Inge's "Dark at the Top of the Stairs" (1957) and Williams's "Sweet Bird of Youth" (1959), which won him a New York critics' award.
In 1961 Mr. Kazan said the staggering costs of staging a Broadway play and the curtailed rehearsal time allotted by producers made it "almost impossible to do artistically daring work." He left Broadway, became a novelist and began to write his own film scripts.
Mr. Kazan's first novel, "America America," in 1962, retraced the odyssey of an uncle, a Greek youth who fled the poverty and persecution of Turkey and reached America despite numbing setbacks. The book was a best seller, and Bosley Crowther of The Times called Mr. Kazan's movie version one of the 10 best films of 1963.
Mr. Kazan remained involved with the non-Broadway theater, supervising with Robert Whitehead the establishment of a not-for-profit repertory company at Lincoln Center. In 1964 Mr. Kazan directed five plays for the company, including two Arthur Miller dramas, "After the Fall" and "Incident at Vichy," at the ANTA/Washington Square Theater in Greenwich Village while the Vivian Beaumont Theater was being built. But disputes with Lincoln Center's board led the two men to leave before the Beaumont was completed.
"The Arrangement" (1967), Mr. Kazan's second novel, dealt with the midlife crisis of a philandering executive. It was deplored by most reviewers but became a best seller. Other Kazan novels, which drew mixed or critical reviews, included ''The Assassins" (1972) and "The Anatolian" (1982).
In 1972 Mr. Kazan directed "The Visitors," a tiny-budget feature written by his elder son, Chris (who died of cancer in 1991), and shot in 16-millimeter in and around his farm in Newtown, Conn. Vincent Canby of The Times praised the movie, about the violent legacy of the Vietnam War, as "extremely moving" and said Mr. Kazan was "still a first-rate director."
Mr. Kazan was married three times — to Molly Day Thacher, a playwright, from 1932 to her death in 1963; to Ms. Loden, the actress, writer and director, from 1967 to her death in 1980; and to Frances Rudge, in 1982. He and Ms. Thacher had four children, one of whom, Chris, died. The others, who survive him, are Nicholas Kazan of Los Angeles, Judy Morris of Washington, and Kate, of Madison, Wis. Six grandchildren and two great-grandchildren also survive him, as do a son from his marriage to Ms. Loden, Leo Kazan of New York, and three stepchildren: Marco Joachim of New York, who was Ms. Loden's son by an earlier marriage, Charlotte Rudge of New York and Joseph Rudge of Los Angeles.
Mr. Kazan won New York City's highest cultural award, the Handel Medallion, in 1972, and a Kennedy Center citation in 1983.
Looking back on his life in 1995, he declared that he was proud of his films. "I think about a dozen of them are very good, and I don't think there are films as good on the subject or the feeling," he said. "Writing my own work means more to me than I can get out of somebody else's work, and some of the stuff that I did turned out all right. I get along. I live modestly. I have a nice house. I can go to the country once in a while. I have a few friends. I'm happy with my wife, and I love my children."
---
To celebrate the late director's career, friend and colleague Martin Scorsese created a boxed set of his work, entitled the "Elia Kazan Collection."
---
Is The Pappas Post worth $5 a month for all of the content you read? On any given month, we publish dozens of articles that educate, inform, entertain, inspire and enrich thousands who read The Pappas Post. I'm asking those who frequent the site to chip in and help keep the quality of our content high — and free. Click here and start your monthly or annual support today. If you choose to pay (a) $5/month or more or (b) $50/year or more then you will be able to browse our site completely ad-free!

Click here if you would like to subscribe to The Pappas Post Weekly News Update