Saints Raphael, Nicholas and Irene Hellenic Orthodox Church in Palm Harbor, Florida was badly damaged by a fire, which broke out in the middle of the night on September 23rd. A newspaper delivery woman, Carol Dyer discovered the smoke. She was delivering the newspapers and went a different route than normal.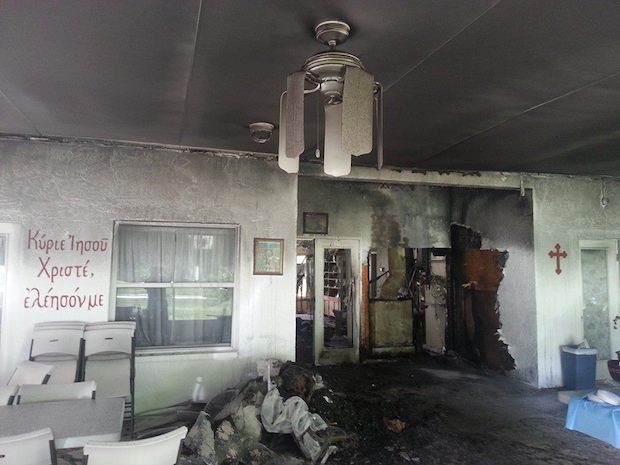 Palm Harbor is located between Clearwater and Tarpon Springs.
"It was God. I can't take credit," Dyer said. "I just wasn't at peace going the other way and I came down Tamarron which I only normally do on Sundays. I saw the smoke and wasn't sure if it was fog so I drove around back, realized it was a fire and called 911."
Churchgoers are calling Dyer a hero Tuesday morning. The Parish President Elias Damianakis is thankful the relics weren't damaged. He says the church has relics only found in Greece and that people come from all over the country to see them. The relics and the sanctuary are unharmed.
The fire investigator doesn't know just how bad the damage is but says it doesn't look like the fire was set on purpose.
Church officials were quick to set up a website to keep their faithful updated and share news about the rebuilding efforts. In a show of resilience, the community set up a tent on the church property, just feet away from the charred ruins of the building that was damaged, and held a Divine Liturgy last Sunday.
"We will rebuild from the ashes," Damaniakis told The Pappas Post.
"On behalf of my parish Saints Raphael, Nicholas and Irene the Neo Martyrs of Lesbos Hellenic Orthodox Church of Palm Harbor, Florida in the Metropolis of Atlanta, I ask for everyone, to extend a prayer for the stewards of our church as the community confronts the results of a devastating recent fire."
I am humbled, to tell you of the many miracles which I have seen, first hand, over the last several days which stand as an affirmation of our Holy Orthodox faith. Above all we are grateful that no one was injured and the holy and sacred relics of our patron saints Raphael, Nicholas and Irene remained intact and untouched by the fire and aftermath of smoke and water.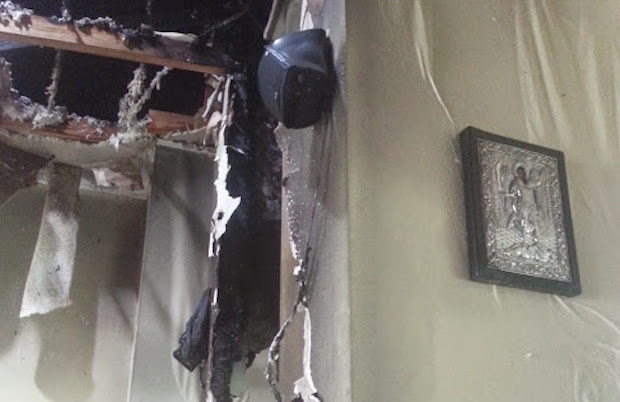 According to Damaniakis (who provided all photos), A silver icon of Archangel Michael Panormitis, at the epicenter of the fire, remained unscathed while icons which were displayed above and beneath were burnt to ashes. "The fire literally went around the icon, I personally removed the icon from the wall which had become fused with the wall behind it and is scented of myrrh and not charred smoke," stated Damaniakis, who is the parish council president.