Today would have been the birthday of beloved stage and screen actress Olympia Dukakis. She passed away on May 1, 2021. What a better way to celebrate her life than to share some of our favorite on-screen moments and fun facts about the incomparable and outspoken actor.
The Lowell, Massachusetts native's best-selling autobiography "Ask Me Again Tomorrow" revealed a lot about her, but here's more you might not know.
1) Before there was Caitlyn Jenner, there was Anna Madrigal and before there was Sex in the City, there was Tales of the City
Before there was Sex and the City, there was Tales of the city and Olympia Dukakis is credited as shedding light and bringing to the forefront— long before Caitlyn Jenner— the transgender issue to the American public. Tales of the City, a 1993 PBS mini-series got too hot for some conservatives to handle. Dukakis was the lead and the series received numerous awards, including the Peabody Award (the industry's top honor) and the highest ratings ever for a dramatic series.
She played a transexual named Anna Madrigal and the "house mother" to wayward young adults trying to find their way in 1970s San Francisco. Amid pressure from the religious right, PBS didn't renew its most popular series ever and Showtime went on to produce and continue the sequel More Tales of the City.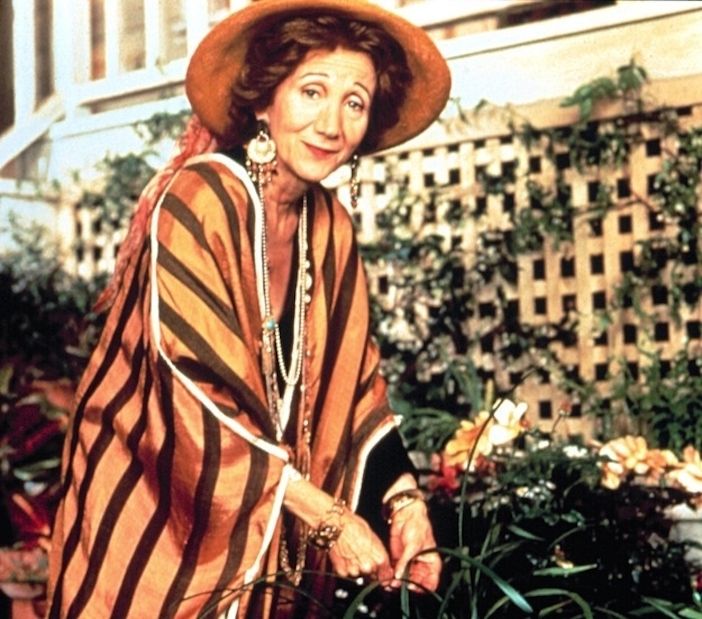 2) On My Big Fat Greek Wedding: "That Wasn't My Greek Experience"
Many people thought Olympia Dukakis was a shoo-in for the role of Nia Vardalos' mother in My Big Fat Greek Wedding and Dukakis confirmed in a Chicago Tribune interview in 2003 that she was approached, but turned down the role. "I was (approached). There was a schedule conflict — I think I was doing a play at the time. And I wasn't that enthusiastic about the part. But I'm happy it's had success. I know some Greeks feel conflicted about it. I didn't grow up with those kind of people. That wasn't my Greek experience."
She shared the same feelings in an interview with Greek America Magazine.
3) Okay Michael Let's Go!
To many, it was a defining moment in Greek American history — a Greek American son-of-immigrants named Michael Dukakis was running for the US Presidency — one man away from the most powerful position in the world, while his first cousin and daughter-of-immigrants named Olympia Dukakis was on stage in front of billions of global television viewers receiving the entertainment industry's top honor and one of the most prestigious awards in the world — the coveted Oscar. The latter Dukakis didn't miss the opportunity to cheer on her cousin. At the culmination of her Academy Awards acceptance speech, she spontaneously belts out "Okay Michael let's go!"
4) "Your Life is Going Down the Toilet"
The most famous and beloved scene in Moonstruck when Rose Castorini tells her daughter (played by Cher) that "your life is going down the toilet" wasn't actually written by Hollywood writers — it was improvised and incorporated by Olympia Dukakis herself as she channeled her Greek immigrant. "My mother used to tell that to me all the time," Olympia said in an interview with The New York Times after the Oscar win.
5) The Pain of Ethnic Discrimination
Olympia Dukakis has been called a champion for the downtrodden and has supported numerous groups seeking "justice" from the system, including gays and lesbians and other minority groups. In her interview with Canadian TV personality George Stroumboulopoulos, she recounted the pain of discrimination when a well-known country music entertainer made fun of her cousin Michael's (as well as her own) last name.
6) She Slept With Fellow Greek Zach Galifianakis
In the critically-acclaimed cult hit HBO series "Bored to Death," funnyman Zach Galifianakis' character, cranky cartoonist Ray Hueston, embarks on a torrid affair with a much older woman played by a much older Dukakis. "Poor Olympia," Galifianakis said in an interview, laughing. "That story line is something I really don't know if I have seen on television, and it is exciting to explore, as they call it in the script, 'elder love.' Olympia actually is a little too young for me, but she'll do. It's just kind of interesting to be making out with such a Greek goddess."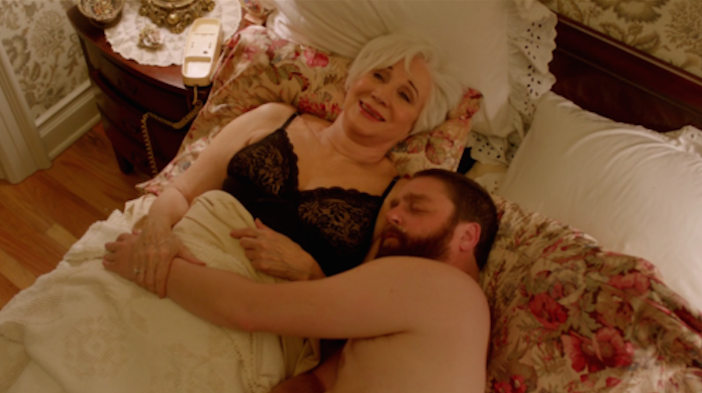 7) The Case of the Stolen Oscar
Olympia joins actors like Angelina Jolie and Whoopie Goldberg whose Oscars were either stolen or misplaced. When her golden statuette was stolen from her home in 1989, she called the Academy to see if it could be replaced. "For $78," they said, and she agreed that it seemed like a fair price. It was the only thing taken from the house and police never recovered the original. "It's curious, puzzling," Olympia's husband Lou Zorich said at the time, adding that his wife had a fogs perspective of the theft and didn't seem traumatized. "We're not pretentious," he said. "We kept the Oscar in the kitchen."
8) Hollywood Star for a Hollywood Star
In 2013 Dukakis was bestowed a long-overdue honor of a star on the Hollywood Walk of Fame, but it took her own — fellow Greek Americans — to nominate and support the effort. Dukakis was nominated for the honor by the Greek America Foundation, an organization she has supported over the years and whose members and donors came up with the $30,000 in required application fees to even be considered. She gave them a big, fat Greek shout out at the presentation on Hollywood Boulevard, right outside another iconic Greek spot — the Pantages Theater.
Shortly after her death, the same organization honored Olympia again, naming an endowed prize for female-led film and theatrical initiatives called the "Olympia Dukakis Prize."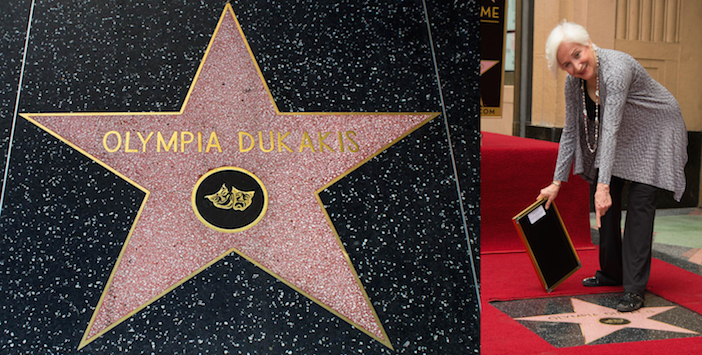 9) Mom to Jennifer Aniston
In 1997 she co-starred opposite fellow Greek Jennifer Aniston in Picture Perfect, a romantic comedy about a young woman struggling in her life, career and romance.
Fast Facts About Olympia Dukakis
She was the daughter of Greek immigrants, Constantine and Alexandra Dukakis.
She was a fencing champion in high school.
She had a degree in physical therapy; worked with polio patients in the 1950s.
She taught acting at universities including New York University, Columbia, and Yale; was named 2011 Master Teacher of the prestigious Lunt-Fontanne Fellowship Program.
She appeared in over 125 regional-theater productions throughout the world, including in Greece and Cyprus.
She was a founding member of the Charles Street Playhouse in Boston and the Whole Theatre in Montclair, NJ.
She was married to actor Louis Zurich for over 50 years.
She won numerous awards during her career
1987, Oscar — Best Performance by an Actress in a Supporting Role: Winner
1988, Golden Globe — Best Performance by an Actress in a Supporting Role in a Motion Picture: Winner
1988, BAFTA Film Awards — Best Actress in a Supporting Role: Nominee
1991, Emmy — Outstanding Supporting Actress in a Miniseries or Special: Nominee
1993, Golden Globe — Best Performance by an Actress in a Supporting Role in a Series, Miniseries or Motion Picture Made for Television: Nominee
1998, Emmy — Outstanding Lead Actress in a Miniseries or a Movie: Nominee
1998, Screen Actors Guild Awards — Outstanding Performance by a Female Actor in a Television Movie or Miniseries: Nominee
1999, Emmy — Outstanding Supporting Actress in a Miniseries or a Movie: Nominee
2003, Genie Awards — Best Performance by an Actress in a Supporting Role: Nominee
2009, Gabby Award Lifetime Achievement — Presented by the Greek America Foundation in Chicago
---
Is The Pappas Post worth $5 a month for all of the content you read? On any given month, we publish dozens of articles that educate, inform, entertain, inspire and enrich thousands who read The Pappas Post. I'm asking those who frequent the site to chip in and help keep the quality of our content high — and free. Click here and start your monthly or annual support today. If you choose to pay (a) $5/month or more or (b) $50/year or more then you will be able to browse our site completely ad-free!

Click here if you would like to subscribe to The Pappas Post Weekly News Update