An online used car startup operating in Greece and Poland has acquired approximately $5.5 million from investors in its latest funding round.
Spotawheel, an Athens-based startup with a model similar to the US-based company Carvana, received most of its latest backing from the multimillion dollar capital fund VentureFriends — as well as support from Velocity Parters and unnamed "strategic" investors.
The investment includes both equity and debt financing, as Spotawheel's business model entails purchasing used cars upfront to re-sell them via their online catalogue.
Charis Arvanitis, the company's co-founder and CEO, said that the used car market has immense potential to expand internationally.
"Used cars is one of the largest markets in value worldwide growing at a 5-7% rate annually," Arvanitis said. "But it is operating still primarily offline in a notoriously non-transparent way."
Arvanitis explained that, in the world of used cars, offline buyers often fear that the vehicle they purchase will have unexpected severe mechanical issues. Added on top of this, he said, are sophisticated processes, hidden fees and a "fragmented market" — meaning that no one company exerts enough influence to move the industry in a particular direction.
Instead, the used car industry consists of several small to medium-sized companies that compete with each other and large enterprises.
"The lack of centralized control on the industry's hugely fragmented seller structure has prevented any meaningful innovation over the past 20 years, when the typical online classified ads emerged," Arvanitis said.
He added that the problem has become prominent in Europe, as car trade flows between countries make it more difficult to control quality and for potential buyers to trace the cars' history.
In response to this problem, Spotawheel operates with an online "business-to-consumer" model based on direct transactions between the company and individual customers. This allows potential buyers to visit their website, browse catalogued options and make their choice.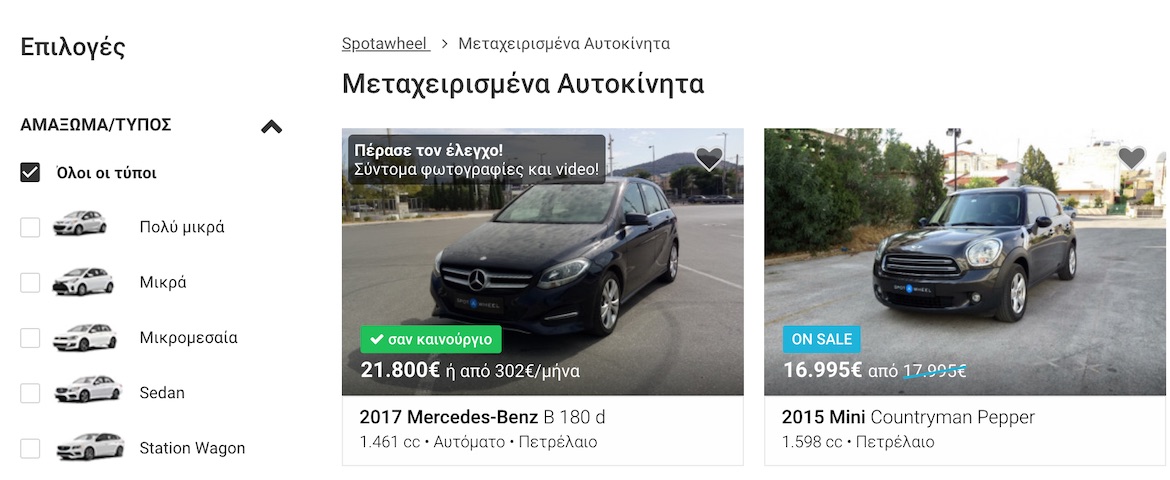 Arvanitis said that this model revolutionizes the buy-sell process by creating a simple and secure buying experience with e-commerce convenience.
Before selling, Spotawheel gives customers the option to test drive or have the car delivered countrywide — with an under seven-day return policy. Consumers also receive up to five years of limited warranty — the largest in Europe.
The company has dedicated team members who perform "predictive analytics" to determine each car's condition and anticipate any expected failures.
Since its launch in 2016, Spotawheel has received nearly $9 million in funding.
---
Is The Pappas Post worth $5 a month for all of the content you read? On any given month, we publish dozens of articles that educate, inform, entertain, inspire and enrich thousands who read The Pappas Post. I'm asking those who frequent the site to chip in and help keep the quality of our content high — and free. Click here and start your monthly or annual support today. If you choose to pay (a) $5/month or more or (b) $50/year or more then you will be able to browse our site completely ad-free!

Click here if you would like to subscribe to The Pappas Post Weekly News Update