Today the world shared gifts— toys for children, computers and flat screens for big kids and jewelry for the women folk. It's a combination of a tradition that dates back to the time of a great Greek named Basil and another great Greek named Nicholas— both saints of the Greek Orthodox Church who each in their own miraculous way, changed the world and left a profound way.
And whether or not a fat, white-haired and bearded Northern European has hijacked the hearts and minds of the world— we all know that modern-day Santa Claus and the traditions, heritage and message he carries with him for children across the world has its roots, yes, with the Greeks.
For it was St. Nicholas (yes, jolly old St. Nick), a Greek bishop from what is today the southern coast of Turkey, who helped the sick, the poor and the widows he encountered. Add to the mix the story of the other "Great"— Basil, who is commemorated on January 1st by the Greek Orthodox Church and you come to understand where the west got its Santa Claus after all.
Of course there are other— non-Greek, Northern European traditions associated with the old man, but the real spirit of helping the poor, giving gifts to the underprivileged and sharing love and good cheer definitely comes from these two wise old Greeks, Nicholas and Basil.
As I sit back today, in my usual post-Christmas dinner food coma and think about the gifts I received this year, none of them involved technology, jewelry or computers.
This year my gifts involved intangible connections with other people and re-connections with myself.
I baptized Iosif Sifakis all the way in Larissa, Greece— establishing a bond with the Sifakis family that has now become my own… I traveled the world and had experiences I never thought I would in my own lifetime, thanks to a crazy adventurer named Leon Logothetis who trusted me. I was taken in by the Fasseas family of Chicago, who treated me like I was their own— something we all need when we are away from home.
I got wisdom from Peter Karmanos who reminded me never to give up on what I believe in and to keep fighting… I met amazing new people like Liz Tsaoussis, Lea Soupata, Evellyn Tsiadis, Penelope Rok, Ioannis Charalambous and Nick Dimitropoulos— and so many more— each of whom taught me a thing or two about life, living and the things that are important.
I had the chance to sit back and watch the fruits of a lot of labors come to fruition— stood next to Olympia Dukakis when she received her Hollywood Star and snapped photos with Mickey Mouse in a foustanella— all a result of a lot of hard work and passion, and personal and emotional investment.
I watched a team of marathon runners train and run one of the most difficult races in the world; and a thousand people travel from throughout the world and fill one of the grandest theaters in the nation; and a team of 16-year old kids in Toronto make a film and use it to raise money for your cause– because they believe and support your vision.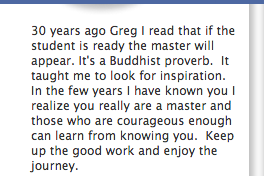 Receiving random notes from faraway friends about the work I am trying to do to preserve our heritage– like the one from Frank, that I will cherish forever–  this was indeed another special gift, as was reconnecting with people I haven't spoken to in years… especially Nikos Karavitis.
I had one more year with my mother, but not only "one more year" but a special year, full of more love and more quality time together. AND THIS WAS THE GREATEST GIFT OF ALL.