Today I had the honor and privilege to serve as the Master of Ceremonies at an event in Brooklyn, where I spoke in frond of several hundred parents, students, faculty and administrators of the Hellenic Classical Charter School— an independent school, sanctioned and supported by the New York City Department of Education where hundreds of kids attend from throughout the city of New York.
The majority of these kids aren't Greek— but come from the diverse ethnic fabric of this great city. African, Hispanic, South American and other Latino Americans, as well as Greek American kids all come together to share in an education fostered in classical Greek ideals. Upwards of 40 per cent alone of the students are African Americans.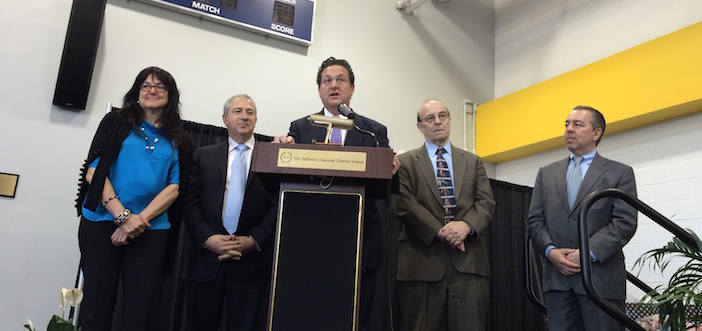 This school isn't part of a church or community group that could kill it with poisonous politics— like so many before it have seen their doors shutter in the Greek American community. It's governed by New York Board of Education rules and operated by an independent board of directors of dedicated people— each of whom I had the honor to meet and see in their eyes, the dedication and commitment to the school.
The principal, Christina Tettonis, spoke about the "family" that has been created at the school and students long graduated from Hellenic, returning to see teachers antsy connected to a place they share a special bond with.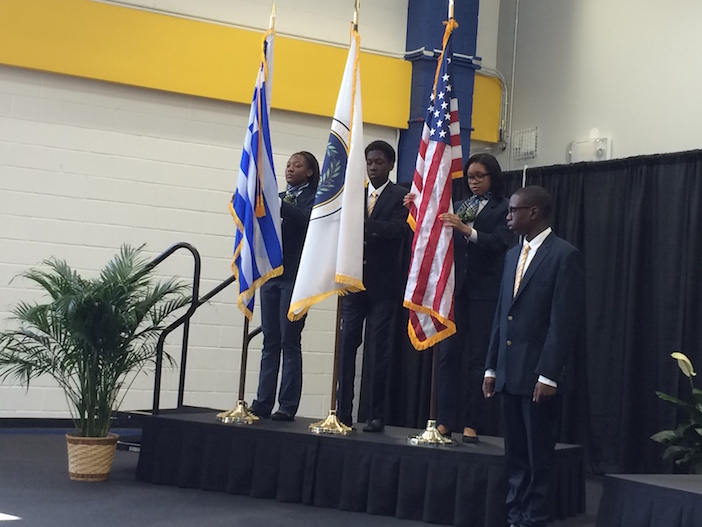 In addition to the presentation of the colors— including the Greek flag, by three top students— all African Americans, we sang the two national anthems together and watched the students perform a play, co-written and directed by Petros Fourniotis, which blew my socks off. Petro wrote a masterpiece of a show that summed up the Greek experience in 20 minutes, with dozens of school kids participating.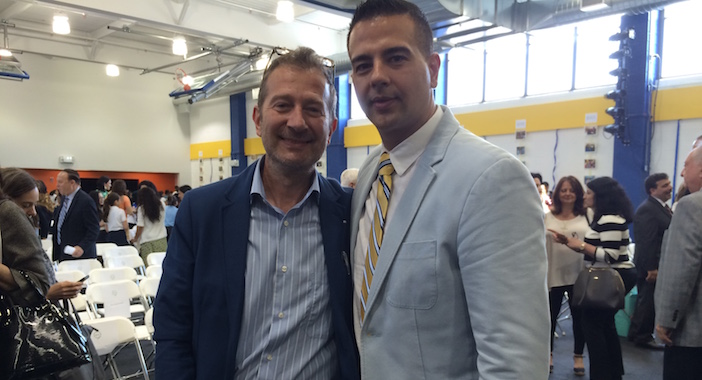 The students, in impeccable Greek, represented different elements and ideals on Ancient Greece and played roles of Pericles, Hippocrates and others. The Oracle of Delphi was re-created and the role of Pythia was played by Anthoula Katsimatides, a supporter of the school and successful actress and community activist.
Once by one, local politicians praised the school in their speeches— one man called it the "miracle on Fifth Avenue" because it's been able to turn anyone who walks through its doors into a Greek.
I may have walked into the Hellenic Classical Charter School already a Greek but I walked feeling more proud, and more hopeful that even as the generations pass in this country and we are all looking for that special way to keep our Greek culture, history and heritage alive— the folks at Hellenic Classical Charter School have found the answer.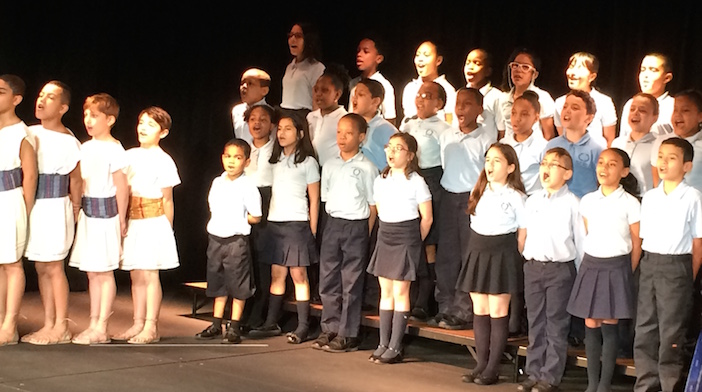 Education… paideia in Greek. But not only that— you must take what you know and possess— and share it with the world. Because each and every one of these students, regardless of their racial, social or cultural background will become an ambassador for Greek ideals.
I greeted a parent on her way out and we chatted. She told me that her daughter, a young African American who was also part of the program today, had a dream to become a teacher when she grew up— a teacher of Greek, so she could go to Greece and teach the language to the multitudes of immigrants arriving on Greek shores.
"We too, are strangers to the Greek culture, but the Greeks at Hellenic have welcomed us and made us part of their family and part of their community," the mom of this student told me. "My daughter wants to go to Greece and teach Greek to all of the non-Greek immigrants there and make them feel welcomed into a culture and community that welcomed her."