Athens-based pastry chef Antonis Selekos is passionate about designing sweets and sharing them with the world. He got his start as an apprentice baker on his native Astypalaia and remains connected to the island and its culinary traditions.
After numerous jobs in well-known restaurants — including serving as head pastry chef at the world-famous Scorpios in Mykonos — Antonis joined the dream team of Funky Gourmet, a globally-renowned two-Michelin Starred restaurant in Athens with a summer pop-up at the Costa Navarino resort.
Antonis is responsible for creating new and exciting desserts at Funky Gourmet while simultaneously working on new projects in London, Qatar and Dubai.
"Early in my professional career I started to enjoy the different perspectives of being a pastry chef and a chocolate lover," Selekos tells The Pappas Post. "What I am passionate about is observing and staying curious – it is what brings me inspiration.
"The heat and tension of the work always keep my going," he says. "I love to play with pastry shapes, textures and flavor combinations."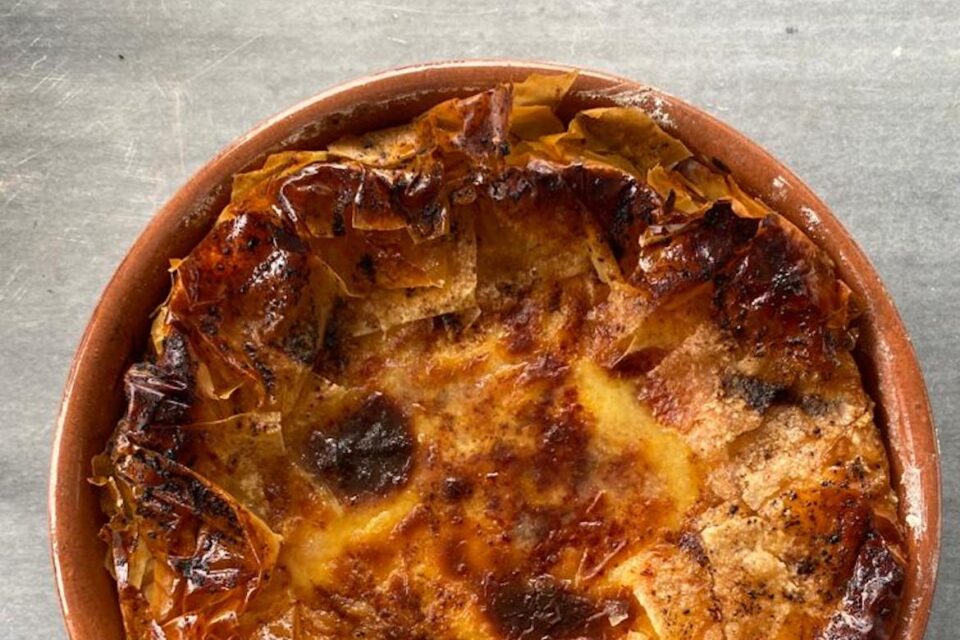 Antonis has generously shared his traditional recipe for "galatopita," or custard pie, with readers of The Pappas Post. The full recipe follows below.
Follow Antonis on Instagram and LinkedIn to keep up with his latest projects, including a Christmas Panettone shop opening in late 2021.
Ingredients
2 ¾ cups (650 GR) whole milk
½ cup (100 GR*) heavy whipping cream (35% milk fat)
¾ cup (160 GR) sugar
8 egg yolks
1/2 cup (50 GR) corn starch
2 whole vanilla beans
¾ cup (80 GR) powdered sugar
1 cup (250 GR) melted butter (unsalted)
4 tsp. (10 GR) ground cinnamon
6 sheets of filo dough
Note: *100 grams of heavy cream is equivalent to 0.417 (or a bit less than 1/2) of a US cup.
Instructions
Slice the vanilla beans in half, remove seeds and cut the leaf into small pieces with a pair of scissors.
Add vanilla bean pieces, milk and heavy cream in a saucepan and heat to a slow boil over medium heat.
Remove from heat.
In a mixing bowl, add egg yolks and sugar and mix well. Add the cornstarch.
Mix in 1/3 of your milk mixture to your egg yolk mixture.
Place the remaining milk mixture back on a medium heat until it boils again.
As soon as it has boiled, pour the remaining milk into the egg mixture and mix quickly.
Transfer your mixture back into your saucepan that you used to heat the milk and heat over medium heat for about one minute until your ingredients are blended and there isn't a heavy corn starch after taste.
Remove from heat. Pass your mixture through a strainer and into a clean bowl to remove any unmixed custard balls and the vanilla beans. Cover mixture with plastic wrap. Make sure your plastic wrap touches the top of your saucepan so a skin doesn't form on top.
Cool in the fridge for two hours.
Melt your butter over a medium heat and let it boil for about two minutes.
Preheat your oven to 480 F (250 C).
Grease a 10 in x 2 in (25 cm x 5 cm) round non-stick baking pan with your melted butter and dust the bottom of the buttered pan with powdered sugar.
Add your filo dough one layer at a time, buttering each layer well and alternating the placement of each piece to ensure the pan is covered equally on all sides.
Pour in your chilled vanilla custard and flatten so it spreads equally in the pan. Drizzle the remaining melted butter on top to create a complete butter layer on top of the custard.
Carefully fold down your filo dough around the perimeter of the pan. As you can see in the photo, only a part of your custard will be covered.
Bake for 20 minutes at 480 F (250 C).
Lower the temperature of your oven to 350 F (180 C) and bake for another 30 minutes.
Cool to room temperature and serve.
Tip from Chef Antonis: This tastes great with pistachio ice cream!
---
Is The Pappas Post worth $5 a month for all of the content you read? On any given month, we publish dozens of articles that educate, inform, entertain, inspire and enrich thousands who read The Pappas Post. I'm asking those who frequent the site to chip in and help keep the quality of our content high — and free. Click here and start your monthly or annual support today. If you choose to pay (a) $5/month or more or (b) $50/year or more then you will be able to browse our site completely ad-free!

Click here if you would like to subscribe to The Pappas Post Weekly News Update