Greek prime minister Alexis Tsipras has said that Greece will accept all bailout conditions proposed by the country's creditors with only a handful of minor changes. but Germany said the letter had come too late and did not go far enough.
In a letter sent to the European Commission, the International Monetary Fund and the European Central Bank, Tsipras expanded his idea for a new, third €29.1 billion loan to cover all its debt service payments due in the next two years.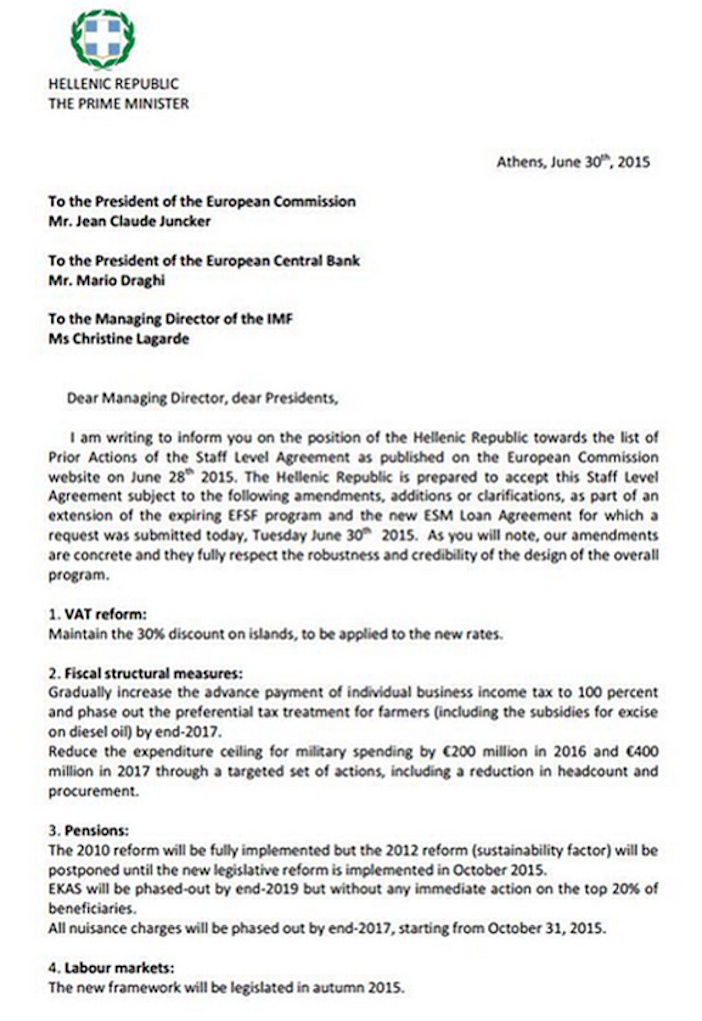 The second bailout package expired last night when Greece failed to meet a €1.6 billion IMF debt repayment. Tsipras then proposed a third package and a new set of 11 conditions – along with a note saying Greece was prepared to accept the troika's proposals, which he received on Sunday.
Angela Merkel has said the lenders will not negotiate a further bailout package until after the Greek referendum on whether the public want to accept the lender's proposals. The referendum is due to take place on Sunday.
German Finance Minister Wolfgang Schaeuble said the letter came too late, had not brought any greater clarity and was no basis for serious negotiations now. Any talks on a new program would have to start from scratch with different conditions, he told a news conference in Berlin.
Tsipras asked to keep a discount on value added tax for Greek islands, stretch out defense spending cuts and delay the phasing out of an income supplement to poorer pensioners.
He also agreed to implement immediately a range of measures recommended by the Organization for Economic Cooperation and Development to ease doing business and open up closed business sectors.
Euro zone finance ministers were due to discuss the Greek request on a conference call on Wednesday, but the initial reaction from ministers and senior officials was that the letter contained elements that ministers will find hard to accept.