Tucson Arizona's St. Demetrios Greek Orthodox Church's Hellenic Center was vandalized with graffiti markings.
An unknown perpetrator spray painted vulgarities directly under the name of the building.
The incident has been reported to the police.
It is unknown if security or surveillance cameras captured the incident on tape.
We received the photo from a parishioner of the church who asked to remain anonymous, stating that "the hate is spreading like wildfire… We are going backwards in this country. I'm furious."
In his message, he also noted "We Greek Americans can not turn a blind eye to what is going on in this country, regardless of political affiliation. If we do, we have nothing to be proud about."
UPDATED INFORMATION: Since publishing our story we've received numerous emails and messages from individuals at the parish in Arizona, mentioning a long-standing feud between two opposing sides of the community stemming from various actions relating to the "anti-Greek direction of the parish" and numerous matters pertaining to a real estate development to build a new parish and community center that never materialized. While a perpetrator has not been caught, most people who contacted us believe the incident is related to internal conflict in the community between traditionalists who want to main the church and community's Greek character, and others who wish to become more "Pan-Orthodox" and remove ethnic Greek affiliations. We also contacted the local police department. One officer who could not speak publicly because he was not authorized told The Pappas Post that "we think it was definitely an inside job and stemmed from within the community itself."
The complete, unedited version of the photograph: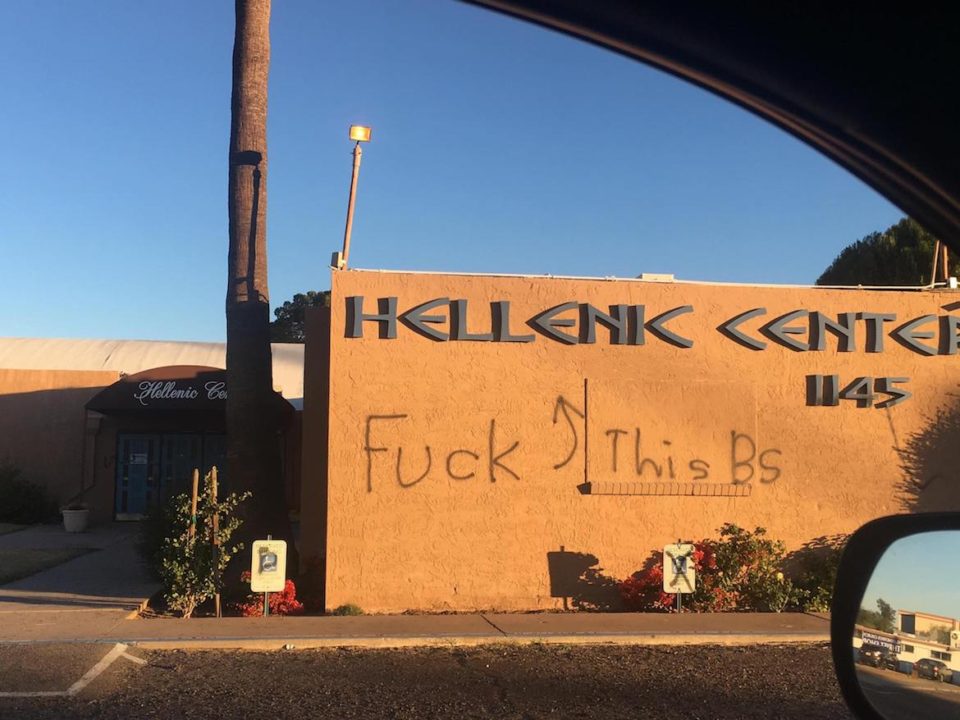 *****
Since you're here… I have a small favor to ask.
More and more people than ever before are reading The Pappas Post and despite increasing costs to maintain the site and provide you with the quality content that you deserve, I will never "force" you to pay for our website or add a paywall. I believe in the democracy of the internet and want to keep this site and its enriching content free for everyone. But at the same time I'm asking those who frequent the site to chip in and help keep it both high quality— and free. We've implemented a "free-will" annual subscription for those who want to support our efforts. I guess it's fair to call it a philotimo subscription… because you don't have to do it but it's really the right thing to do if you love the site and the content we publish. So if you like The Pappas Post and want to help, please consider becoming a "philotimo subscriber".Click here to subscribe. If you'd rather make a one time donation, we will gladly accept any amount, with appreciation. Click here to donate any amount.