Greek Prime Minister Alexis Tsipras welcomed U.S. Commerce Secretary Wilbur Ross and U.S. Ambassador to Greece Geoffrey Pyatt as they cut the ribbon at the United States Pavilion  of the annual Thessaloniki International Fair, an annual event in Greece's second largest city that attracts hundreds of thousands of business people from throughout the world.
Every year, a nation is selected as "Honored Nation" and a host of focus events take place honoring that nation, including the official opening at the honored nation's pavilion by the Greek prime minister.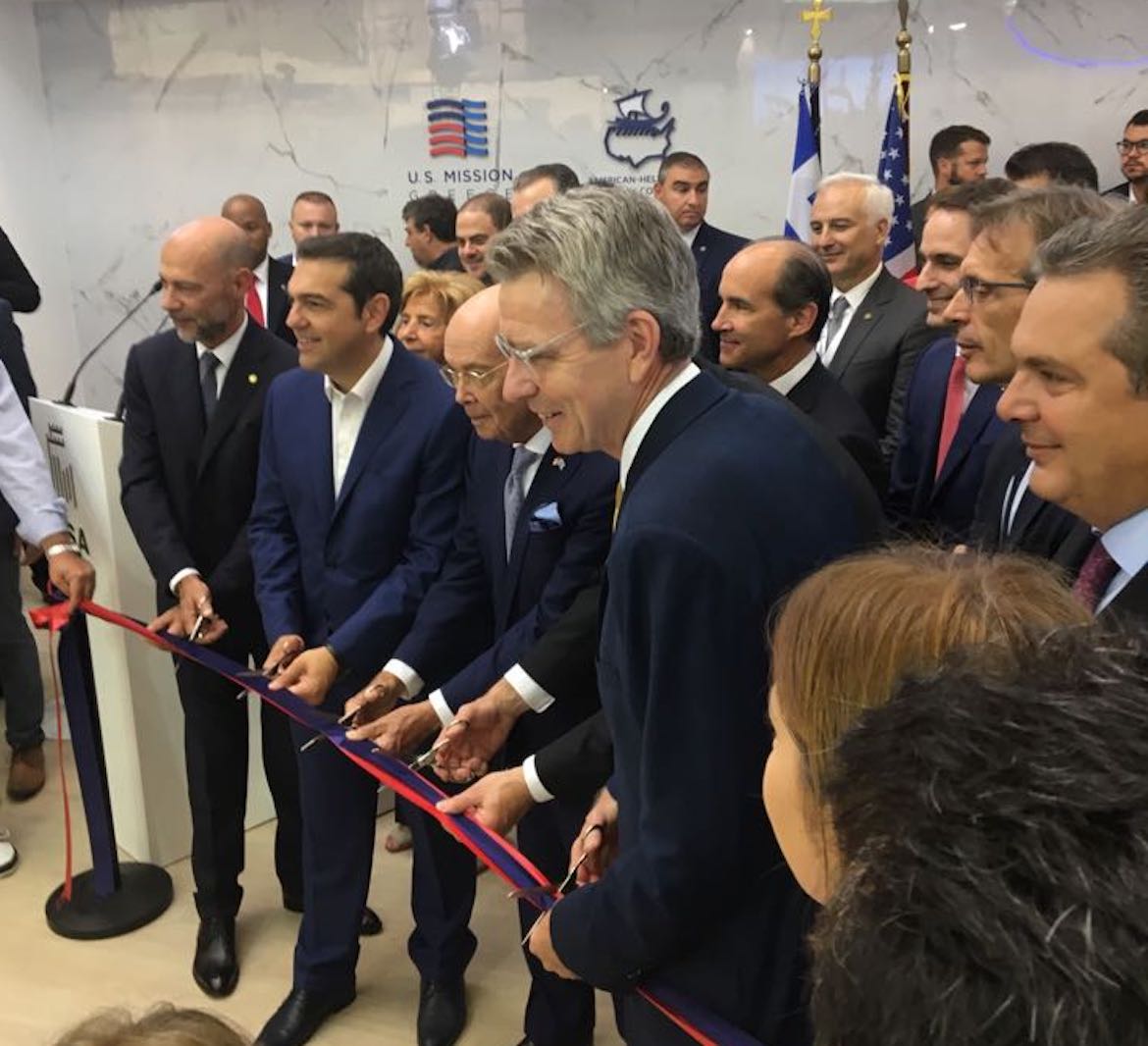 The United States pavilion includes dozens of businesses, cultural and educational institutions that share a U.S.-Greek connection, including companies like Google and Microsoft and organizations like the Hellenic American University, the Fulbright Foundation and AHEPA.
The fair also included hundreds of businesses from throughout the world seeking to share their products and services with Greek, Balkan and global audiences and also included an impressive series of cultural and business events throughout its 10-day run.
The United States Ambassador to Greece, Geoffrey Pyatt, spearheaded this year's effort to enlist a huge U.S. presence at the trade fair and also encouraged American leadership at numerous entrepreneurship seminars and workshops organized by or supported by the U.S. Mission to Greece and other American entities.
The trade fair lasts 10 days and is expected to attract hundreds of thousands of people from throughout the world.
*****
Since you're here… I have a small favor to ask.
More and more people than ever before are reading The Pappas Post and despite increasing costs to maintain the site and provide you with the quality content that you deserve, I will never "force" you to pay for our website or add a paywall. I believe in the democracy of the internet and want to keep this site and its enriching content free for everyone. But at the same time I'm asking those who frequent the site to chip in and help keep it both high quality— and free. We've implemented a "free-will" annual subscription for those who want to support our efforts. I guess it's fair to call it a philotimo subscription… because you don't have to do it but it's really the right thing to do if you love the site and the content we publish. So if you like The Pappas Post and want to help, please consider becoming a "philotimo subscriber". Click here to subscribe. If you'd rather make a one time donation, we will gladly accept any amount, with appreciation. Click here to donate any amount.