Father Efstratios Dimou also known to all his friends and followers on the Greek island of Lesvos as "Papa Stratis" is permanently connected to an oxygen tank that supplies oxygen directly to his lungs.
He suffers from a chronic respiratory condition that makes even talking difficult at times.
Yet this remarkable man, via his charity "Agkalia" or "hug" has been helping thousands of refugees who have arrived on his island since 2007. But things have never been worse than this summer.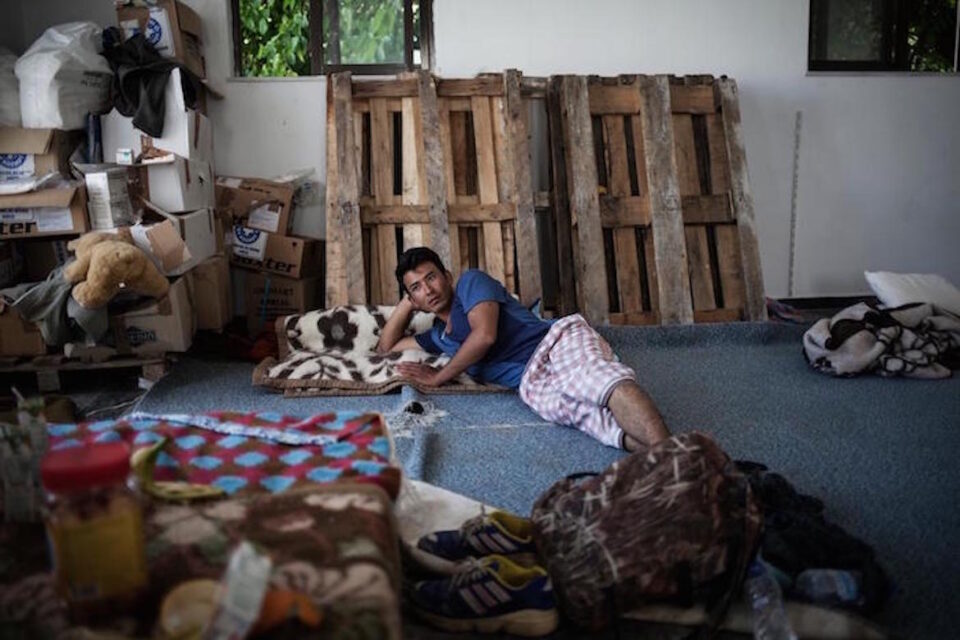 It is estimated that 25,000 refugees have landed on the Greek island this summer alone— rates of almost 1,000 people per day arrive on beaches along the Greek island shorelines.
Fleeing the war in Syria and conflict and persecution in places like Afghanistan and Africa, refugees are fleeing in droves. They cross the few-miles-long channel of water that separates the island from Turkey in rubber dinghies and wooden boats, often times paying smugglers upwards of $1500 for the ticket to a better life.
Taken by the whim of the sea current, many of them land on the remote northern coast of Lesvos and walk for up to 15 hours to Papa Stratis' temporary shelter in the village of Kalloni.
"Every day between one and two hundred people come to Kalloni," the 57-year old Orthodox priest says. "The local people tell them to come to us for help. We give them food, water, milk for the babies, shoes, clothes. They can stay here too: we have blankets, mattresses on the floor," Papa Stratis tells William Spindler in an interview for the United Nations refugee agency UNHCR.
"I have seen small children with blisters on their feet and pregnant women holding their bellies and crying in pain," he says sadly. "These people are not migrants, they do not choose to come here. They are children of war, fleeing bullets. They are life-seekers, they search for life, hope and the chance to live another day," Father Stratis adds.
---
Is The Pappas Post worth $5 a month for all of the content you read? On any given month, we publish dozens of articles that educate, inform, entertain, inspire and enrich thousands who read The Pappas Post. I'm asking those who frequent the site to chip in and help keep the quality of our content high — and free. Click here and start your monthly or annual support today. If you choose to pay (a) $5/month or more or (b) $50/year or more then you will be able to browse our site completely ad-free!

Click here if you would like to subscribe to The Pappas Post Weekly News Update