This article is part of our Greek American History Preservation Project in collaboration with the Greek America Foundation. We need your help! Support the Greek American History Preservation Project as we seek to record important moments in our community's history. There are vast archives waiting to be tapped and brought to the public's attention on our digital platform. Support our work today to keep our history alive for future generations. The Greek American History Preservation Project by The Pappas Post and the Greek America Foundation aims to digitize and share unique stories of Greek America and make them accessible to casual readers and researchers alike. Donations support research from various American archives, writing, as well as rights usage rights to allow newspaper articles, photographs and footage to be published online on our platform. Use this link to make a recurring or one time donation to support our efforts.
---
For decades he ran a popcorn and peanut cart right outside the most famous house in America.
Over the years, Stefanos "Steve" Vasilakos became a Washington DC landmark and a fierce patriot for his native Greece, as well as his adopted United States.
Vasilakos sold hot peanuts and popcorn to Presidents William Howard Taft, Woodrow Wilson and Warren Harding. But his best customer was President Calvin Coolidge, who came to buy peanuts, munch and talk to the street vendor almost every day. Coolidge referred to Vasilakos as his "contact man" with the American people.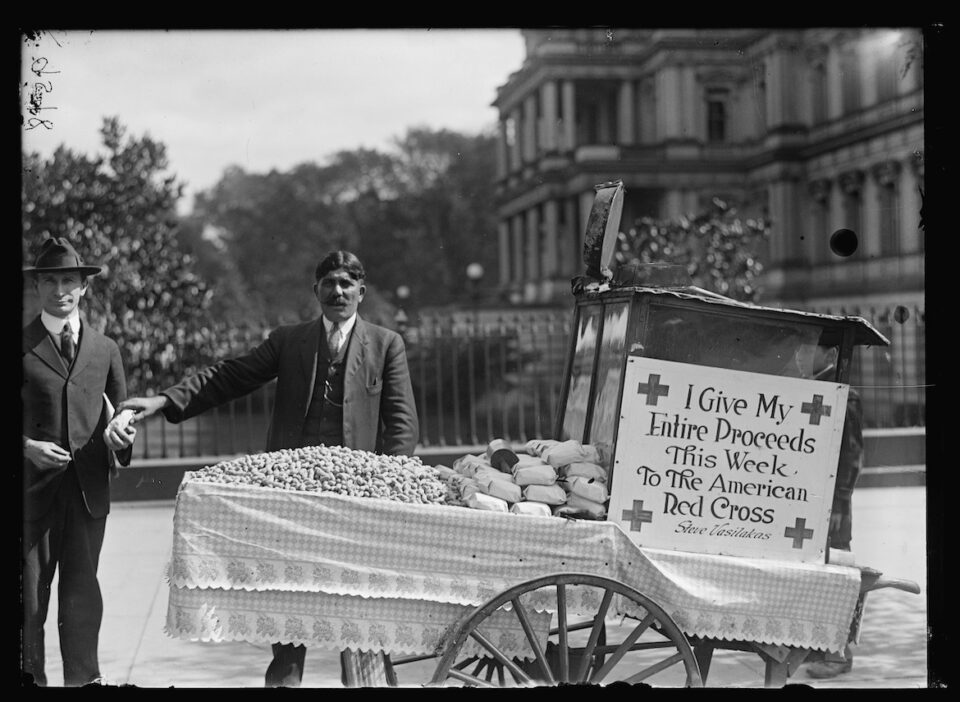 In 1929, Vasilakos famously told the press that President Herbert Hoover was the only president in 20 years who didn't eat peanuts. "President Hoover is a nice-a man," Steve said in his heavily broken English. "But he never buy a peanut. He only come here in his auto. I say 'Hello' and he go on."
Numerous times during his decades on the street, Vasilakos became a traffic hazard, forcing police to eject him from his location. But soon enough, the famous peanut vendor would be rescued by famous occupants of the White House. Presidents Coolidge, Roosevelt and First Lady Eleanor Roosevelt all intervened, allowing Vasilakos to stay put.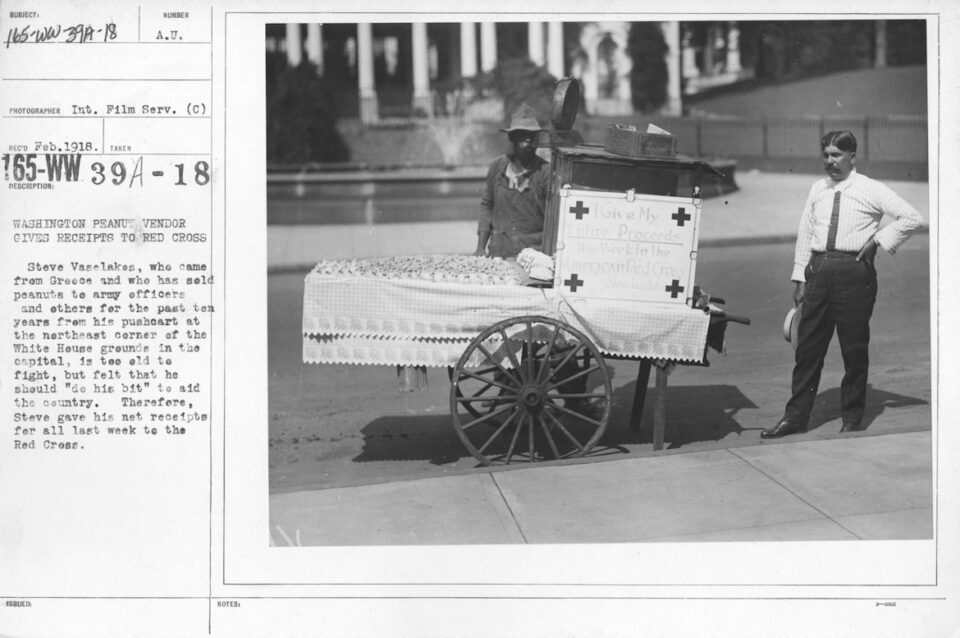 During World War I he advertised that, on certain weeks, he would donate all of his proceeds to the American Red Cross, making him one of the most generous donors to that charity. Vasilakos, who appeared regularly in local and national newspapers, used his fame to set a precedent of philanthropy and patriotism to millions of Americans.
He became so well-known in the United States as the "White House Peanut Vendor" that even Vogue picked up the story and featured a sketch of him in their August 1942 edition.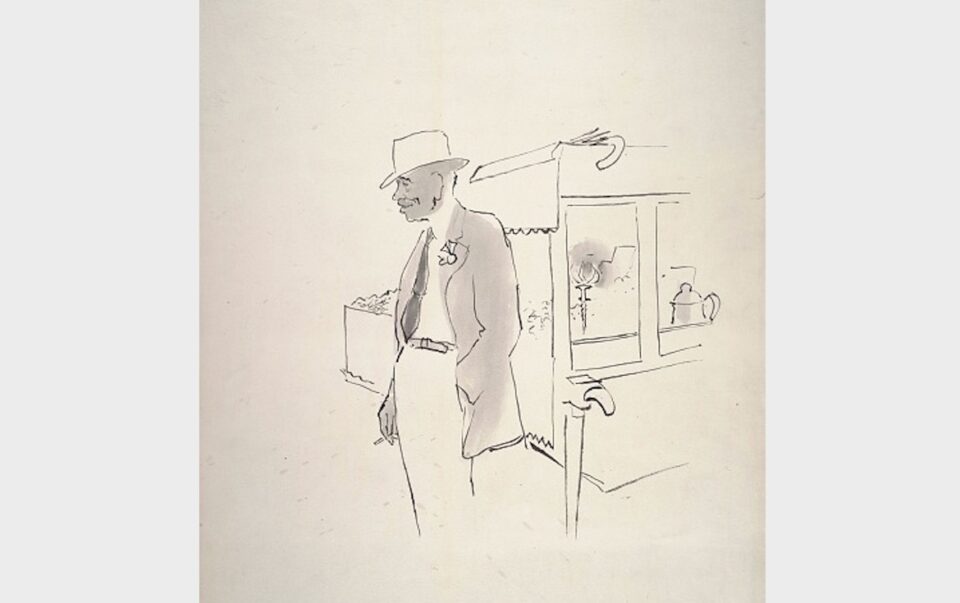 When Italy invaded Greece in 1940 Vasilakos became a fervent champion for his birth country. He donated an entire week's proceeds, "one hundred and one dollar," to the Greek War Relief Association which sent aid to the people of Greece.
A year later he and the American Hellenic Educational Progressive Association (AHEPA) launched a campaign to sell millions of dollars in war bonds for the American war effort. Vasilakos offered a free bag of peanuts with every bond he sold. Some might have called it a bad business move, but he considered it a civic duty to support his adopted nation.
Vasilakos began his war bond drive on October 28, 1942, the second anniversary of Italy's invasion of his native Greece, with the slogan "Make a monkey out of Mussolini."
Speaker of the House Sam Rayburn was his first customer, buying a $25 bond, and Vasilakos even hired a "secretary" to help him fill out the application for the war bond purchase.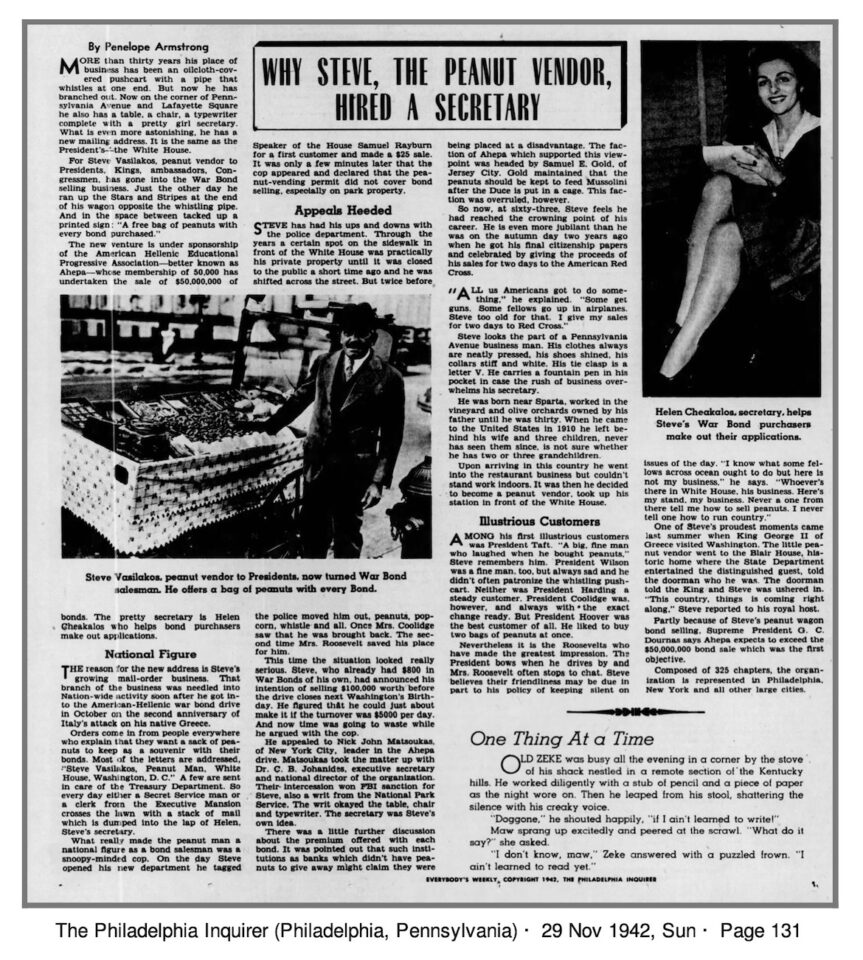 Vasilakos emigrated to the US in 1910 when he was 30 years old from the mountain village of Ligereas in Laconia, close to Sparta. He left behind a wife and three sons whom he never returned to visit. In numerous media articles from the era, he often said he didn't know how many grandchildren he had.
He passed away penniless on February 28, 1943. Among the flowers at his grave at Cedar Hill Cemetery in Washington DC were sprays of red carnations sent by President and Mrs. Roosevelt.
After Vasilakos' death, no other peanut concession ever opened on White House grounds.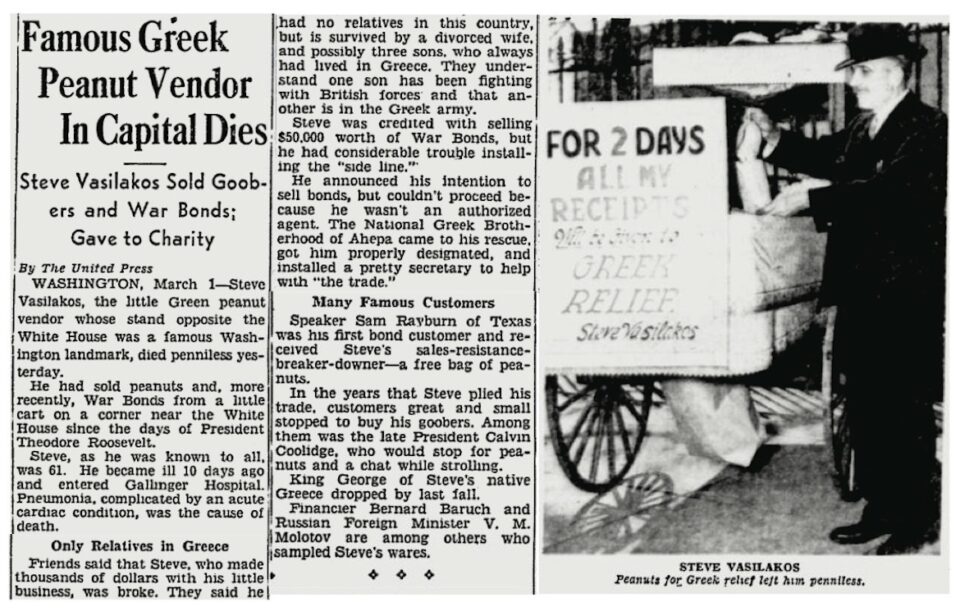 ---
Is The Pappas Post worth $5 a month for all of the content you read? On any given month, we publish dozens of articles that educate, inform, entertain, inspire and enrich thousands who read The Pappas Post. I'm asking those who frequent the site to chip in and help keep the quality of our content high — and free. Click here and start your monthly or annual support today. If you choose to pay (a) $5/month or more or (b) $50/year or more then you will be able to browse our site completely ad-free!

Click here if you would like to subscribe to The Pappas Post Weekly News Update