This past semester I was awarded a visiting faculty position at the American University in Cairo (AUC).  I was assigned to teach two courses in comparative and international education through AUC's Graduate School of Education.  Most of the students I would be working with would be Egyptian.  Most of them completed their undergraduate degrees at AUC. 
One of the topics I like to cover in my courses is national identity formation through schooling, or how people feel connected to one another, whether it be speaking the same language, practicing the same religion, sharing the same history or even agreeing on an enemy.  I thought, what would be more appropriate than introducing the topic with Constantine Cavafy's famous poem "Waiting for the Barbarians."  Once the class started, I displayed the poem on the board expecting that some of my students would know the poem. Instead I saw puzzled looks on faces.  I asked the students if they knew who Constantine Cavafy was and all I heard were crickets.  Was this my Thermopylae? My Waterloo? The moment I realize, that teaching is not for me?
Students saw the shock on my face and frantically rushed on their phones and computers and searched the bowles of the internet to find out who Constantine Cavafy was. All I could hear were whispers.  "Oh, he was born here."  "Alexandria, nineteenth century poet." "He is Greek, dies in Egypt." "Hold on, he is a great poet."  Finally, one student looked up at me and said, "Why didn't we learn about him in school?"
At that point, I felt bad that I even brought up Cavafy. I thought perhaps I was being too hard on my students. I can't expect them to know everything? Right? Maybe it was my own pride, and that only Greeks like me care about Cavafy.  So, I decided I do a non-scientific poll and texted some friends in the states and asked if they ever heard of Constantine Cavafy. Most did not, but some did.  So, was it that unusual for my students not to know who Constantine Cavafy was? 
Constantine Cavafy was born in Alexandria, Egypt in 1863 to a wealthy Greek merchant family from Alexandria. He lived there for 30 years where he worked as a clerk and trader by day, and by night he roamed the streets of Alexandria seeking sex and love from young men.  Dan Chiasson says, "[Cavafy's] job allowed him to daydream, except when his bosses got him to tell stories of Byzantium's glorious acts." He befriended such greats as George Seferis and E.M. Forster, and even Orhan Pamuk said that Cavafy's poem the "The City" changed the way he viewed his own city of Istanbul. 
But who is Constantine Cavafy?  Why don't most Egyptians know about him?  Why is he not part of Egypt's national literary cannon? Today Cavafy is seen by most literary critics as a post-romantic poet, writing about Romantic topics when the age European Romanticism had already passed.  He is however considered to be one of Greece's greatest poets and his poems are read and taught in Greece because they help capture Hellenism in Alexandria's centuries old Greek community.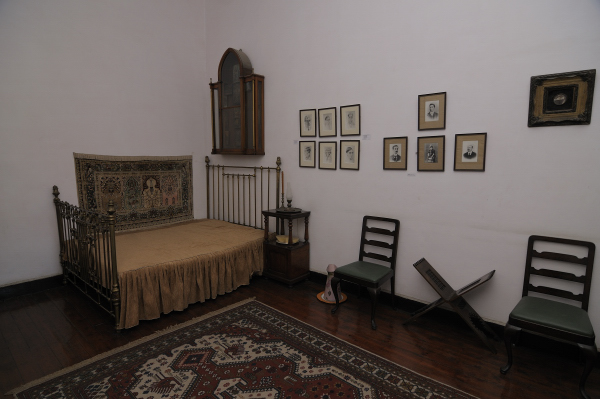 But since the end of colonialism in Egypt, people have been suspicious of the west and anything "western." Egypt's 1956 Mutamassirun policy forced many British and French colonialists out as well as Greeks, Italians, Armenians, Jews, and Syrians, all historic communities who were not part of Egypt's western colonial legacy.  My fellow colleague, John Salevurakis at AUC put it best to me one day as we talked about this topic over coffee. He said, "Much of Egyptian society is driven by religion and Islam. Some Egyptians feel that if it's in the Koran it's redundant, but most believe that if it's not in the Koran it's not important."  Greco-pagan themes, Greek Christianity and even themes about same sex love affairs, are unlikely to connect to most Egyptians.  
But my students' unfamiliarity to Cavafy was more than just not knowing who the world renown poet was.  It was about what was important to them, as well Egypt's long and tumultuous history with European colonialism and imperialism.  During one of my classes one of my student was concerned about Egyptians losing their use of the Arabic language.  She told me that many young Egyptians preferred to use English than Arabic, that the labels in stores were in English, that many young people thought it was cool to speak English.  She told me this was classic Edward Said, "Cultural Imperialism at its best!" She put it.  In another class session, I asked students how they would define an Egyptian today. All were unsure, but all agreed that it was nearly impossible to do so.  One student said, "If you asked the Egyptian government to put it on a brochure they wouldn't even know." My question was risky, but totally worth it because the class discussion was great that day, because it got my students to think about the complexities of their own national identity and their place within their own nation and society.  That day I regained my confidence as a teacher, it felt more like I was at Marathon and Salamis than Thermopylae and Waterloo.  But, I was hoping my students dig deeper about cultural imperialism and the imposition of one culture onto another.  Many Americans find it is difficult not to think of how Europeans imposed their way of life on the native groups of the Americas, from religion, language and customs. At the same time, I wondered if we choose if some imperialism was good and some was bad. 
Egypt has a long history.  The first civilizations emerged along the Nile River, where farming began early on.  This technology and way of life spread to Europe and the rest of the world.  The great civilization of the ancient Egyptians followed.  Later came Alexander the Great and the Ptolemaic Empire.  Then came the Romans, the Byzantines, the Arabs, the Ottomans, Mohammad Ali's Dynasty and finally modern Egypt.  All but the ancient Egyptians we could say were foreign. Egypt has had a long history of imperialism and it not just recently from the west. 
The Arabic language and Islam did not spread in Egypt until the 7th century. Nations who have difficult pasts of invasions, conquests and colonial rulers often keep what was brought there and make it their own.  Nations very rarely throw out the baby with the bath water when it comes to cultural practices and ideas. This is perhaps why it is so difficult for Egyptians today to define who they are. Some of my students felt more connected to the ancient Egyptians than the Arabs.  Others said just the opposite, that Islam and Christianity were more important than the pharaohs, or that they were more African, than Near Eastern, or more like the people of Sudan then the people of North Africa.
Cavafy was surely a great poet. While he lived, wrote and died in Egypt, he is not remembered today as one of Egypt's great modern day poets.    
About the Author
Dr. Theodore Zervas is a distinguished visiting professor of comparative and international education at the American University in Cairo, Egypt.
---
Is The Pappas Post worth $5 a month for all of the content you read? On any given month, we publish dozens of articles that educate, inform, entertain, inspire and enrich thousands who read The Pappas Post. I'm asking those who frequent the site to chip in and help keep the quality of our content high — and free. Click here and start your monthly or annual support today. If you choose to pay (a) $5/month or more or (b) $50/year or more then you will be able to browse our site completely ad-free!

Click here if you would like to subscribe to The Pappas Post Weekly News Update