Young people from the devastated areas of Mati and Neo Voutsa, outside Athens, sent a message of solidarity to the people of California with a photo collage that has gone viral.
Like the devastation in California that is making headlines, these young people experienced the loss of almost a hundred lives and hundreds of buildings in the worst fires Greece has ever experienced.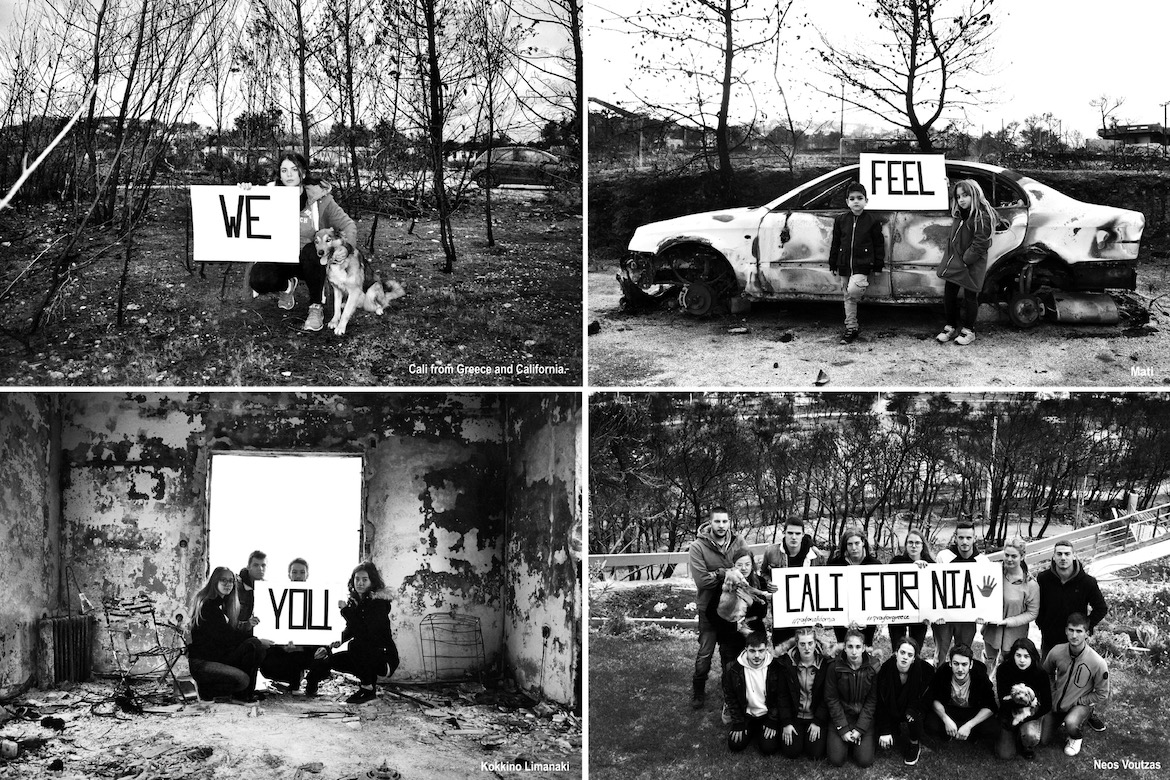 We Feel for You California
Pieced together from four different photos, the photo collage reads "We Feel For You California."
A message of solidarity accompanied the photo, in both English and Greek. The English version follows:
I feel you California!

I have gone through the loss of my hometown, a place where I created my memories and lived my dreams.

I have felt what it's like to look around me and not recognize surroundings that were once familiar.

I have felt how it is to be wondering «why?». «And now what?». To wonder what the future will hold . . . or if I can ever even start again..

I have experienced losing everything I took for granted!

But let me tell you, you have to stay strong California!

Because even though you will be feeling, disappointment, bitterness, sorrow and anger -you will find something; and that something will keep you upright ..You will realize that you are not alone, cause many are there to support you.

You will succeed… And by working together, your "Paradise" will rise again.

I feel you California!
***
Will you become a Patron for as little as the cost of a cup of coffee per month?
Is The Pappas Post worth $5 a month for all of the content you read? On any given month, we publish dozens of articles that educate, inform, entertain, inspire and enrich thousands who read The Pappas Post. I'm asking those who frequent the site to chip in and help keep the quality of our content high— and free. Visit our Patreon page and start your monthly support today. When you become a Patron, you'll also join an exclusive group of supporters that will have access to additional content and special offers that will be created just for you.