It's late June in Greece as I write this, I'm sitting in a cafe in Athens where it's going to be 100 degrees tomorrow, and I've been here for nearly three months. 
I came in April when it was 50 degrees and cold and raining, and since then, I've travelled nearly the entire length and breadth of this country, made new friends and met old ones, and stood in places where – quite literally – the entire world shifted, changed, and became what it is now. 
What a blessing. What a privilege. Let me explain how all this began:
I had my debut novel, titled "Once We Were Here," published in October 2020 in the depths of Covid, which also interrupted a promise I'd made to myself, that when it was published, I'd book a trip to Greece and retrace the steps of Alexei, Philia, Costa, and Koukidis, the main characters in the story.
I was finally able to make that trip this year, and what was envisioned as something simple and straight-forward became the exact opposite of that; an open-ended flight originally intended to be for one month quickly became two months, and then three, and retracing the steps of a journey made by the characters in "Once We Were Here" in the fall of 1940 and spring of 1941 soon became much more than that, too.
I visited again the locations in the novel, of course, but I visited so much more than that, also, and lit a candle in all the places I visited; I lit my first one in Athens, at the Holy Church of the Presentation of the Virgin Mary, just steps from Monastiraki, in the heart of the city. 
Then, I left Athens and took the eight hour ferry south from Piraeus to Chania for pascha, landing in Souda Bay and catching a pre-dawn bus to the city where I lit another candle at the Presentation of the Holy Mary in Athinagora Square, just steps from the old Venetian Harbor, before following the epitaphios through the streets of the city that night shoulder-to-shoulder with thousands of Cretans (and for those who haven't experienced pascha in the islands, go); I lit a candle in the damp and holy air of the cave of Agia Sophia on the road south to Elafonisi, and at the top of the Fortezza, in Rethymno, with the Sea of Crete crashing against the stones below (and my goodness, what those stones have seen).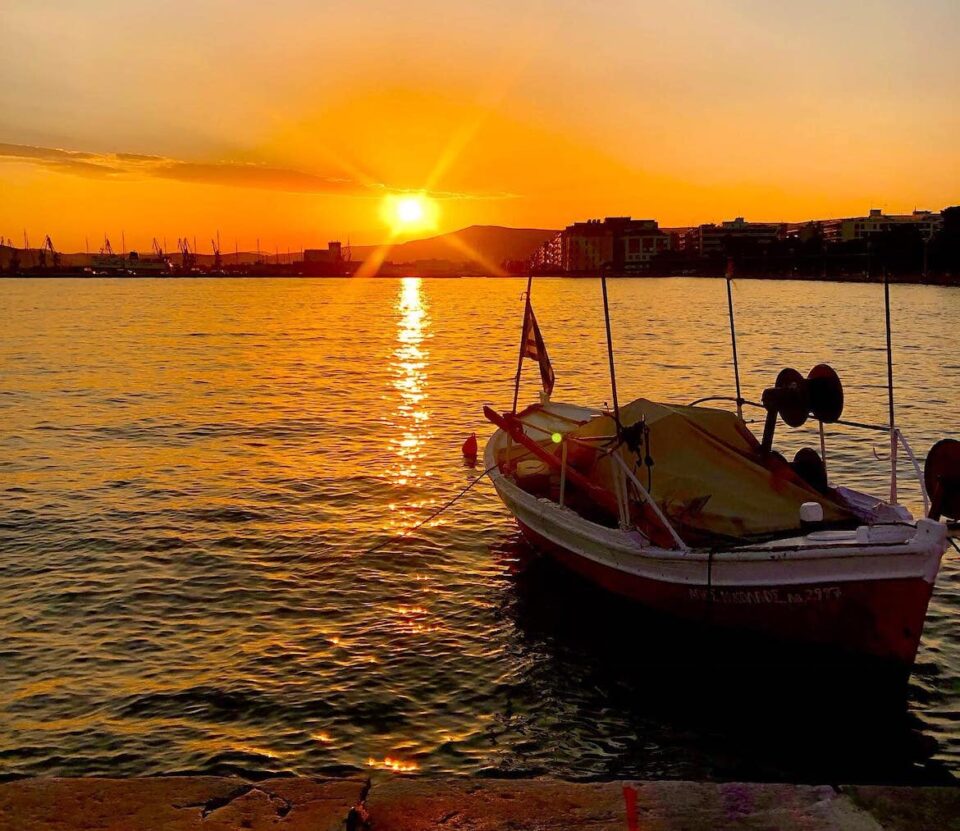 I lit another in the mountains, at the Arkadi Monastery, in the central part of the island, and then another further east in Heraklion, not far from the final resting place of Nikos Kazantzakis atop the great walls of the city.
From Crete, I sailed north through the Aegean and lit candles on Santorini, overlooking the wide and deep caldera, at the Agios Nikolaos cathedral on Ios high on the mountain above the island where Homer's buried, and I lit candles in small and white-washed churches on Paros, Antiparos, Naxos, and Mykonos, too. 
I sailed back to Piraeus and Athens and then went north, taking the road past Thermopylae to Volos, where my family's from, and I lit a candle at another cathedral of Agios Nikolaos there, in the center of the great city once called Iolcos and home to heroes such as Jason and his Argonauts, and it's also the city and church where members of my family have been lighting candles since before any of us can remember, since before history, since before time.
I lit candles on Skopelos and Skiathos, and at the Evangelistria Monastery, where revolution began and was born, and in Litochoro, at yet another Agios Nikolaos church, and then even higher on the slopes of Mount Olympus, a short hike beyond the ruins of the martyred Agios Dionysios Monastery, destroyed by the Germans in 1943, I lit yet another at the secluded Chapel of Agios Dionysios deep in the mountain forest.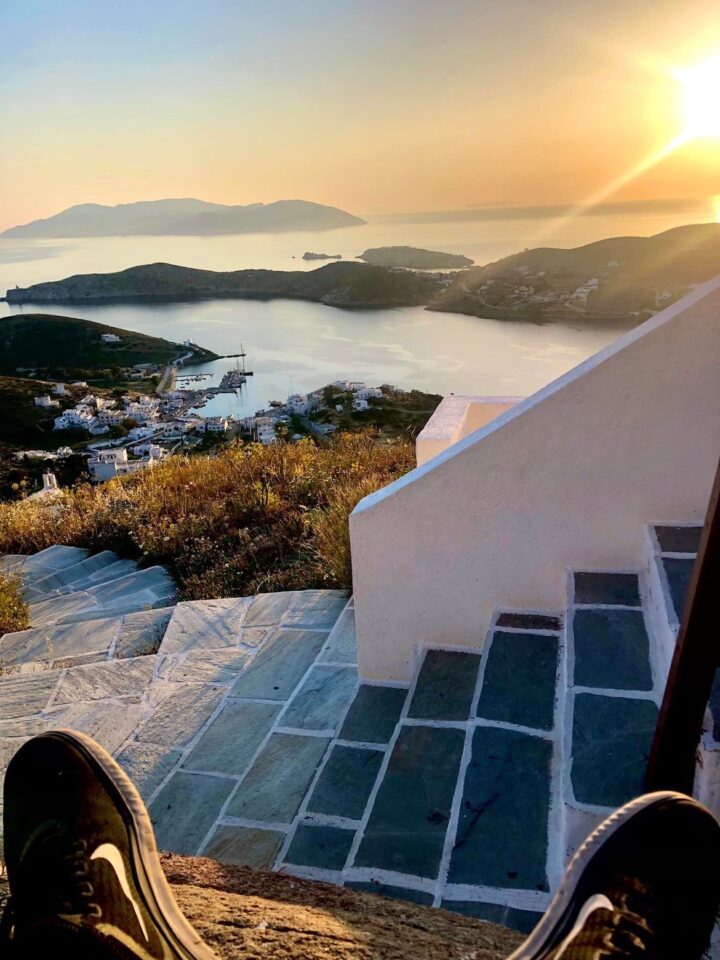 I went north to Thessaloniki, lighting a candle at the Vlatadon Monastery at the base of ancient walls and with the best view of the blended and eternal second city, and then I went west to Veria, Ioannina, and Parga, stopping and lighting candles along the way, before heading back east through Meteora and the Monasteries of Megalo Meteoro, Varlaam, yet another Agios Nikolaos, and Agia Triada, where I lit even more.
Then, I finally came back to Athens, and in the near 100 degree heat hiked and lit one last candle at the Agios Giorgos church, at the top of Mount Lycabettus, one of the infamous and ancient Seven Hills of Athens, and the highest point in the city, higher even than the Acropolis and Parthenon.
When I return in thought and memory and think back on this trip, there will be so many things I'll remember, but what I'll perhaps think of most are the candles that I lit, and the reason why:
In "Once We Were Here," one of the main characters decides to become a storyteller himself, just like me, because he realizes he wasn't born into great times, and so he'd do what he could in the times in which he was born, which was tell the story of those who came before him, and who they were and what they did. 
What I realize now, though, as I think back to each of these 27 candles and the prayer I whispered when I lit them – a prayer which used to be just for them, for those who came before us, but now I whispered prayers for us, too, I realized – is that I did so because perhaps we're now living in great times once again.
And while that may have changed, the type of times we're now living in, even in just the last few years, the thing that hasn't and won't ever change is that stories will remain our guideposts; our shining examples of great deeds, our road map between good and evil, our eternal and ubiquitous reminders of how lives both can and should be lived.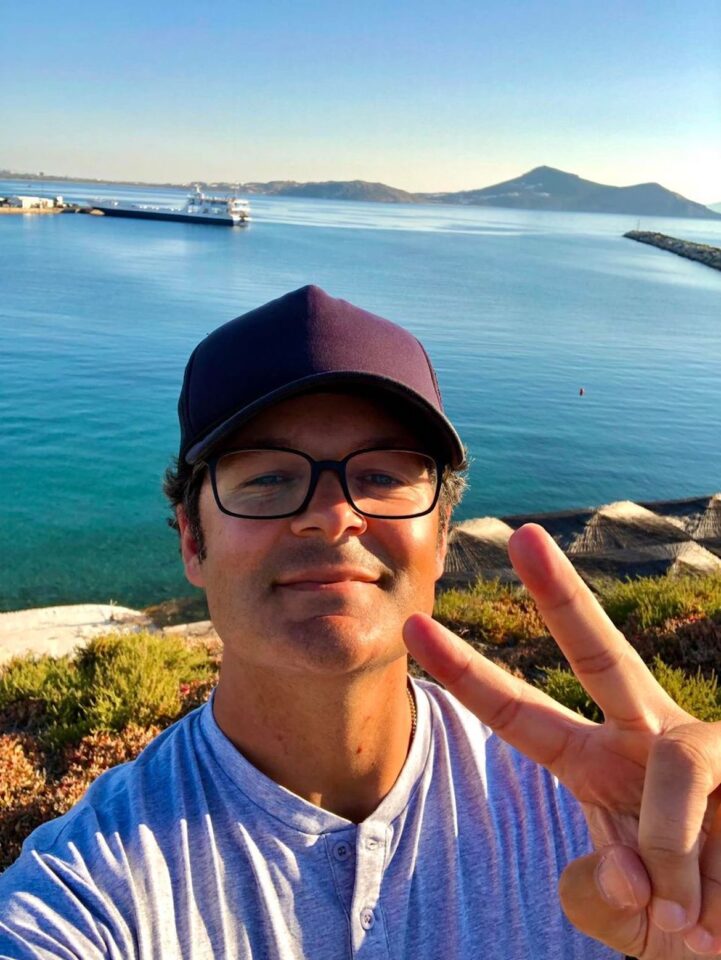 I had to return to America sooner than I would have liked (though isn't that the story of every trip to Greece??) because "Once We Were Here" is officially being published in paperback on September 6, 2022, and I had to get back to start publicity for the release, and I'd invite you all to pick up a copy if you're so inclined.
When we start telling a story, our hopes for it are a certain thing, but very often that thing changes, and my greatest hope now is that the story of Alexei, Philia, Costa, Koukidis, and the journey they undertake – the same one that I, too, have now undertaken – can be a guidepost, both for us, today, and for all who come after us, and who might not remember who we've been and what we've done.
But we will remember. 
Both we and I will continue to tell of our people, and fight for what's good and true, and the stories?
Just like the candles I lit and prayers I whispered in the sacred mountains, valleys, and churches of our ancestors, the stories, too, will remain, waiting to be found and explored and added to, by all those who decide to make the journey, by all those who dare to set out and find them.

About the author
Christopher Cosmos is a bestselling author of historical fiction from Grand Rapids, MI, whose debut novel, "Once We Were Here," a multi-generational love story set in Greece during WWII, can be purchased via The Pappas Post Bookshop, Amazon, or anywhere books are sold. More info about him and his work can be found on his website or by following him on Twitter @XristosCosmos, Instagram @christophercosmos, or Facebook @ChristopherCosmosAuthor
---
Would You Like to Add Your Voice to The Pappas Post?
This post is part of our "Voices" section which aims to broaden the conversations in our community and allow people to share what's on their mind. These articles in no way reflect the position or opinion of The Pappas Post and our inclusion of a story doesn't reflect affirmation or denial of the particular point of view. Rather, we seek to give people a platform to share their views.
Interested in submitting your article? Read our guidelines and submit your content today.
---
Is The Pappas Post worth $5 a month for all of the content you read? On any given month, we publish dozens of articles that educate, inform, entertain, inspire and enrich thousands who read The Pappas Post. I'm asking those who frequent the site to chip in and help keep the quality of our content high — and free. Click here and start your monthly or annual support today. If you choose to pay (a) $5/month or more or (b) $50/year or more then you will be able to browse our site completely ad-free!

Click here if you would like to subscribe to The Pappas Post Weekly News Update