"Archbishop Demetrios Stands For Trump," blared the headline in Neos Kosmos, your local Australian newspaper today after Archbishop Demetrios of America offered the closing prayer at the Republican National Convention on Wednesday night in Cleveland, Ohio.
Some clarification to our Aussie cousins who may not know how things go on in the United States.
First of all– the headline is highly misleading. The Archbishop didn't "stand for Trump" neither literally on the stage (if that's what you meant), nor figuratively in political support terms (which is what your misleading headline probably insinuated).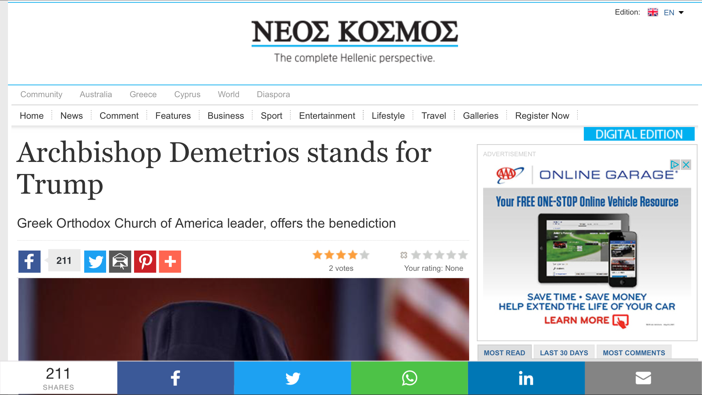 Neither Archbishop Demetrios, nor the previous Archbishops before him are strangers to political stages. It's what we do here in the good ole USA and as politics and religion are inexorably linked in America, generations of Greek Americans have worked hard to carve our niche on the American mainstream, rather than remain on the fringes as an ethnic ghetto society.
With regards to political conventions, the Greek Orthodox Archbishop has been present at ALL conventions over the past 40 years– both republican and democrat.
And in keeping with tradition, Archbishop Demetrios will also be at the Democratic National Convention in Philadelphia next week… "Standing with Hillary." (A reference to Neos Kosmos headline and not our comment)
The subsequent Facebook post by Neos Kosmos has generated some pretty vile and nasty comments from Australian readers who obviously misunderstood the participation of Archbishop Demetrios at the Republican convention.
So, dear colleagues at Neos Kosmos– I encourage you to retract your headline and issue a clarification. Archbishop Demetrios did NOT "stand with Trump" on Wednesday night. He was merely doing his duty as an American– and joining Catholics, Jews, Protestants and other mainstream American religious groups on one of two of the most prominent political stages in our country.
We don't need more misinformation or misleading information between Greek Americans and Greek Australians… It's bad enough we are so many time zones away and it's hard to keep in touch properly.