No commentary is necessary here. Indeed, they say that a photograph is worth a thousand words and here, internationally-acclaimed war photographer Aris Messinis for AFP puts down his camera on a beach in Lesvos, where is was shooting images of arriving refugees— to save one.
Aris Messinis, 35, has been chief photographer for AFP in Greece since 2006. He worked in Libya and Egypt during the "Arab Spring" and has won many prestigious awards, including the 19th prix Bayeux-Calvados awards for war correspondents in 2012.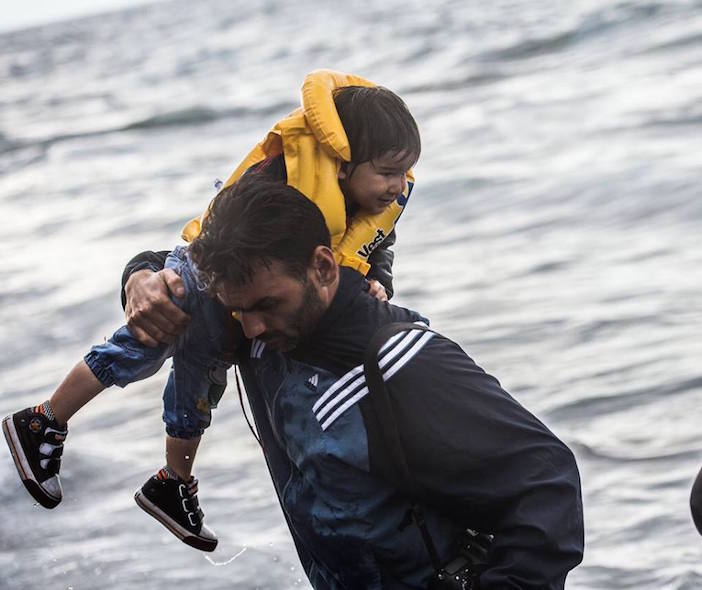 Matina Stevis, a Wall Street Journal reporter Tweeted the photo.
Ο Έλληνας φωτορεπόρτερ Άρης Μεσσίνης του AFP κρεμάει την κάμερα για να βοηθήσει ένα προσφυγάκι στη Λέσβο pic.twitter.com/sU7D190IYV

— Matina Stevis (@MatinaStevis) October 9, 2015
Messinis has captured some of the most iconic images of the refugee crisis in his native Greece for the international media. He often Tweets photos:
Refugees and migrants live on the street after their arrival at the Greek island of Lesbos from Turkey. pic.twitter.com/MZq2U3xWNA

— Aris Messinis (@ArisMessinis) October 5, 2015
Refugees and migrants arrive at the Greek island of Lesbos from Turkey and leave for Athens by ferrie. pic.twitter.com/dz1sNWpFfg

— Aris Messinis (@ArisMessinis) October 5, 2015
Refugees and migrants arrive at the Greek island of Lesbos after crossing the Aegean sea from Turkey. pic.twitter.com/KJbsMeyiPJ

— Aris Messinis (@ArisMessinis) October 4, 2015