The viral story of the week— the one of a Hungarian camerawomen who tripped fleeing refugees— including a father carrying his young son while crossing a border has a Greek connection.
Millions of people throughout the world watched the viral video of the Hungarian camerawoman tripping the father and son. What many in Greece might have thought as peculiar was the fact that the boy was wearing a t-shirt of the ARIS soccer club, based in Thessaloniki.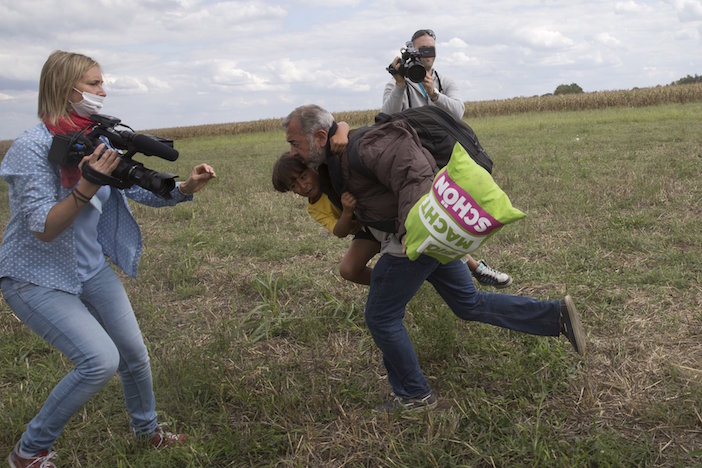 The video prompted angry responses on social media, and the reporter was fired from her job at the Hungarian television channel N1TV.
The mystery of the boy in the yellow shirt and anything we could ascertain about him was revealed, via a Facebook post by Angelos Misirlis— the Greek man who offered the boy his t-short from his favorite soccer club.
Misirlis shared his story on Facebook:
"A father and his son began their journey outside Damascus, crossing Turkey and arriving on the shores of Asia Minor, where they boarded a dinghy for Kos— hungry, thirsty, tired. But these two continued their journey to Athens and then Thessaloniki.
By bus they went to Polikastro and then by foot to Idomeni, where they crossed into the former Yugoslav republic of Macedonia, where I met them at the train station. I didn't have anything to offer them except the shirt in my bag bearing the logo of Aris Soccer Club. I have it to him so he could remember Greece— and Aris, of course."
The boy took the shirt and they parted ways, the Greek man wondering the fate of the father and son who had experienced so much on their journey.
Then, when the story became viral, Misirlis— along with millions of others, saw the father and son, wearing the bright yellow t-shirt of Aris Soccer Club.
It's a story of two people— a Greek man offering the only shirt he had with him to refugees fleeing, and a Hungarian woman extending her leg to trip a father carrying his young son while fleeing across a border.