He carried the revered incorrupt body of a saint through the streets of an idyllic Greek island town while faithful bowed— and some even laid on the ground to (quite literally) be passed over by the saint.
Such experiences are "once in a lifetime," according to Chicago-born Bishop Demetrios of Mokissos, who joined the Greek Orthodox Metropolitan of France, Emmanuel in Zakynthos during an important feast and procession in honor of St Dionysius, the patron saint of the island.
"One doesn't fully experience the fullness and complexity of such traditions back home," said Bishop Demetrios, who was invited by the Metropolitan of Zakynthos to participate in this year's ceremonies.
"In the United States, we are a multi-cultural and multi-religious community. But in Greece, where 95% of the population is Orthodox, one is able to fully live the traditions of our faith and culture in a unique and complete way," he explained in a phone interview with The Pappas Post.
Below: Bishop Demetrios of Mokissos, born and raised in Chicago, is spending his summer participating in various religious observances in Greece. Here, he participates in the celebrations in commemoration of St. Dionysios of Zakynthos with Metropolitan Emmanuel of France in the background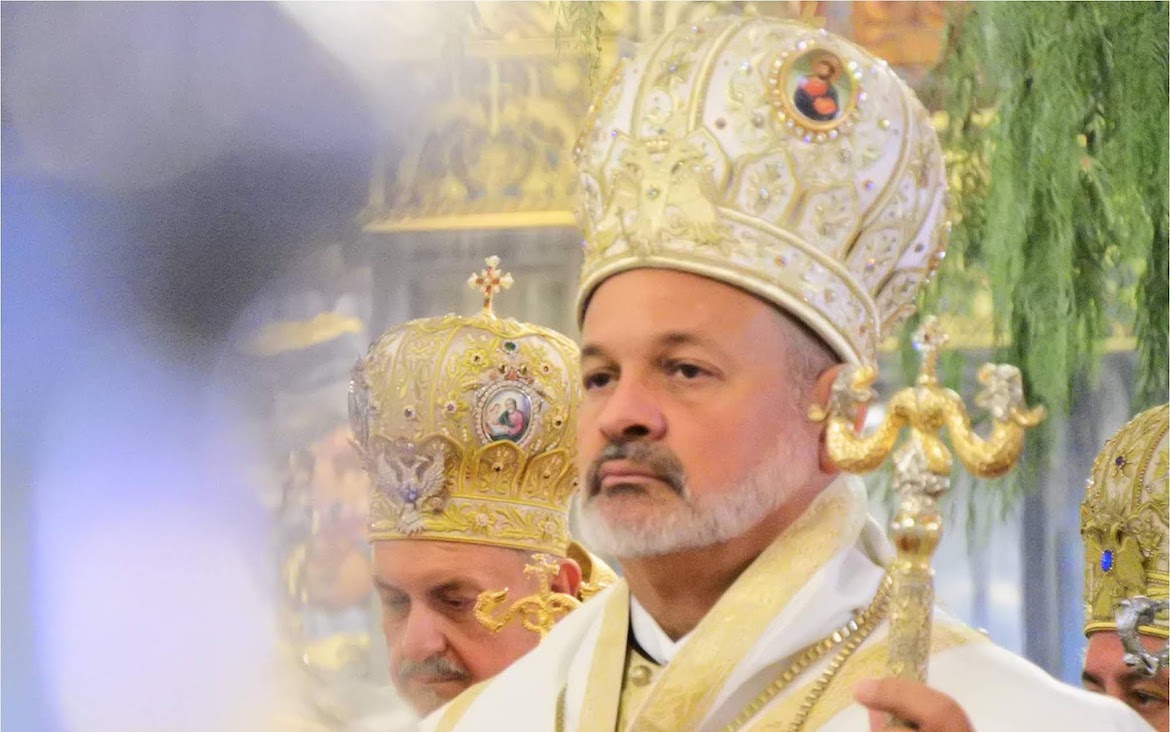 The Bishop continued— "For example, in downtown Chicago, it would be impossible to close the center of the city for a religious festival, whereas in Zakynthos, the entire town shut down and thousands of faithful lined the streets to witness the miracle of St. Dionysius in such a festive, pious and uplifting way. Everyone participated. The entire island."
"This is Greece, an Orthodox Christian country, where many of the saints we venerate and commemorate walked the earth, right here. Every aspect of daily life is affected by the Church and its traditions. Churches are always open, businesses close on religious holidays and even McDonald's rolls out a Lenten menu every year called McSarakosti."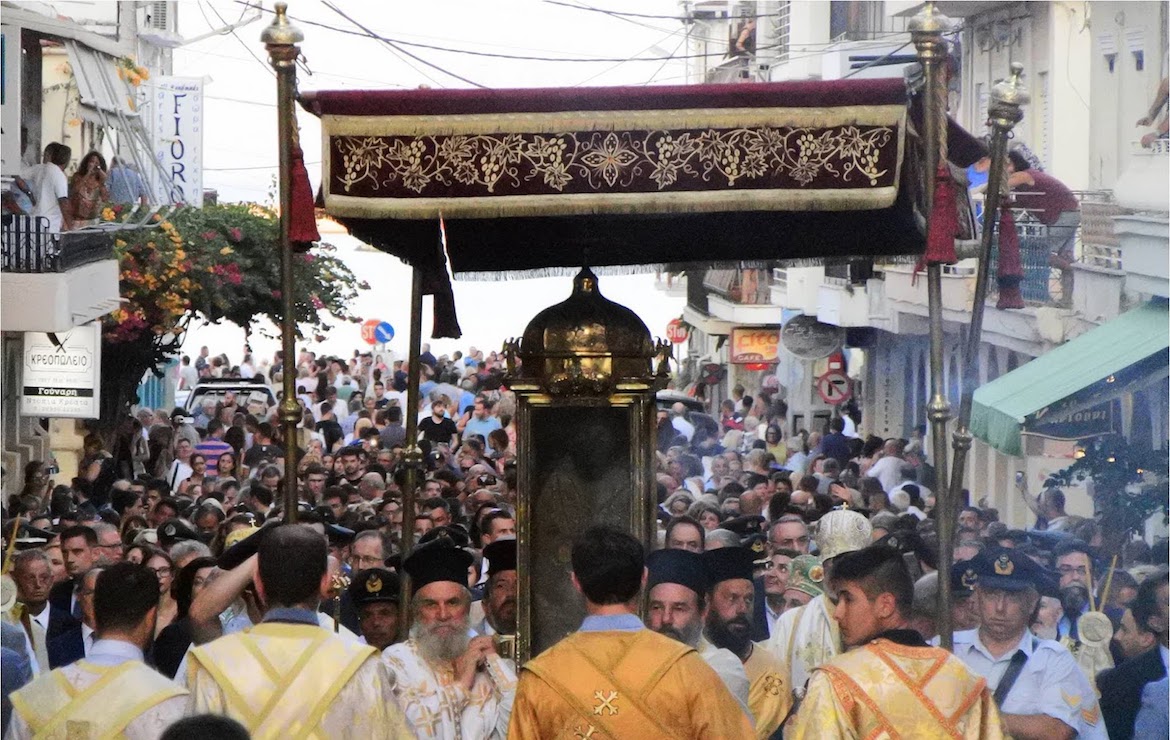 Bishop Demetrios, who served 30 years in various capacities in Chicago is currently on a sabbatical, following the death of Metropolitan Iakovos, his longtime spiritual father and "Geronta," as an elder is called in the Church.
While on sabbatical, he's spending as much time as he can in Greece, participating in various religious celebrations throughout the country while writing two books on social justice.
Being in such an Orthodox environment, he said, has brought about a spiritual and cultural renewal.
During the feast day celebrations of Agia Marina in Athens in late July, the bishop recalled looking out at the reverence of the faithful and experienced, what he called, a sense of spiritual exuberance.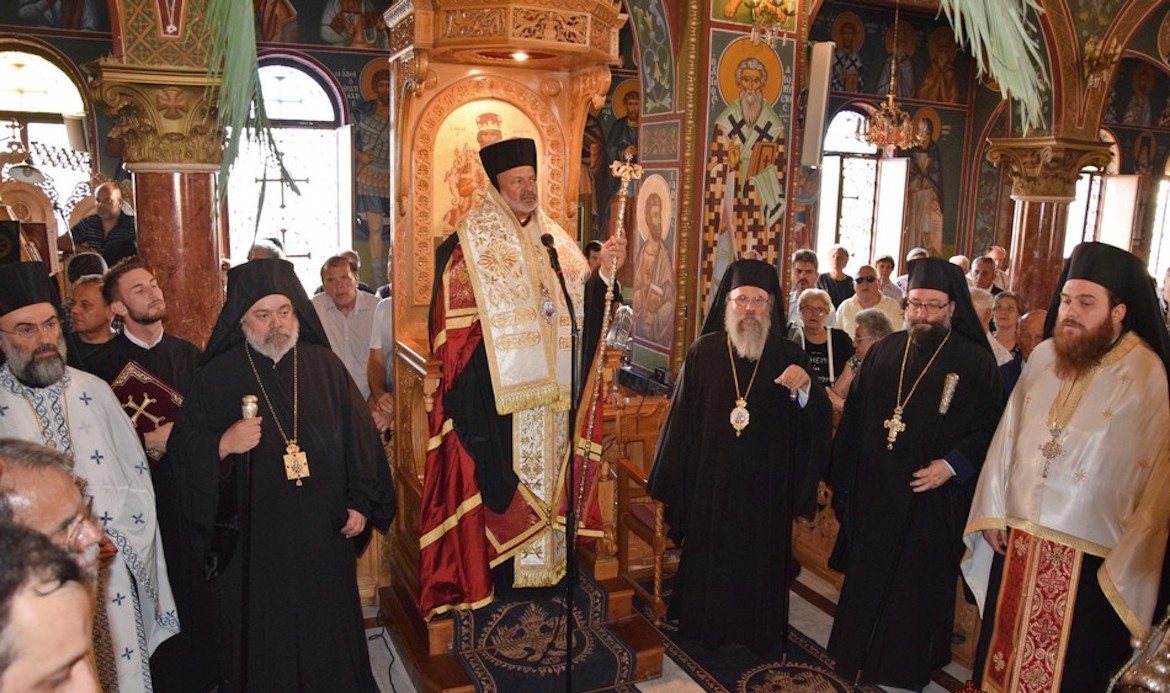 "We have order back home, which is not a bad thing. However, the pews, the structure— it's all an influence of the West and doesn't allow for Orthodox Christianity to be fully experienced as it can be here in Greece. Orthodoxy is a sensory tradition where all of the senses are occupied during worship and celebrations."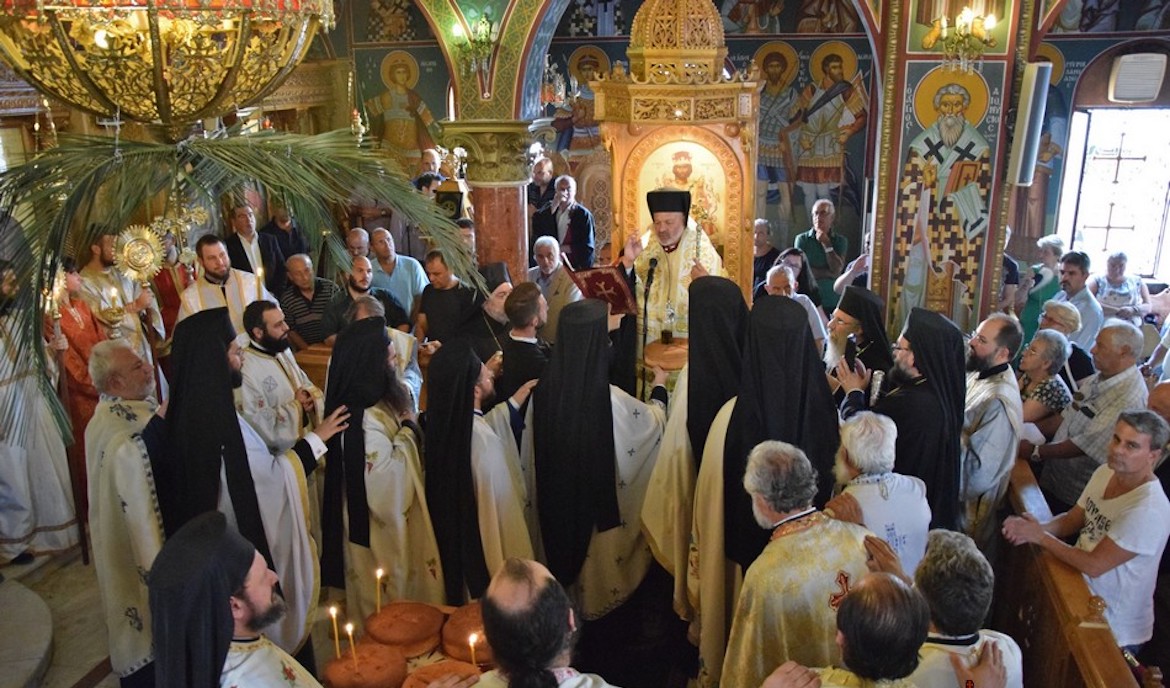 The bishop continued that "In its own way, the chaos here is beautiful. It shows a faith which is alive. Hundreds of faithful in prayer, loud chanting, people greeting one another in celebration of their faith."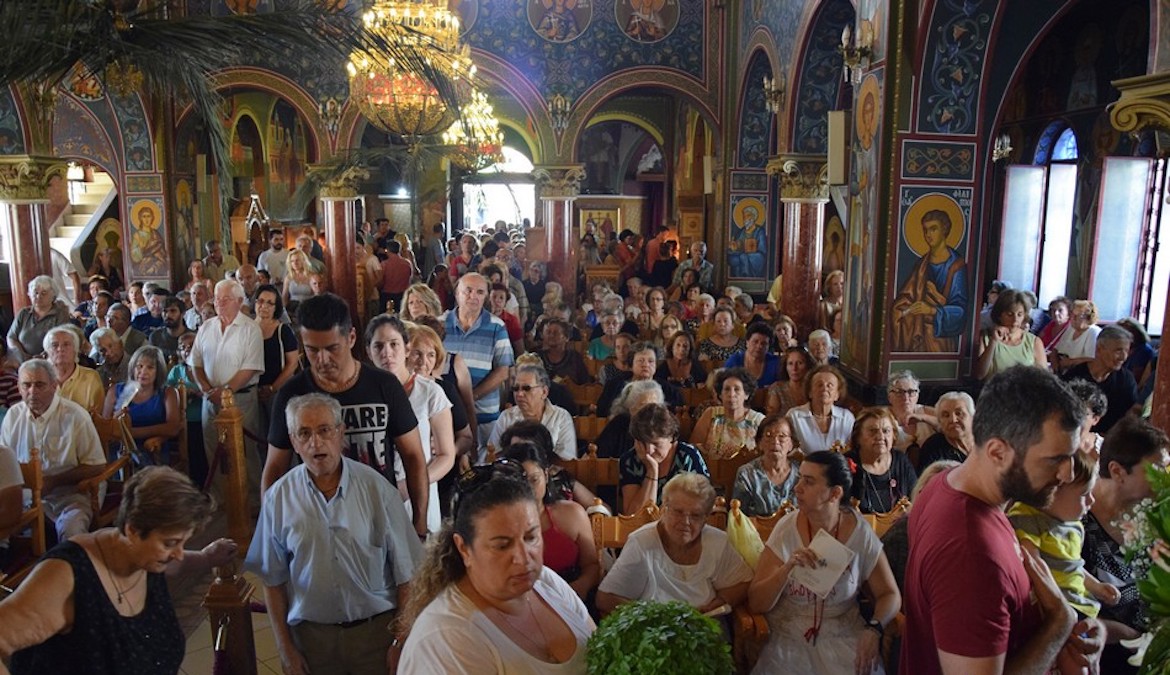 It was one of the biggest honors of his life, said Bishop Demetrios, to carry the relics of St. Dionysos through the streets of Zakynthos, alongside his classmate and old friend, Metropolitan Emmanuel.
The experiences showed him what a lived, Orthodox experience can be, he said.
Photos from nyxthimeron.com
*****
Since you're here… I have a small favor to ask.
More and more people than ever before are reading The Pappas Post and despite increasing costs to maintain the site and provide you with the quality content that you deserve, I will never "force" you to pay for our website or add a paywall. I believe in the democracy of the internet and want to keep this site and its enriching content free for everyone. But at the same time I'm asking those who frequent the site to chip in and help keep it both high quality— and free. We've implemented a "free-will" annual subscription for those who want to support our efforts. I guess it's fair to call it a philotimo subscription… because you don't have to do it but it's really the right thing to do if you love the site and the content we publish. So if you like The Pappas Post and want to help, please consider becoming a "philotimo subscriber". Click here to subscribe. If you'd rather make a one time donation, we will gladly accept any amount, with appreciation. Click here to donate any amount.