The White House Situation Room informed President Lyndon B. Johnson about the early morning military coup in Greece at 12:30am (EST) in Washington DC in the wee hours of the morning of April 21, 1967.
Details emerged throughout the day about the overthrow of the Greek government. While the prime minister and other political leaders were arrested, King Constantine seemed to remain in power. This leads some to question by the White House whether the king was involved in the coup.
The same day at 6:30 pm. President Johnson received updated information about the military coup. In this new memo, National Security Advisor Walt Rostow explained that rather than being involved in the coup, King Constantine had the new leadership forced upon him.
Rumors spread about a possible counter-coup, but over the next several days and weeks the new regime — later known as The Junta — established power in Greece.
The initial memo to President Lyndon B. Johnson from the White House Situation Room notifying him of the military coup in Greece.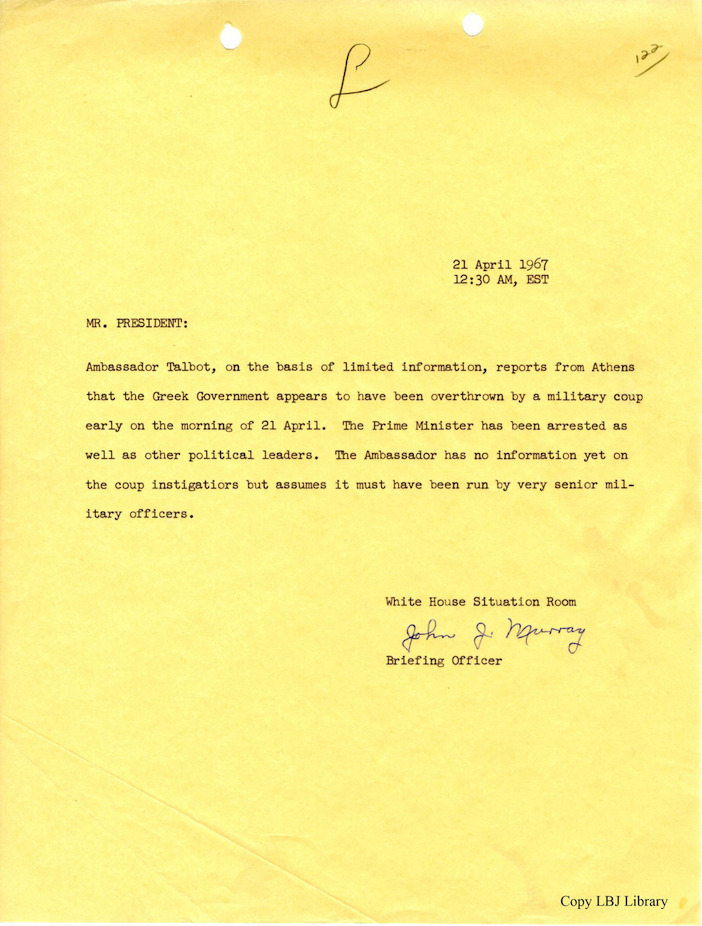 An updated memo later in the day updating the president of the situation in Greece.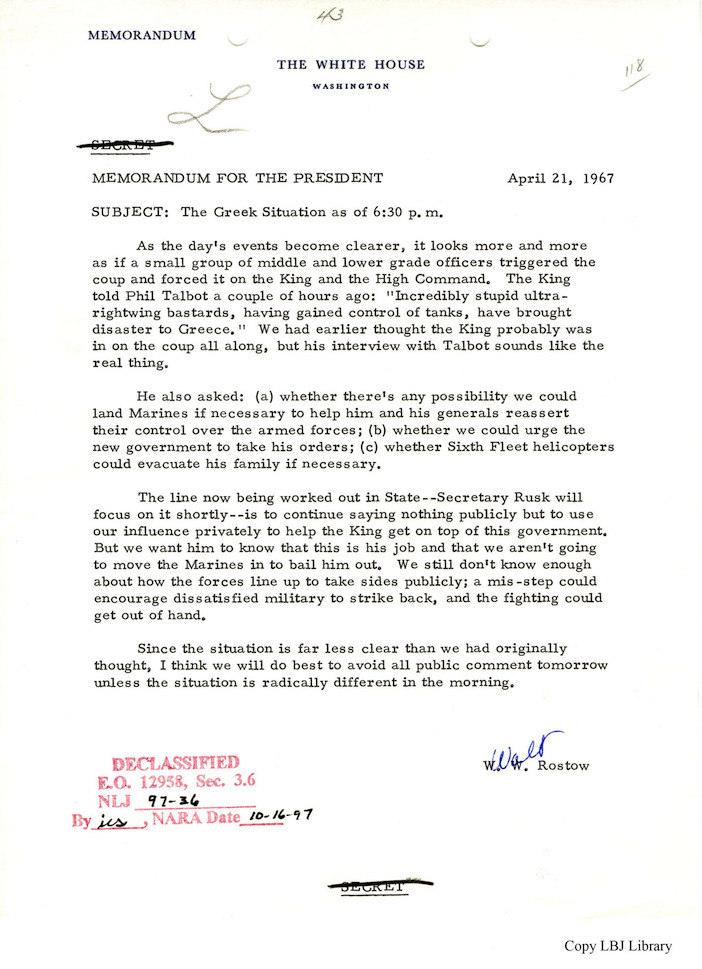 Several months later, King Constantine was able to further explain his position to President Johnson as a result of a meeting set up by presidential aid Mike Manatos.
On September 11, 1967, King Constantine of Greece held a private visit with the president.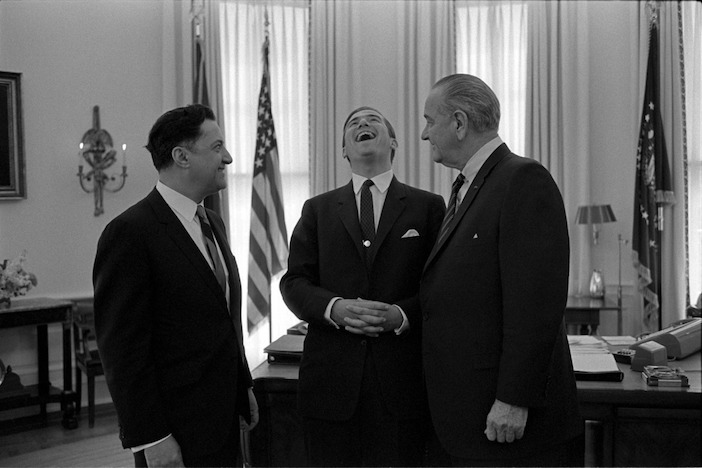 In a background paper presented to President Johnson, he was briefed on the visit's importance:
"The coup of April 21, 1967 took King Constantine completely by surprise. Although he made an initial effort to contact his key military commanders to resist the coup, when it became apparent that the coup leaders had won over or effectively neutralized all major military commands, and that resistance on his part might plunge the nation into a civil war, the King reluctantly accepted the coup as a fait accompli. However, although he agreed to preside over the first Cabinet meeting of the new government, he refused to sign the royal decree suspending certain articles of the Constitution which therefore went into effect without his signature."
This background paper, along with others prepared for the visit, illustrate the tenuous relationship that King Constantine had with Greece's new military junta. They also demonstrate King Constantine's efforts to return to constitutionalism and his hope that the U.S. would support him in the endeavor.
---
Is The Pappas Post worth $5 a month for all of the content you read? On any given month, we publish dozens of articles that educate, inform, entertain, inspire and enrich thousands who read The Pappas Post. I'm asking those who frequent the site to chip in and help keep the quality of our content high — and free. Click here and start your monthly or annual support today. If you choose to pay (a) $5/month or more or (b) $50/year or more then you will be able to browse our site completely ad-free!

Click here if you would like to subscribe to The Pappas Post Weekly News Update