The Greek culture ministry announced that an international team of archaeologists led by the Department of Classics from the University of Cincinnati have uncovered a spectacular 3,500-year-old, treasure-filled grave of a warrior has been discovered near an ancient palace in southern Greece.
The Culture Ministry says the grave is the most spectacular discovery of its kind from the Mycenaean era in more than 65 years on continental Greece. The discovery has revealed about 1,400 artifacts, including gold and silver jewelry, cups, bronze vases, engraved gemstones and an ornate ivory-and gilt-hilted sword.
The grave escaped plunderers who looted a monumental beehive tomb discovered decades ago in the area, near the palace of Pylos — one of the most important Mycenaean administrative centers.
The warrior's remains were found with a yard-long bronze sword and a remarkable collection of gold rings, precious jewels and beautifully carved seals. Archaeologists expressed astonishment at the richness of the find and its potential for shedding light on the emergence of the Mycenaean civilization, the lost world of Agamemnon, Nestor, Odysseus and other heroes described in the epics of Homer.
It said the dead warrior, aged 30-35, must have been a "leading member" of Pylos' aristocracy. The tomb, which stands at 2.4 meters (7 feet 10 inches) long and 1.5 meters wide, was unearthed during excavations begun in May near Pylos, on the site of the palace of Nestor.
"Probably not since the 1950s have we found such a rich tomb," said James C. Wright, the director of the American School of Classical Studies at Athens.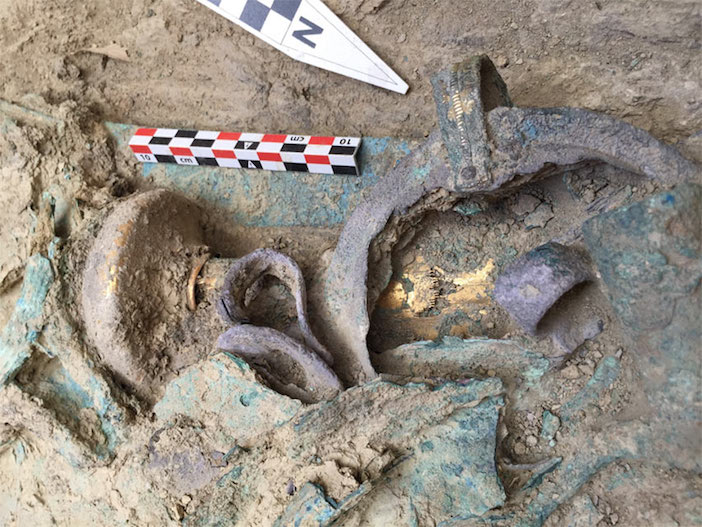 Nicholas Wade wrote in The New York Times that the discovery could be a gateway to discovering unknown things about the relationships between the Minoan civilization on Crete and the Mycenaean civilization that flourished on the Greek mainland more than 3,000 years ago.