While Greeks danced and celebrated their "Dekapentavgousto" (August 15th) in towns and villages on islands and the Greek mainland and the sounds of the bouzouki, the lyra and the clarinet echoed throughout the Greek countryside— a similar very Greek celebration was happening half a world away— on a sidewalk in… Astoria, New York.
Brothers Pete and Chris Giannakas— lifelong Astoria residents and proprietors of the popular meat-inspired restaurant Ovelia on 30th Avenue in Astoria wanted to share a bit of Greece with family, friends and patrons of their restaurant by hosting their own celebration.
The celebration-turned street party kicked off with a full lamb roast on the sidewalk with curious (non-Greek) Astoria residents walking by. You'd think people would know by now living in the Greekest neighborhood in America, right?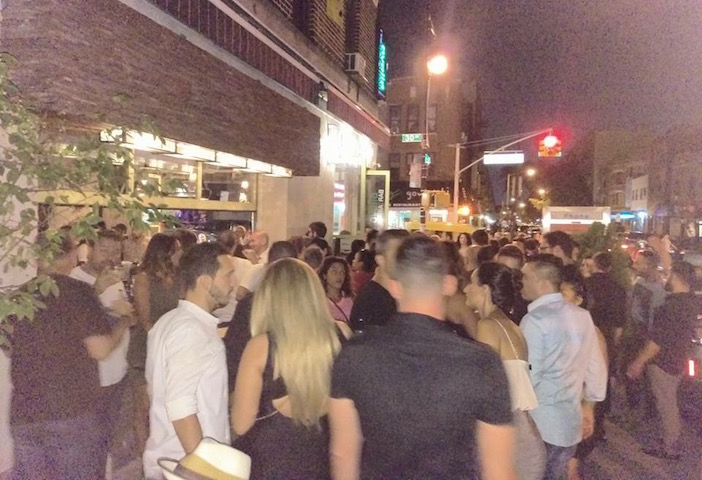 "Mommy, is that a horse?" asked a young child as Pete offered me a piece of the "petsa" or succulent skin— the most prized part of the roasted animal (and of course, the unhealthiest).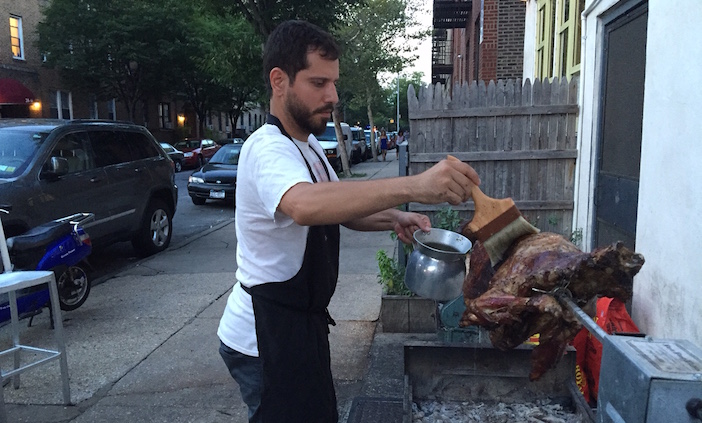 Pete told me this is their way of bringing a bit of Greece to the streets of Astoria— as if Astoria needs more Greece, right?
But it does— and such great celebrations bring the community together to celebrate— albeit in our own American way— the holidays and commemorations of Greece, even though we are thousands of miles away.
As I was walking home in the wee hours of the morning, I caught a glimpse of the Manhattan skyline, the taste of lamb still in my mouth and I realized– I really do have the best of both worlds and although I'm not looking at an Aegean vista or a white-washed village– the New York City skyline isn't that bad either.
---
Is The Pappas Post worth $5 a month for all of the content you read? On any given month, we publish dozens of articles that educate, inform, entertain, inspire and enrich thousands who read The Pappas Post. I'm asking those who frequent the site to chip in and help keep the quality of our content high — and free. Click here and start your monthly or annual support today. If you choose to pay (a) $5/month or more or (b) $50/year or more then you will be able to browse our site completely ad-free!

Click here if you would like to subscribe to The Pappas Post Weekly News Update