Nikos Kazantzakis' book "The Last Temptation of Christ" was one of the most controversial books of all time, often appearing on "banned books" lists and even receiving official condemnation from both the Roman Catholic and Greek Orthodox churches.
The incident prompted one 1950s writer to remark that it was the first time since 1054 that the two churches had agreed on anything.
When the book was first published in 1954, the Pope placed it on the Roman Catholic Index of Forbidden Books. In response, Kazantzakis telegraphed the Vatican a phrase from Christian apologist Tertullian: "Ad tuum, Domine, tribunal appello" (I lodge my appeal at your tribunal, Lord), basically telling the Catholic church that God will be his final judge and not a "worldly" institution such as the church.
Controversy followed more than three decades later when Martin Scorsese made the book into a film — premiering on August 12, 1988. 
The film was banned outright in more than a dozen countries, including Turkey, Mexico, Chile, Argentina, the Philippines and Singapore.
Christian demonstrators in Paris torched a cinema that wouldn't give in to protestors' demands to cancel the premier.
In the United States, widespread protest from Christian groups spread throughout the nation.
The New York Times reported that hundreds of Greek Orthodox faithful gathered behind police barricades outside of the Ziegfield Theatre in Midtown Manhattan to protest the film's screening.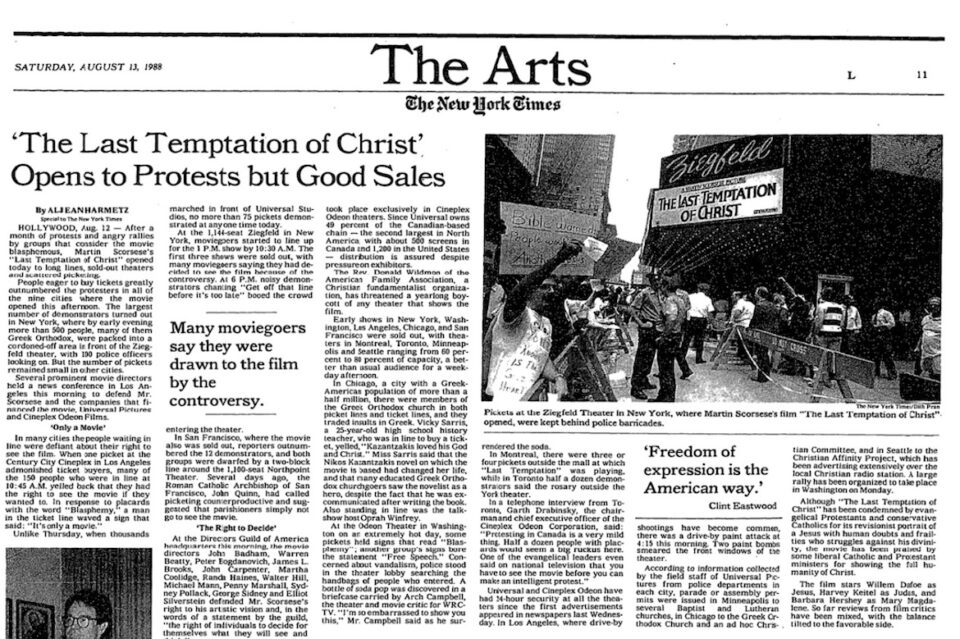 The Times also reported that, in Chicago, Greek Orthodox faithful traded insults in Greek while waiting outside of a theater.
Vicky Sarris, a 25-year-old high school history teacher, who was in line to buy a ticket, yelled, 'Kazantzakis loved his God and Christ.' Miss Sarris said that the Nikos Kazantzakis novel on which the movie is based had changed her life, and that many educated Greek Orthodox churchgoers saw the novelist as a hero, despite the fact that he was excommunicated after writing the book.
"The Last Temptation of Christ" was widely condemned by evangelical Protestants and conservative Catholics for portraying a revisionist Jesus with human doubts and frailties who struggles against his divinity.
In response to the outrage after the film's opening, dozens of prominent movie directors held a news conference in Los Angeles where they defended Scorsese as well as Universal Pictures and Cineplex Odeon Films — the companies that financed the movie.
At the Directors Guild of America headquarters, directors such as John Badham, Warren Beatty, Peter Bogdanovich, James L. Brooks, John Carpenter, Martha Coolidge, Randa Haines, Walter Hill, Michael Mann, Penny Marshall, Sydney Pollack, George Sidney and Elliot Silverstein defended Scorsese's right to his artistic vision and, in the words of a statement by the guild, "the right of individuals to decide for themselves what they will see and think."
Some liberal Catholic and Protestant ministers also defended the film, claiming it showed the full humanity of Christ.
"The Last Temptation of Christ" did not achieve financial success. The film grossed a mere $401,211 in its opening weekend and at the end of its run amassed a worldwide total of $8,861,452 (the film's budget was more than $7,000,000).
But to this day, the film has received positive support both from critics and some religious leaders.
Review aggregator Rotten Tomatoes reports that 80% of 55 critics have given the film a positive review, with an average rating of 7.4/10. The consensus states, "'The Last Temptation of Christ' is a surprisingly straight and passionate affair, one that also seeks to redeem Scorsese's '80s career."
The cast included Willem Dafoe as Jesus, Harvey Keitel as Judas and Barbara Hershey as Mary Magdalene.
See the film's trailer
---
Is The Pappas Post worth $5 a month for all of the content you read? On any given month, we publish dozens of articles that educate, inform, entertain, inspire and enrich thousands who read The Pappas Post. I'm asking those who frequent the site to chip in and help keep the quality of our content high — and free. Click here and start your monthly or annual support today. If you choose to pay (a) $5/month or more or (b) $50/year or more then you will be able to browse our site completely ad-free!

Click here if you would like to subscribe to The Pappas Post Weekly News Update