Ever since my mom passed away I've been looking (waiting) for signs from her, especially these past few months during my struggle with cancer and chemotherapy.
In a dream, perhaps, or in another form, I wanted (needed) to hear her voice tell me— like she always used to while she caressed my face— that "όλα θα είναι καλά" (everything's going to be ok).
It's so fitting that these signs came this week— not in the form of a dream or a vision, but in random incidents that many might consider coincidence. Not me. Because I knew my mom.
Several years ago, an incident took place at the church I was born and raised, in my hometown of Pittsburgh. The local parish priest deemed me unworthy to take Holy Communion.
As a result, I hadn't been to a Greek Orthodox Church Service (other than my mom's funeral) in many years and walked away from the faith and traditions that my mom and dad struggled so hard to raise me in.
I fought my mom on this— always. She insisted that the priest was wrong and I shouldn't let him tear me away from the Church.
On several occasions, she told me about the story from the Old Testament called the Hospitality of Abraham and reminded me that "all are welcomed at God's table."
This past week, at the (constant, yes nagging) encouragement of my friend and spiritual father Bishop Demetrios— who flew all the way from Chicago last December to commune me the day after my surgery— I attend Holy Wednesday services at St George in Manhattan.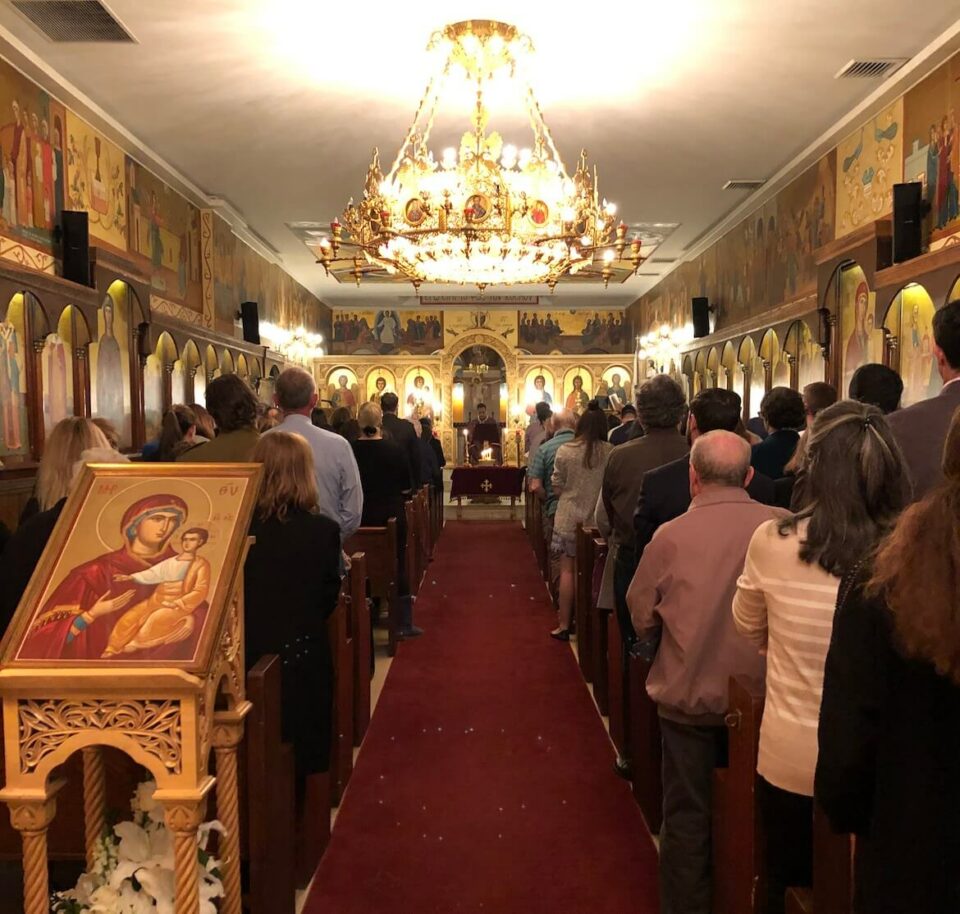 It was a tiny, unimposing, humble church in the middle of Manhattan's bustling chaos and only a few blocks from my apartment. It was the perfect place for me to attend the services and receive Holy Unction, the oil that Orthodox Christians believe is anointed for healing. The good Bishop knew what he was talking about, I guess…
As I entered the church and lit a candle, I looked up and saw a beautiful icon of the Hospitality of Abraham with a dedication to the late Ric Sweezy, who was the husband of a friend of mine, Nick Scandalios.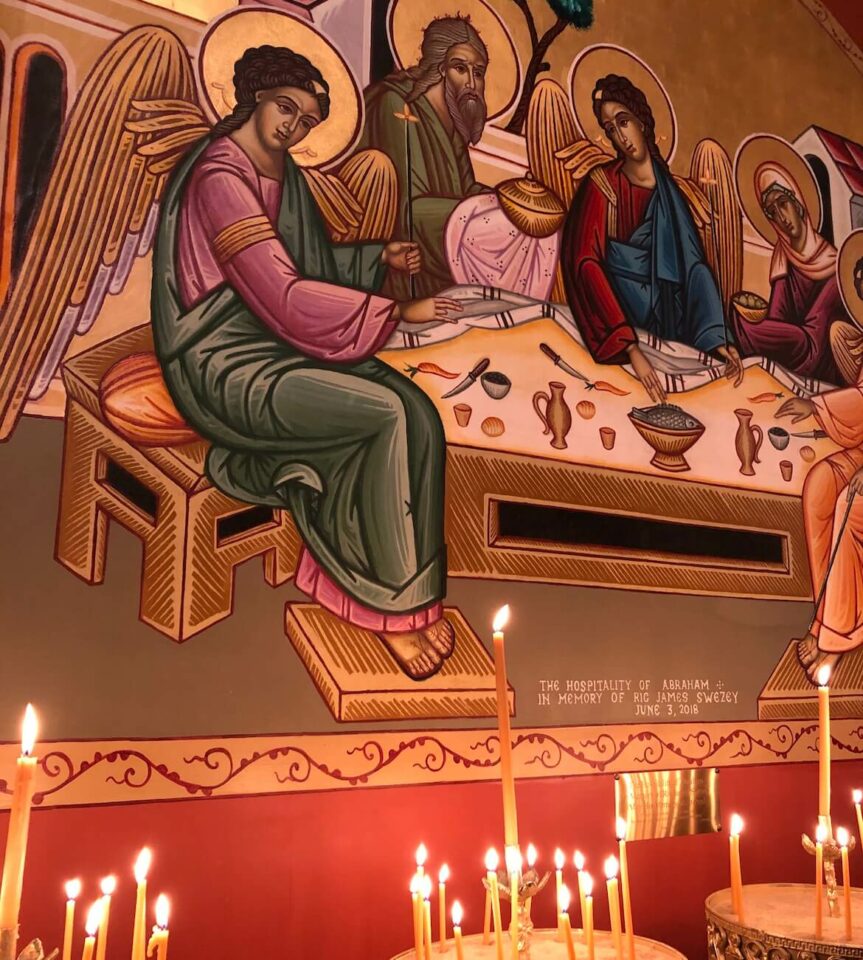 The beautiful irony, I thought— being "welcomed" into a Greek Orthodox Church after so many years by an icon of the Hospitality of Abraham— which was dedicated by a man to his beloved husband— years after being reminded by my late mother that despite what my parish priest believed, "everyone was welcomed at the table of God."
If this wasn't a sign from my mom, I don't know what was.
Fast forward to Good Friday evening, where I attended Lamentation Services at Kimisis Tis Theotokou Church in Southampton, New York. I had been invited by Fr Alexander Karloutsos to spend the weekend away from the city and in the serenity of the Hamptons.
I've been lucky to be under the "spiritual" care of Fr Alex since he welcomed me at the Archdiocese several months ago and offered a blessing for my health in the chapel. Since then, he— like Bishop Demetrios— have been pulling me closer and closer back to Church.
While at Kimisis Church, I was immediately taken back to my childhood years in Pittsburgh, at Holy Trinity, where I sat year after year in church singing the "lamentations" in front of Christ's beautiful-adorned tomb and waiting patiently for the candlelit procession outside.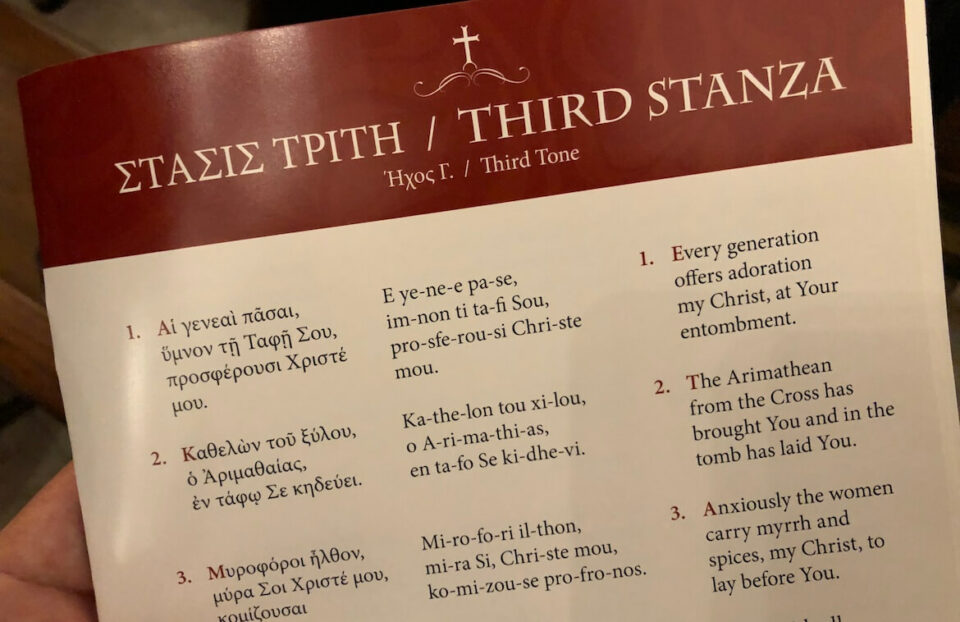 Η ζωή εν τάφω, κατετέθης, Χριστέ… Άξιον εστί μεγαλύνειν σε τον Ζωοδότην… We sang, loudly from the top of our lungs, together with the entire congregation, tracing the life and steps of the Passion of Jesus so vividly through these hymns.
Αι γενεαί πάσαι, ύμνον τη ταφή σου, προσφέρουσι, Χριστέ μου. I cried like a baby at that stanza, which translates roughly to "Every generation offers adoration my Christ, at Your entombment."
As a kid, I would watch with starry-eyed amazement as my mom remembered stanza after stanza, singing so passionately and lovingly in front of Christ's Tomb.
Her "adoration" of Christ during these services taught me so much about respect, about dignity and about the importance of these traditions being passed… from every generation in the past… to every generation in the future.
At that particular moment while crying and trying to follow along, all the while thinking about my mom— I looked up to the ornately decorated dome of the church and saw— an icon of St John the Theologian, the saint my mother (Ιωαννα or Joann) was named after.
The icon was directly above my head— watching over me, giving me a gaze and that look that "everything's going to be OK."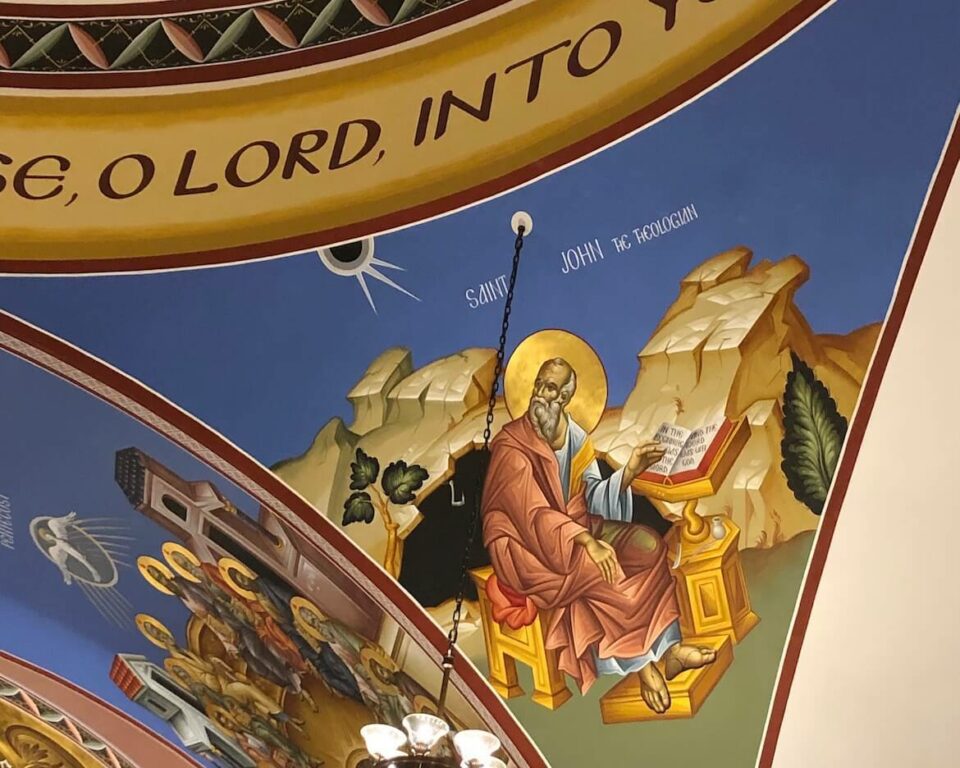 Thanks mom. Signs received. I miss you.